Chocolate Pot de Creme is the ultimate chocolate fix! Rich and creamy, with an intense chocolate flavor, one pot is satisfying but always leaves me wanting more…….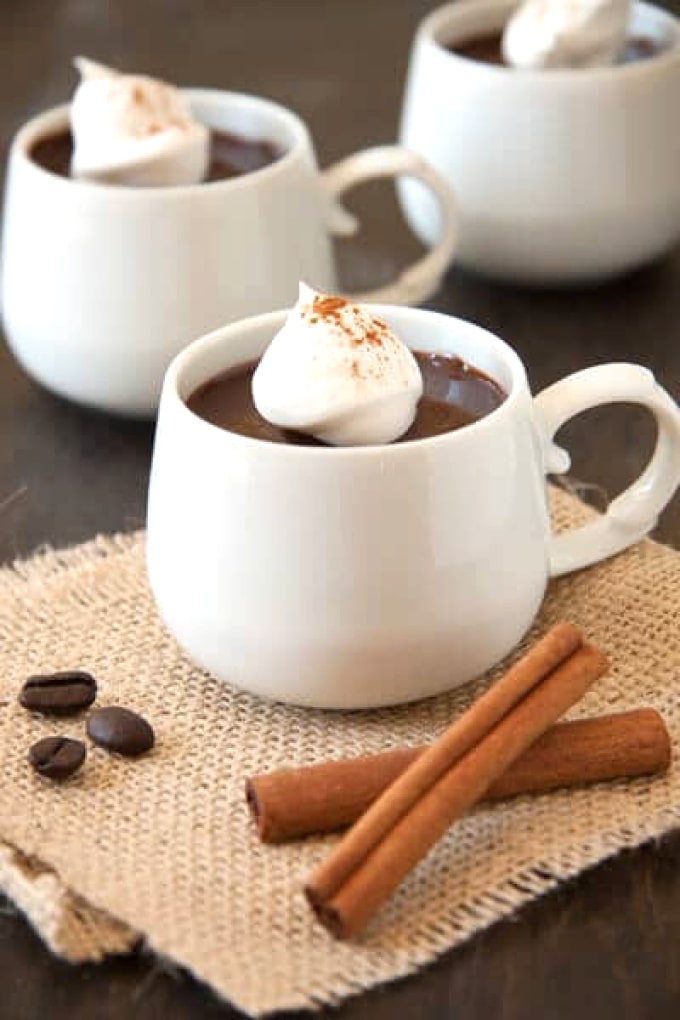 What is Pot de Creme?
Pot de Creme is a French dessert custard dating to the 17th century. The name means "pot of custard" or "pot of cream", which also refers to the porcelain cups in which the dessert is served.
Silky smooth and decadently rich, this easy Pot de Creme recipe, flavored with Mexican chocolate, tops the list of every chocoholic's dream. Denser than chocolate mousse, but with an incredibly creamy mouthfeel, this is the dessert I crave when I want the ultimate chocolate fix.
And really, who could resist dessert served in these cute little cups?
I've had these little pots de creme cups for years. Perched on an upper shelf in my kitchen, I'm still not entirely sure why I kept them. After sifting through my Mum's kitchen, I just couldn't bring myself to wrap them in newspaper place them in the box destined for the Army.
Over the years they have held rich soups, dessert mousses and of course their raison d' entre – pot de creme.
What you'll need to make this No Bake Pot de Creme recipe
Whole Milk
Heavy Whipping Cream
Egg Yolks
Mexican Chocolate
Bittersweet Chocolate
Cinnamon
How to Make Pot de Creme
Combine the milk and heavy cream in a medium-sized saucepan and bring to a simmer over medium-high heat.
Beat the egg yolks until combined and then slowly whisk in the milk/cream mixture. TIP: I add a small amount of the milk/cream mixture to the egg yolks while briskly whisking to "temper" the eggs – i.e. to bring them up to the same temperature as the milk so that they don't cook!
Transfer the mixture back to the saucepan and cook over medium heat, stirring constantly until the mixture thickens.
Reduce the heat to low and begin adding the chopped chocolate.
Continue adding the chocolate and cook until the chocolate is melted and the mixture is smooth.
Strain the mixture (to remove any bits of cooked egg) and divide evenly between the pots (or ramekins!)
Refrigerate for approximately 2 hours until chilled or overnight.
Other irresistible Dessert Recipes to tempt you!