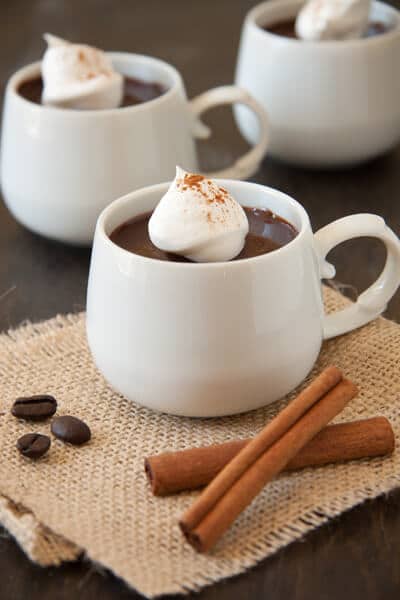 Perched upon the upper shelf in my kitchen are four of these little pots de creme cups.
To be honest, I am not entirely sure how they got there.
Years ago, as I sat in my mother's kitchen sifting through her pots and pans, dishes and silverware, they somehow ended up in the "keep" pile. I just couldn't quite bring myself to wrap them in newspaper and place them in the box destined for the Salvation Army. Maybe it was the cute little tops that came with them or maybe it was because my first introduction to "pots de creme" came in one of these little pots. But for whatever reason, they were in the "keep" pile and subsequently took up residence in my kitchen cabinet. Over the years they have made appearances on my table, holding rich soups, dessert mousses and of course their raison d' entre – pots de creme.
Lately, I've been working on some menus for late spring/early summer and have been stuck on the "dessert" category. I needed a dessert to round out a menu featuring latin/mediterranean flavors and somehow my usual fruit based concoctions weren't cutting it. But I just couldn't quite decide on what would – until I opened that cabinet. Reaching in for some olive oil my eyes hit upon these little pots de creme.
Ha! Problem solved. I knew exactly what "dessert" was going to be.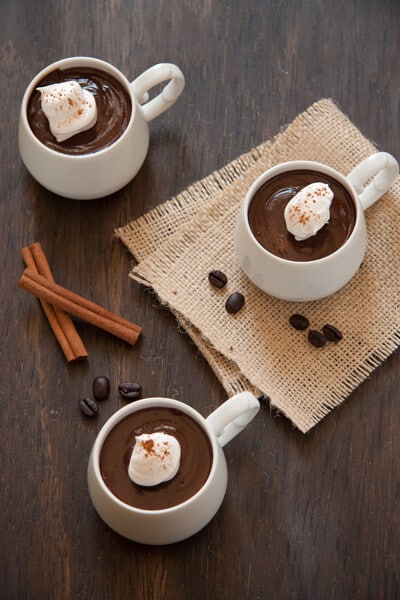 Mexican Chocolate Pots de Creme. Perfect!
And here is the finished menu!!
Margarita Granita with Spicy Shrimp
Mexican Chocolate Pots de Creme
Despite their small size, these little desserts pack quite a chocolate punch – you might be tempted to increase the size of these desserts but don't – they are incredibly rich!!! These can be made up to three days ahead and stored in the refrigerator. Let them warm up a bit before serving so remove from the refrigerator about 15 minutes before serving. After they have chilled, cover with plastic wrap if not serving immediately.
Ingredients
1 1/2

cups

whole milk

1/2

cup

whole cream

6

large

egg yolks

2

disks

Mexican chocolate

I like Ibarra

6

oz.

bittersweet chocolate

finely chopped

1/2

cup

whipped cream

unsweetened

1/2

teaspoon

cinnamon
Instructions
Combine the milk and the heavy cream in a medium saucepan and bring to a simmer over medium-high heat.

In a small bowl, add the egg yolks and beat until combined. Slowly whisk in the heated milk/cream mixture.

Transfer the egg yolk/ milk mixture back into the saucepan and cook over medium heat, whisking constantly, for about 2 minutes or until the mixture is slightly thickened.

Reduce the heat to low and the chopped chocolate. Stir until chocolate is completely melted.

Pour mixture through a fine sieve into a large measuring cup. Divide the mixture between 6 small pots or small bowls.

Refrigerate until mixture is thoroughly chilled – at least 6 hours or overnight.

Place a small dollop of unsweetened whipped cream on each pot/bowl. Dust with cinnamon. Serve.
Nutrition
Calories:
339
kcal
|
Carbohydrates:
19
g
|
Protein:
6
g
|
Fat:
25
g
|
Saturated Fat:
14
g
|
Cholesterol:
223
mg
|
Sodium:
45
mg
|
Potassium:
282
mg
|
Fiber:
2
g
|
Sugar:
14
g
|
Vitamin A:
13.7
%
|
Calcium:
12.6
%
|
Iron:
12.5
%