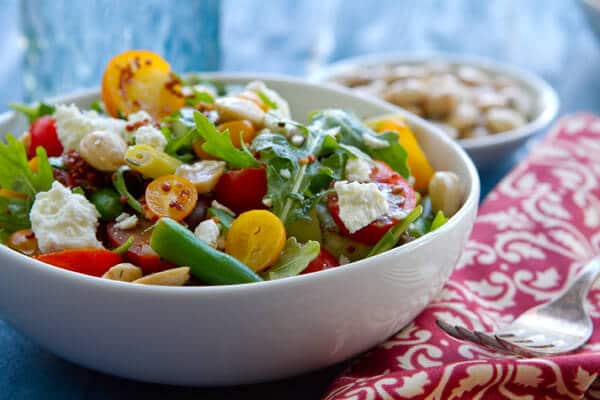 A few months ago you might remember I was invited by Dole Salads to tour the Dole salad fields up in Monterrey, CA. I love these trips not only because I have the opportunity to learn more about food, but also because of all the amazing people I meet – and the Dole trip was no different! On the trip I had the pleasure of  getting to know  to Sharon Palmer, RD and we got to talking about… what else, food!!! During our conversation, Sharon mentioned that  she would soon have a new book coming out "The Plant Powered Diet" and I said I would love to review it! True to her word, Sharon graciously sent me a copy when it was released. As I was reading the book, I was inspired to re create this Mediterranean Quinoa Salad  from True Food Kitchen – and I knew I wanted to share both the salad and the book with you!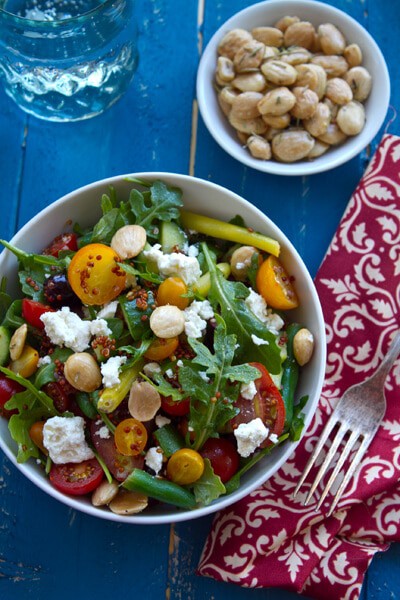 It's no secret that nutrition is now a hot topic and like any popular topic the web is full of all kinds of information – it seems these days "everyone" has something to say on the topic whether they are a trained professional or not. If you are  looking for reliable advice on how to change your  diet to a more healthful one this presents a problem – where do you go for reliable information?  A recent google search turned up 110 MILLION hits under "advice for healthy eating" alone. So where in the world do you start?
Start with this book.

The "Plant Powered Diet" isn't just another book about the benefits of eating a more "healthy diet". What sets this book apart  is that Sharon presents the basics of human nutrition in an easy to understand way and backs up her recommendations  with scientifically based research.  More importantly, the book is filled with strategies on how exactly to do that in a way that is "doable" whether you are a vegan, vegetarian or an omnivore like me!  What I loved most about the book  though is Sharon's approach – reading it, you feel that you are having a conversation with Sharon. Reading it,  you can't help but get excited about eating a more plant based diet and Sharon includes 75 delicious recipes to help you get started!
So if you are looking to learn a little bit more about nutrition and how to develop a more plant centered eating plan, I strongly recommend you get a copy of "The Plant Powered Diet" – it is one that you will refer to over and over again.
Although this Mediterranean Quinoa Salad  isn't in Sharon's book, I thought it was a perfect example of what the plant based diet is all about. As you probably know by now, I LOVE  main course salads and frequently eat them for lunch and dinner. Lately, I've been making a lot of salads like this Quinoa Mediterranean Salad – paired with a side of fruit it's the perfect lunch that I can eat at my desk or pack up and take with me on the road!
Mediterranean Quinoa Salad
Ingredients
1 cup quinoa (I used red)
3 cups water
4 cups english or persian cucumbers, chopped
1 pint cherry tomatoes ( I used an heirloom mix)
2 cups green beans (I used a mix of green and yellow wax beans)
4 cups arugula
1/2 cup marcona almonds
1/2 cup feta cheese, crumbled
3/4 cup kalamata olives
Vinaigrette
6 Tbsp. fresh lemon juice
2 Tbsp. white wine vinegar
zest from 1 lemon
2 tsp. dijon mustard
2 tsp. honey
2 Tbsp. fresh oregano, minced
3 Tbsp. olive oil
salt and pepper to taste
Instructions
For the vinaigrette: In a small bowl whisk together the lemon juice, white wine vinegar and a large pinch of salt. Whisk in the honey and dijon mustard, lemon zest and organo. Slowly drizzle in the olive oil and whisk until the dressing is smooth. Taste. Add additional salt and/or pepper to taste.
Set aside - dressing can be made 4 hours ahead - cover and refrigerate. Let come to room temperature before using.
For salad: Bring a medium pot of water to a boil. Place the quinoa in a sieve and rinse under running water (if your quinoa is already pre rinsed you can skip this step). Add the quinoa to the boiling water. Reduce heat and simmer for 5 - 8 minutes until the quinoa is still firm to the bite. Drain quinoa and rinse with cold water.
NOTE: This is NOT the usual method for making quinoa and results in a slightly chewier, firmer grain which I prefer in my salads. If you prefer a lighter, fluffier quinoa, reduce the amount of water by 1 cup and simmer for approximately 14 minutes until all the water has been absorbed.
Bring another pot of water to a boil and add a teaspoon of salt. Cook the beans for 3 - 4 minutes until tender but still firm to the bite. Remove the pot from the heat and drain the beans. Rinse the beans with cold water to stop the cooking. Drain on paper towels while you prepare the rest of the ingredients. In a large bowl, combine the cucumbers, tomatoes, arugula, almonds and olives and toss to combine. Sprinkle the quinoa over and toss again. Drizzle salad with 1/2 of the vinaigrette. Taste, adding more vinaigrette if needed. Sprinkle with the feta cheese and serve!!
7.6.4
161
https://www.acommunaltable.com/mediterranean-quinoa-salad/