Incredibly refreshing, Spain's Tinto de Verano is the Red Wine Spritzer you'll be making and drinking ALL summer long! Sangria's fizzy cousin, this cool refresher is a hit with everyone – even those who don't like red wine!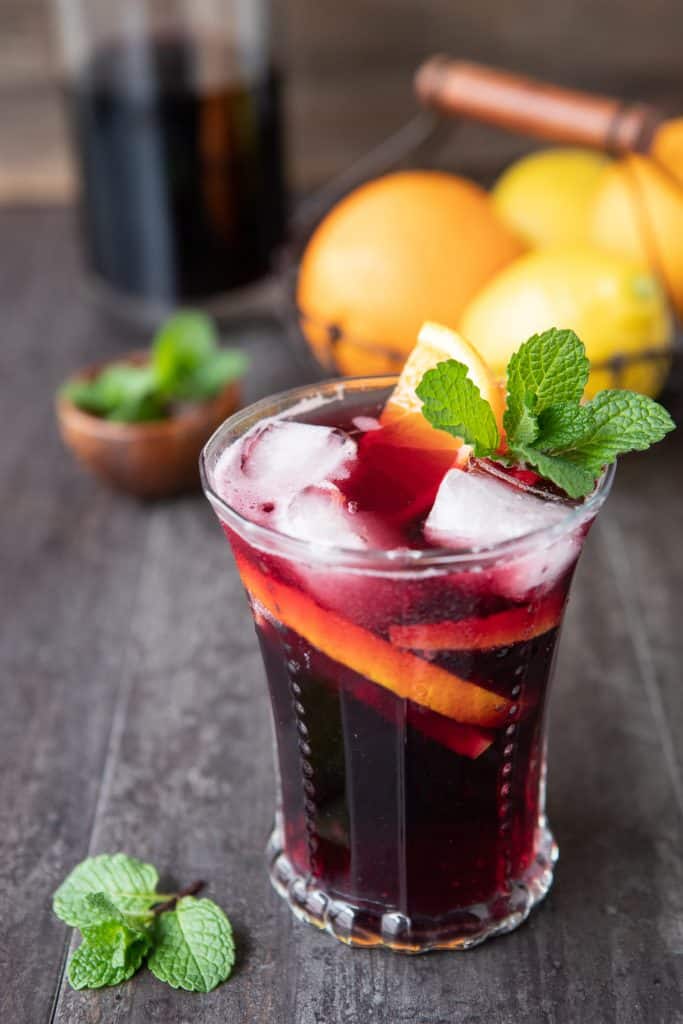 When it's hot, I love a good, fizzy cocktail like a Rum Mule or Gin and Ginger Ale. Simple to make and not too sweet, these are, IMO, the perfect summer sippers!
Which brings me to this cocktail – and one I thought I'd never post. But after trying it a number of times on my recent trip to Spain, I knew I needed to share it. It didn't taste anything like I thought it would – it was SO.MUCH.BETTER
This simple mixture of red wine and soda is sweet, tart and incredibly thirst-quenching. Lower in alcohol than Sangria, this red wine spritzer is perfect for sipping on a sunny afternoon – by the pool, on the deck or just lazing around with a good book.
With only two ingredients, it's an ideal drink for a crowd – and it's pretty!!! (and I love a pretty cocktail…).
So now that I've convinced you to try it, let's get to it…
What is this Wine Spritzer made of?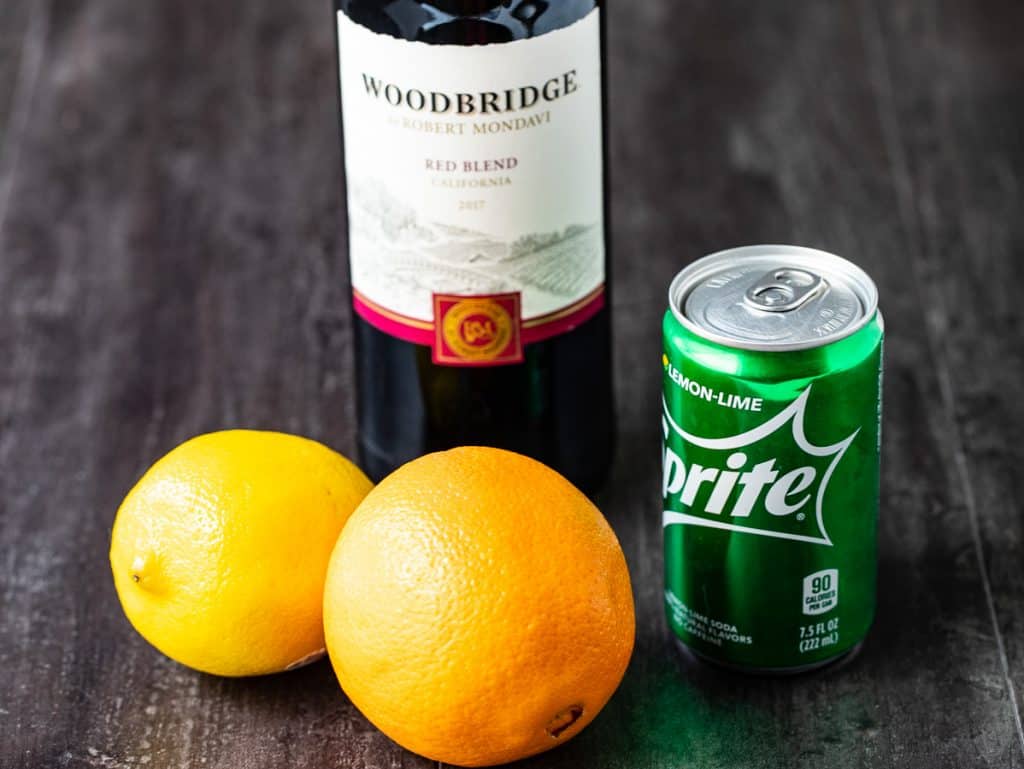 The ingredients are very basic..
Red Wine – In Spain, they make this with inexpensive red table wine. If you can find inexpensive Spanish red wines, by all means, use them. If you can't though, stick with lighter, fruitier red wines. A Shiraz,Merlot or a Malbec are good choices as are Red wine blends (like what I used). You don't need an expensive wine, but just make sure it's one you would enjoy drinking on its own.
Lemon-Lime Soda – In Spain, they typically use Fanta Limon – but since that can be hard to find in the U.S. I used Sprite. If you like a sweeter, more lemon flavored cocktail, sparkling lemonade (or a mix of lemonade and sparkling water) is a great substitution.
Oranges, lemons, and mint – You don't need these to make the cocktail but they are a nice addition!!!
What can be mixed with red wine?
Red wine isn't the first thing you think of when thinking of mixers. But it's amazingly versatile! you can mix it with..
Coca Cola – believe it or not, this combination actually works! You can use the same proportions that I listed in the recipe below.
Soda water – most spritzers are made with sparkling water or club soda but to me they taste weak and aren't very tasty which is why I love Tinto de Verano.
As a float on a whiskey sour – Known as a New York Sour, it's incredibly delicious!
Sangria – mixed with brandy and chopped fruits a good Sangria is refreshing – but definitely packs a boozier punch!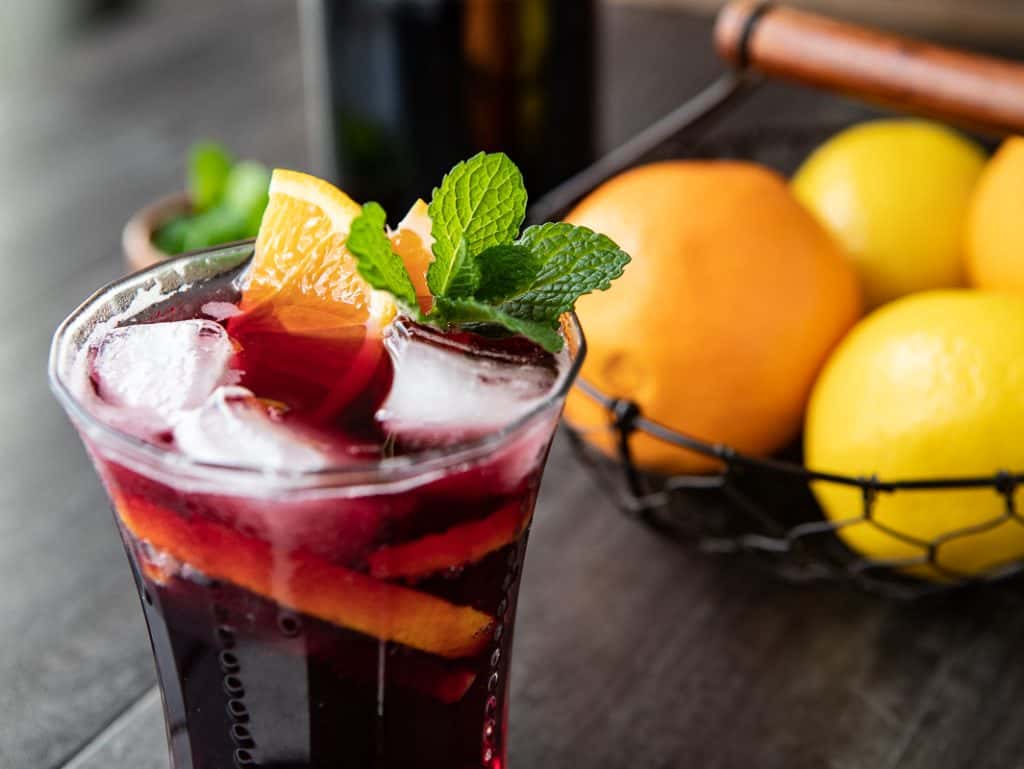 What's the difference between Tinto de Verano and Sangria?
As I mentioned, Sangria is a boozier drink and typically consists of red wine, triple sec, brandy, chopped fruit and is topped with Cava, Spain's sparkling wine. Made properly, it's absolutely delicious, but it can sneak up on you (and yes, I am speaking from personal experience :-)).
What to serve this Spanish Cocktail with..
My favorite things to serve with this easy red wine cocktail are …Tapas! These tapas would all go extremely well and are, like this cocktail, very easy to make!