IMO, Everyone needs a great Spaghetti Meat Sauce recipe. It should be rich, thick and bursting with tomato flavor and this meat sauce checks all those boxes and then some.
But what makes this the BEST spaghetti meat sauce recipe? Three simple ingredient tweaks that take this sauce from seriously delish to OMG this is amazing!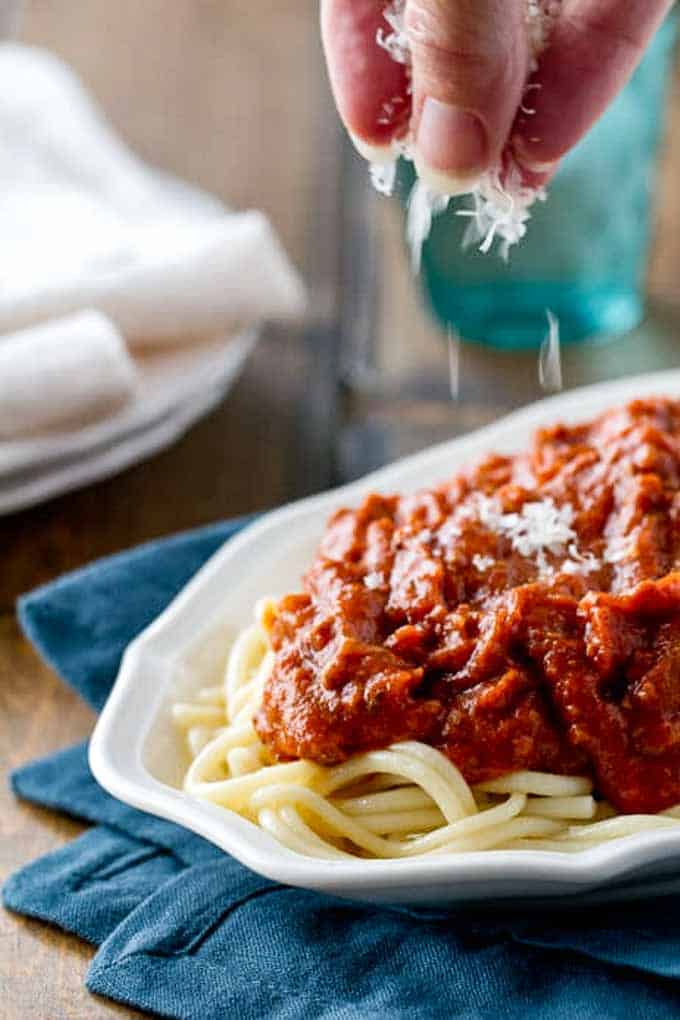 The BEST Spaghetti Meat Sauce Recipe
Spaghetti with meat sauce is a uniquely American invention that has been gracing our tables for years. Loosely based on Bolognese sauce, the most well known of Italy's meat sauces, it's typically made from ground beef, tomatoes (canned tomatoes) herbs, and onions.
This homemade meat sauce recipe has been gracing my table for as long as I can remember and is simply known as My Mom's Sauce.
Typed up on a 3 x 5 index card, I have no idea where the recipe originated and while not an authentic Italian ragu by any means, it's still my favorite.
And leaves bottled sauces in the dust.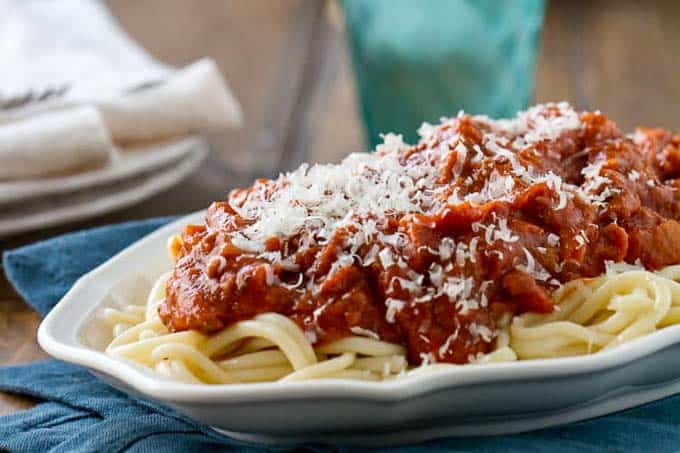 What goes in Homemade Spaghetti Sauce
There are 3 little things in this recipe that might be a bit different from other Spaghetti sauce recipes you've seen around:
Lots of onions– this recipe calls for 3 diced onions! Yep, you read that right! While the sauce cooks, the onions breakdown, infusing the sauce with incredible flavor.
Worcestershire sauce – this workhorse ingredient adds that little "something" and knits all the other flavors together.
Chile powder – this little kick of spice balances all the other flavors and keeps the sauce from being too rich.
How to make Spaghetti Meat Sauce:
I won't lie to you and tell you that this Easy Homemade Spaghetti Sauce can be ready in 30 minutes. It does take a bit of time but it is SO worth it! You simply can't get this flavor or texture from a jarred sauce.
Since it makes a good 8 – 10 cups of sauce and freezes beautifully, this is definitely a Spaghetti Meat sauce recipe worth making!
Brown the meat and the onions in a little oil in a dutch oven or heavy soup pot. Enameled cast iron pots are my favorites for long-simmered recipes like this. Cast iron distributes heat very evenly and helps prevent hot spots and scorching. Since this sauce is rich with tomato paste and tomato sauce, it can scorch if you make it in a pot with a thin bottom!
Add the garlic and cook for a couple of minutes. Adding the garlic a few minutes after cooking the initial ingredients helps to keep the garlic from burning.
Add all the other ingredients and bring to a boil.
Reduce the heat and simmer for a couple of hours. The longer the meat sauce simmers, the better it gets.
Cook the spaghetti noodles and top with the meat sauce!
TIP:
If the sauce becomes too thick while reheating, add a little bit of the pasta cooking water! Not only will it thin the sauce out, but it also helps the sauce cling to the pasta!
That is all there is to it – this is not a complicated recipe to make and you really can't go wrong.
This Spaghetti with Meat Sauce is made for rainy afternoons and is a perfectly acceptable reason to binge-watch Game of Thrones or the Sopranos.
Tips for Serving Spaghetti with Meat Sauce
Traditionally, this spaghetti sauce is served over… spaghetti! But you can serve it over penne, rigatoni, or linguine if that is what you have in the pantry!
A good grating of Parmegiano Reggiano is all the garnish you need and adds a wonderful, salty finish to balance the sweetness of this sauce.
This sauce is also delicious when used in your favorite Baked Pasta Casserole recipe!
Can you Freeze Spaghetti Sauce?
Absolutely! That is one of the many reasons I love this Spaghetti meat sauce recipe! it freezes beautifully. To freeze:
Place the cooled sauce in a freezer-safe container, label, and place in the freezer for up to 3 months.
Thaw in the refrigerator overnight or defrost in the microwave. Reheat in a saucepan over low heat, stirring occasionally.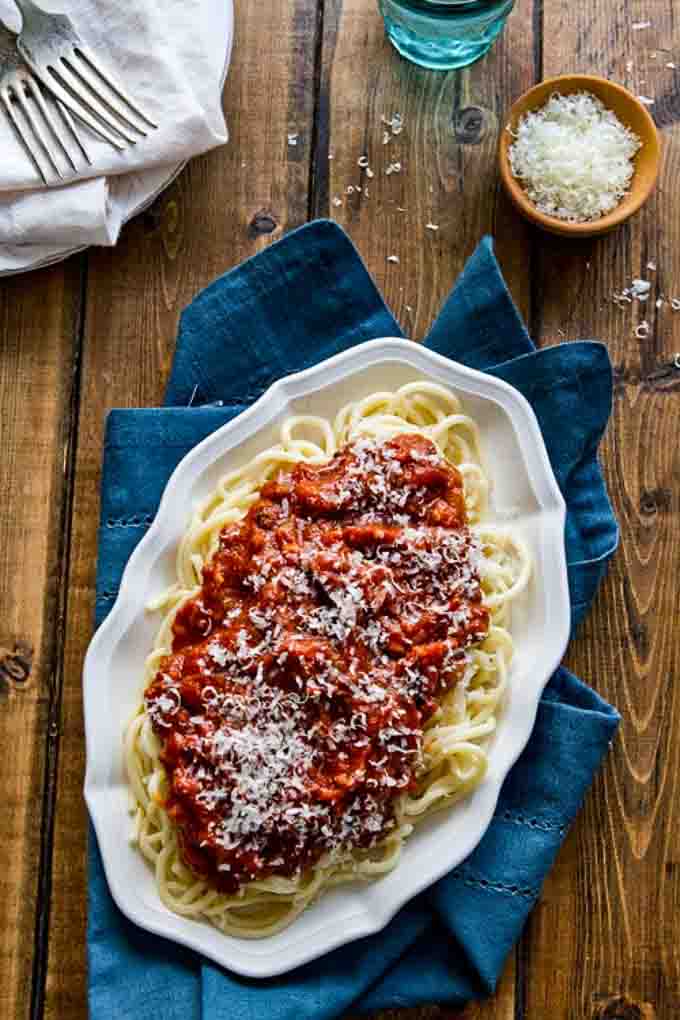 Love Italian Recipes? Then don't miss these!
If you enjoyed this recipe, I would LOVE for you to give it a 5-star rating! Cheers! Nancy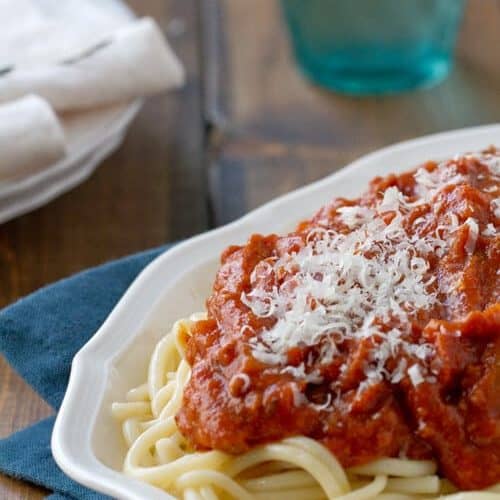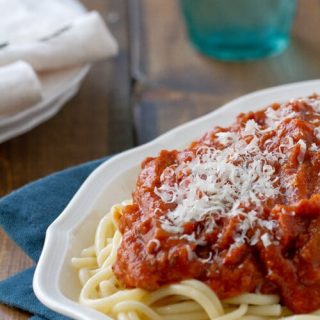 Ingredients
1

pound

lean ground meat

3

onions

diced

4

cloves

garlic

minced

two 8 ounce cans tomato sauce

two 6 oz. cans tomato paste

2

cups

water

1

Tablespoon

sugar

1

teaspoon

salt

1

Tablespoon

italian seasoning blend

oregano, thyme, rosemary and basil

dash of tobasco

1

Tablespoon

worchestershire sauce

1

Tablespoon

chili powder

½

teaspoon

ground black pepper
Instructions
In a large dutch oven or soup pot, over medium high heat, brown the ground meat with the diced onions. Cook for 10 minutes or until the meat is browned and the onions are translucent.

Add the garlic and cook for another two minutes.

Add all of the remaining ingredients and stir to combine.

Increase the heat and bring the mixture to a boil.

Reduce heat to a simmer and simmer, uncovered for 2 hours or until the sauce is thick.

Taste and adjust seasonings.
Recipe Notes
Serving Suggestions: 
Serve over spaghetti pasta and pair with a green salad for an easy weeknight meal. 
Toss with your favorite tube shaped pasta and some grated mozzarella and pour into a casserole dish. Top with more grated mozzarella and bake at 350 until the cheese and melted and the pasta is heated through. 
If the sauce is too thick, thin with a little pasta water – not only does it thin the sauce but it helps the sauce to cling to the pasta!
Storing: 
The sauce will hold for up to 3 days in the refrigerator.
For longer storage, place the cooled sauce in a freezer safe container, label and freeze for up to 3 months.
Defrost in the refrigerator overnight or in the microwave. Re heat in a saucepan over medium heat.
Nutrition
Calories:
105
kcal
|
Carbohydrates:
6
g
|
Protein:
12
g
|
Fat:
3
g
|
Saturated Fat:
1
g
|
Cholesterol:
35
mg
|
Sodium:
349
mg
|
Potassium:
281
mg
|
Fiber:
1
g
|
Sugar:
3
g
|
Vitamin A:
295
IU
|
Vitamin C:
3.5
mg
|
Calcium:
22
mg
|
Iron:
1.6
mg
Save