Every year my husband warns me... "remember the first couple of months of fall are going to be crazy". And every year I say, "yes dear"... conveniently forgetting that he is, more often than not, right. Yep, as predicted these first couple of months have been crazy - a new job and a new "schedule", shorter days, and just more "stuff" on the calendar... which means less time socializing with friends.
This is all good... except the last part. But to be honest, the idea of having a group of friends, no matter how dear, over for a sit down dinner is... well, a bit more than I feel like I can pull off right now.
For me, chili is definitely a fall/winter dish. Come spring and summer you won't find it on my table. Nope, it is only a fall/winter dish... and truly one of my favorites and absolutely perfect for a Sunday Supper Party!! If you think about it, it makes sense. It can be made ahead of time (heck, you can even freeze it!), can serve a big crowd, can be eaten standing up and... I've yet to meet anyone who doesn't like it! Oh, and the sides...paired with Browned Butter Cornbread and a Romaine Salad with a Hatch Chile Dressing and dinner is done.
And dessert? Wait till you see what I've got for you next... a fabulous Nutmeg Cake that goes perfectly with the chili!
So.. chili... which is really a topic onto itself and it seems like everyone has a version that they love. Me? I have at least 3 that make an appearance during the fall and winter... and this sausage chili is my newest favorite.. rich and spicy with sausage and beef, with enough tomatoes to soften the edges.
So, I know you are thinking... "what about dessert?" Not to worry - wait till you see what I've got for you next... a fabulous Nutmeg Cake that goes perfectly with the chili! - So here are my tips for hosting an "almost effortless" Sunday Supper!
1. Keep it casual - no need to "set" a table - this is definitely a "buffet style" get together! No need for centerpieces or place settings. Just out plates and bowls (or large mugs for the chili), napkins (big paper ones!) and large spoons and forks.
2. Keep beverages simple too - beer, red wine, waters and perhaps some old fashioned ginger ale!
3. Set the chili on a hot plate to keep warm - no need to transfer it to a bowl - just serve it out of your pot!
4. Same with the cornbread - serve it right from the cast iron skillet!
5. For the salad, toss everything but the dressing in a large bowl - serve the dressing on the side so the salad doesn't get soggy!
And that's it.. a simple and savory meal for a Sunday Supper Party - and putting it together is definitely easier than saying this three times fast!!!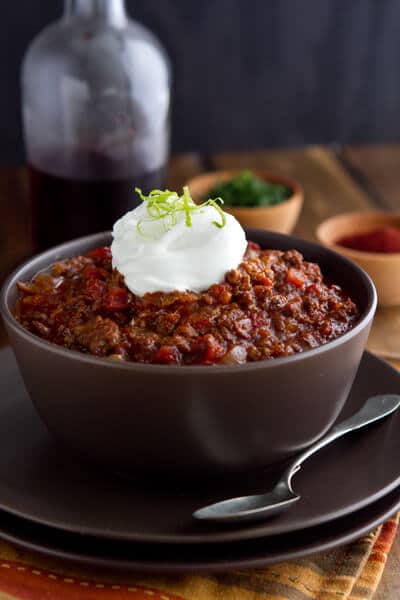 Ingredients
½

lb.

hot sausage

½

lb.

mild sausage

1

lb.

ground beef - coarse chili grind

2

onions

cut into ½ inch dice

4

cloves

garlic

minced

2

Tbsp.

chili powder

2

tsp.

smoked paprika

2

tsp.

oregano

½

tsp.

ground sage

1 - 14

oz.

can tomatoes

4

cups

low sodium beef stock

1

cup

red wine

1

cup

spaghetti sauce

1

tbsp.

worcestershire sauce

2 - 14

oz.

cans black beans

1

cup

sour cream

optional

juice from 1 lime

optional
Instructions
Remove the casings from the sausage. Heat a large dutch oven over medium high heat. Add the sausage and cook, breaking it up into small pieces. When most of the fat has been rendered out, add the onions. Saute the onions and the garlic for 10 minutes or until the onions are translucent. Add the ground beef and cook until the meat is browned. Add the red wine and cook until the wine is reduced by half. Add the spices, tomatoes, stock, spaghetti sauce and worcestershire sauce. Bring mixture to a boil. Reduce to a simmer and cook for one hour. If mixture is still too soupy, cook for another 20 - 30 minutes until the chili is thick. Open the cans of black beans - rinse and drain and stir into the chili. Cook for another 4 - 5 minutes or until the beans are hot. Taste and adjust seasonings. If using the sour cream, mix the sour cream with the lime juice and dollop on top of the chili!
Nutrition
Calories:
604
kcal
|
Carbohydrates:
15
g
|
Protein:
30
g
|
Fat:
44
g
|
Saturated Fat:
17
g
|
Cholesterol:
128
mg
|
Sodium:
1202
mg
|
Potassium:
1163
mg
|
Fiber:
4
g
|
Sugar:
6
g
|
Vitamin A:
2795
IU
|
Vitamin C:
7.4
mg
|
Calcium:
152
mg
|
Iron:
5.6
mg