"Drink your milk"….. Is that phrase a familiar one from your childhood? It definitely is from mine. In my house, dessert wasn't served until my milk glass was empty… which generally wasn't a problem since I love milk and cheese and yogurt. Speaking of yogurt, does anyone remember those brightly colored Knudsen containers? Yup, I am a dairy lover from way back!  Which is a good thing since dairy products are a terrific nutritional value with nine essential nutrients including  calcium, potassium, phosphorus, protein, riboflavin, niacin  and Vitamins A,D and B12.  And when they are part of dishes like this Pasta with Basil Yogurt Sauce, even better!!! Yes, a yogurt pasta sauce that may just have you giving up your favorite Fettucine Alfredo… but more on that in a bit.
Ok, so dairy products are a great nutritional bargain. But there is more to dairy than that! In addition to being nutritional bargains, studies have suggested that  three servings of dairy as part of a balanced diet may help you maintain a healthy weight.
Hmm… foods that I not only love but that are good for me and help me manage my weight?? Bring it on!!!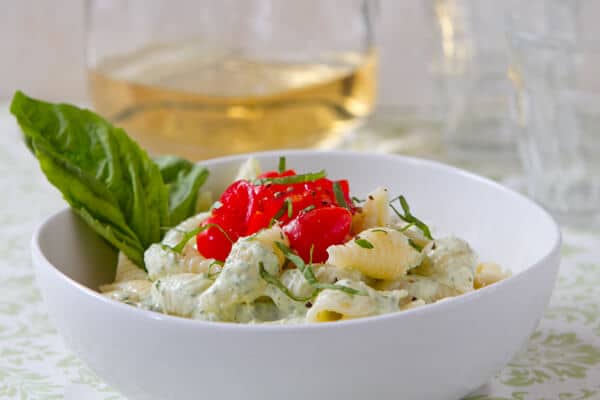 But what if you are lactose intolerant? Well, as I mentioned in this post, even if you are lactose intolerant you can still incorporate dairy into your diet. Lactose intolerance doesn't mean dairy avoidance. In fact, health experts recommend that those with lactose intolerance try to keep low fat and fat free dairy in their diets because of the powerful nutritional benefits of dairy. Yogurt and hard, aged cheeses are naturally contain a small amount of lactose and are also great choices for getting the 3 recommended servings of dairy every day.  Not sure what a serving size is? Here are some handy equivalents to keep in mind.
1 cup milk (skim, 1%, 2% or whole) = 1 serving
1 cup yogurt (non fat, low fat or whole) = 1 serving
1 ½ oz. of hard and semi soft cheeses = 1 serving
Dishes like this Pasta with Basil Yogurt Sauce are a  delicious and nutritious way to add  more dairy to your diet – but be warned, you may never make Fettuccine Alfredo again.
Looking for more suggestions on how to add more dairy to your diet? Check out the National Dairy Council website for some great tips on all things dairy and helpful tips for managing lactose intolerance.
Nancy Buchanan
Yields 4
Pasta with Basil Yogurt Sauce
15 minPrep Time
15 minCook Time
30 minTotal Time
Ingredients
• 1 lb. rigatoni or medium shell pasta
• 1 cup 2% greek yogurt
• 3 Tbsp. extra virgin olive oil
• 1/2 cup (packed) fresh basil
• 2 cloves garlic, chopped
• 1/4 cup grated parmesan cheese
• 1/4 tsp. white pepper
• 1/4 tsp. salt
• 1 cup chopped tomatoes (optional)
• 1/4 cup toasted pine nuts (optional)
Instructions
In the bowl of a food processor combine the yogurt, olive oil, basil, garlic, parmesan cheese, pepper and salt. Process until all the ingredients are thoroughly mixed. Taste and adjust seasonings. Set aside.
Measure 1/2 of the sauce into a large bowl and set aside. Bring a large pot of water to boil. Season water with salt. Add the pasta and cook until al dente - about 12 minutes. Drain. Add the pasta GRADUALLY to the yogurt sauce. If you add it too quickly the sauce will break. Add additional sauce if desired. Extra sauce can be passed separately or refrigerated for 2 days for another pasta meal!
Garnish with the chopped tomatoes and pine nuts if desired.
7.6.4
3
https://www.acommunaltable.com/pasta-with-basil-yogurt-sauce/