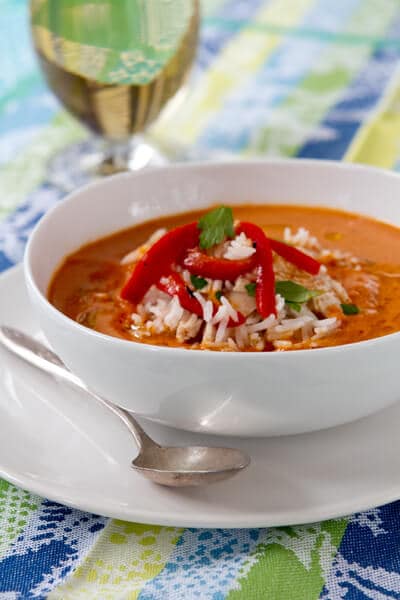 To say that the year has gotten off to a crazy start would be an understatement. 3 trips in 3 weeks plus a complete re write of the curriculum for the class I am teaching this semester… hmm… is it time for vacation yet??? So, needless to say, there have been quite a few evenings when I suddenly look up at the clock and wonder "how in the world did it get to be 5 o'clock?" which is then quickly followed by "what in the world am I going to cook (i.e. throw together) for dinner? Fortunately, I've had  some good answers –  like this Roasted Red Pepper and Hummus Soup!
To be honest, soup is pretty much my "go to" meal when I am pressed for time and/or haven't really thought about dinner. With a few basics in the pantry and fridge I can always put together a pot of vegetable or black bean soup. So, when I  came across the recipe a few months ago in an issue of Food and Wine I thought.. "why didn't I think of that?" and then promptly filed it under "what to make when you it's 5 o'clock and you haven't even thought about dinner yet" – and I am so glad I did. It's a terrific solution to  that question since it  can be made from things you  have on hand (and yes, I pretty much ALWAYS have hummus in the fridge!) and it comes together in about 15 minutes. But more importantly, my family loved it… in fact, I think the comment was " I think I could eat this every week"  – which is saying something since my family is not known for their love of beans -and they don't think there are any in this soup, so lets keep that between us, ok?
I know some of you are thinking… "ugh… hummus in soup.. no thanks"… but don't let the idea stop you from making this soup. Let's put it this way.. if you love  tomato or roasted red pepper soup, you are going to love this one because that is exactly what it tastes like…creamy and rich with a little bit of  texture from the rice and chicken (if you choose to add it). All you need is a salad and maybe some bread to round things out and "dinner" is served. . even if you didn't start thinking about until 5 o'clock!
Yields 2 servings
Roasted Pepper and Hummus Soup
Piment d' espelette is a dried and ground pepper from the Basque region of France. If you don't have it feel free to substitute a pinch of cayenne pepper and increase the smoked paprika to 1 tsp.
10 minPrep Time
5 minCook Time
Ingredients
1 cup drained roasted red peppers
3/4 cup hummus 2 cups chicken or vegetable stock
1 Tbsp. tomato paste
1/2 tsp. piment d' espellette
1/2 tsp. smoked paprika
1 tsp. agave nectar or honey
1/2 cup cooked basmati rice
1 cup shredded chicken (optional)
salt and pepper to taste
olive oil (optional)
1/4 cup flat leaf parsley (optional)
1/4 cup roasted red bell peppers (optional)
Instructions
In a food processor, combine the roasted peppers, hummus and stock. Blend until peppers are pureed and the mixture is smooth. Pour into a small saucepan. Add the piment d' espelette ,smoked paprika and the agave nectar or honey. and bring to a boil and then reduce to a simmer. Taste and adjust seasonings. Divide the rice between two shallow bowls. Ladle soup into bowls. Garnish with the shredded chicken, a drizzle of olive oil, parsley and roasted red bell pepper if desired.
7.6.4
170
https://www.acommunaltable.com/roasted-red-pepper-and-hummus-soup/