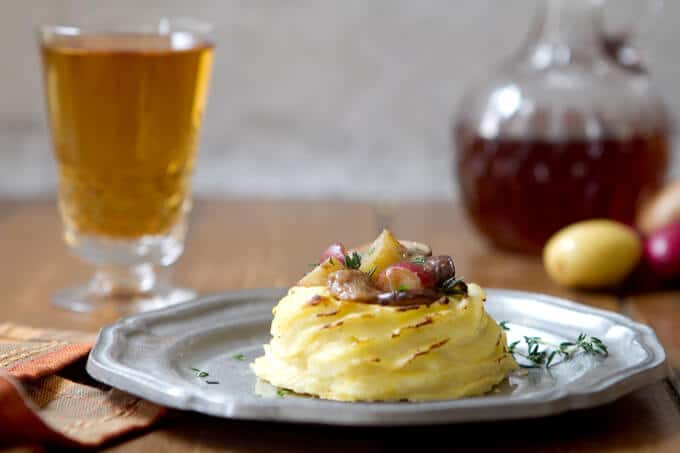 Yes, I've done a little "redecorating" here at the Table and to be honest, it wasn't by choice - my site broke on Tuesday and the only fix was to move it to a new platform. So, bear with me while I finish unpacking, hang the curtains, etc., etc.
But while I could talk "eloquently" about this move (sarcasm off) - I'd much rather talk about potatoes.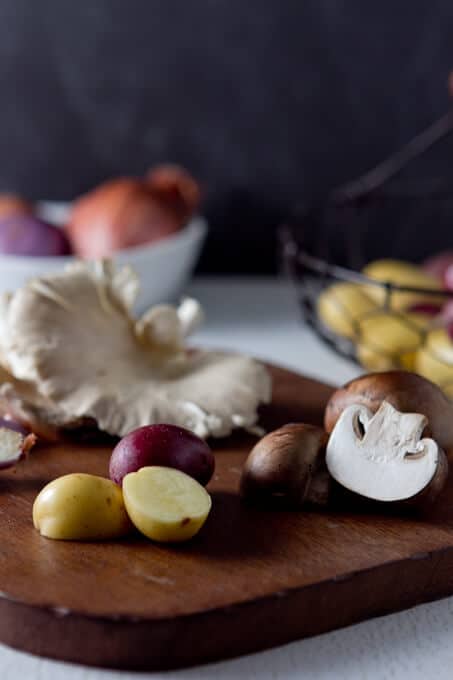 I'm half Irish so you know it's a subject near and dear to my heart - not to mention my appetite. So what is up with these potatoes?
Ok, a few weeks ago, the U.S. Potato Board approached me about developing a a recipe for "potatoes Vegas style" - and it took me less than a "New York" minute to say "YES!!"
So, Potato Cups with Mushrooms and Shallots. Yes, they are a "little over the top". Smooth and rich Duchess potatoes topped with sauteed pee wee potatoes, mushrooms and shallots, wrapped with a luscious marsala and creme fraiche sauce - but it's Vegas people! Now, before you go all "it's going to take a cast of thousands to make these and will how will I still fit into my jeans and glitter top?" on me, let me assure you. No it doesn't take a cast of thousands to make these (c'mon, you know me, I don't do 3 page recipes here!) and absolutely you will still fit into those jeans and glitter top - if you er wear a glitter top, that is.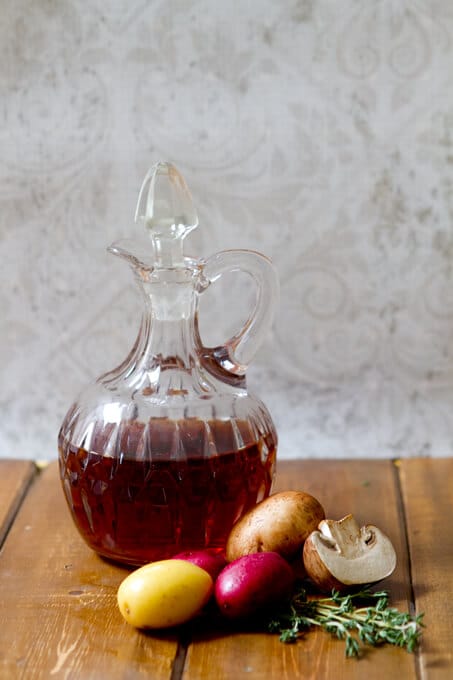 I know, I know potatoes have carbohydrates - eek!! But we need carbohydrates and the key is choosing carbohydrates that also provide good nutritional value. Did you know that an average sized russet potato (about 5 oz.) with the skin has only about 110 calories, more potassium than a banana and provides about 45% of your daily Vitamin C requirement? Potatoes also have zero cholesterol and are extremely low in sodium.
With the holidays rapidly approaching (yes, you're welcome for that reminder!) you're going to need some "show stopper" dishes and these Potato Cups with Mushrooms and Shallots fit the bill perfectly! Serve them with turkey, roast beef or as part of a vegetarian feast - or if you are like me, you might just make them the main dish because it really is about the side dishes, right?
Well, all I can say is "Viva Las Vegas!"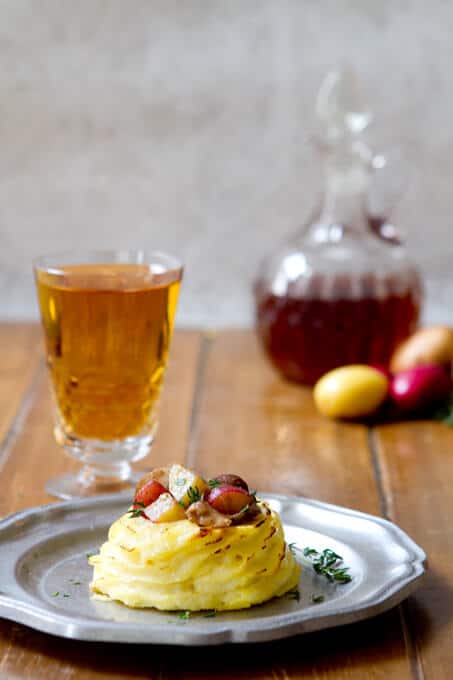 Disclaimer: I was compensated by the U.S. Potato Board for this post. However, all opinions expressed are entirely my own.

📖Recipe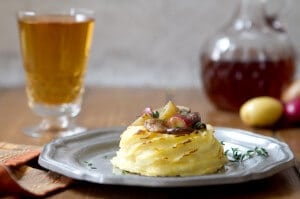 Potato Cups with Mushrooms and Shallots
These potato cups look elegant but couldn't be easier to make! I've filled them with mushrooms and shallots, but you could fill them with just about anything!!
Print
Pin
Rate
Add to Collection
Go to Collections
Ingredients
For the Potato Cups

2

lbs.

russet potatoes

¼

cup

unsalted butter

softened

2

egg yolks

1

tsp.

salt

¼

tsp.

white pepper

⅛

tsp.

freshly grated nutmeg

1

egg mixed with 1 Tbsp. water

For the Potato Mushroom and Shallot filling

¼

cup

unsalted butter

¼

cup

minced shallots

1 ¼

cups

Pee Wee potatoes cut into ½ dice

½

lb.

cremini mushrooms

½

lb.

wild mushrooms

oyster, shitake, porcini or a mix

1

tsp.

salt

⅛

tsp.

white pepper

⅛

tsp.

freshly grated nutmeg

½

cup

marsala wine

⅓

cup

creme fraiche

2

tsp.

fresh thyme

1

Tbsp.

fresh parsley
Instructions
For the Potato Cups

Pre heat the oven to 375 degrees.

Prick the russet potatoes with a fork and cook in the microwave until the potatoes are very soft and a knife can easily slide into them.

Remove the potatoes from the microwave. Scoop out the flesh and using a ricer, squeeze the potatoes into a mixing bowl. Add the softened butter, egg yolks, salt, pepper and nutmeg. Using a spatula stir the potatoes until all the ingredients are thoroughly combined.

Spoon the mixture into a piping bag with a star tip.

On a parchment lined baking sheet, pipe acircle about 3 inches in diameter. Pipe the potatoes to fill the circle and then pipe 3 layers on top of the circle to form a cup. Repeat with the remaining potato mixture. You should have 4 potato cups.

Mix the remaining egg with the water in a small bowl and with a pastry brush, lightly brush the cups with the egg wash.

Bake in a 375 degree oven for 10 - 12 minutes until the edges are golden and the potatoes have firmed.

Remove from the oven, fill with the potato and mushroom mixture and serve.

For the potato, mushroom and shallot mixture:

While the russet potatoes are cooking, bring a small saucepan of water to a boil. Add the Pee Wee potatoes and cook for 10 minutes until the potatoes are tender. Drain and rinse with cold water to stop the cooking. Set aside.

In a medium saute pan, melt the butter over medium heat. Add the shallots and mushrooms,salt, pepper and nutmeg. Cook until the shallots are very soft and the mushrooms and tender. Add the potatoes and cook for 5 minutes. Add the marsala and thyme and cook for 3 minutes or until almost all the liquid evaporates. Stir in the creme fraiche and stir until incorporated. Taste and adjust the seasonings. Add the parsley and stir. Divide the potato and mushroom mixture among the potato cups.
Recipe Notes
To speed things up, I cooked the russet potatoes in the microwave. I also used a piping bag and tip for the potato cups but you could also just spoon the mixture onto a parchment lined baking sheet and make a hollow with the back of a spoon! Depending upon how full you fill the cups, you may have some extra potato, mushroom and shallot mixture. This is great served on its own or as an omelet filling or even over a plain baked potato!
Nutrition
Calories:
478
kcal
|
Carbohydrates:
49
g
|
Protein:
8
g
|
Fat:
25
g
|
Saturated Fat:
15
g
|
Cholesterol:
158
mg
|
Sodium:
982
mg
|
Potassium:
1272
mg
|
Fiber:
3
g
|
Sugar:
4
g
|
Vitamin A:
1265
IU
|
Vitamin C:
21.8
mg
|
Calcium:
73
mg
|
Iron:
3.2
mg