Fattoush salad bursts with fresh tomatoes, crisp lettuce and crunchy pita bread croutons. Dressed with a sweet and tangy pomegranate dressing, this Lebanese salad is refreshing, crisp and satisfying.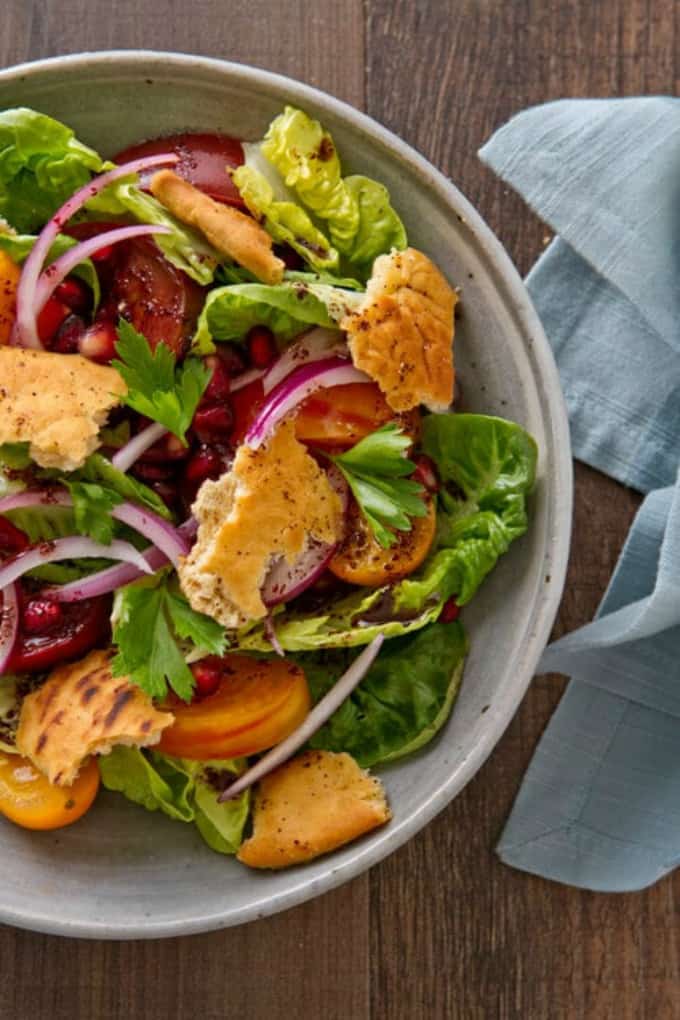 Published: 13 July 16
Last Updated: 19 July 19
Fattoush - a Lebanese Salad
Here at ACT, we are huge fans of Middle Eastern food and this Lebanese salad is a favorite. Not only does it use up leftover/stale pita bread (which we ALWAYS seem to have!) but oh-my-goodness....the dressing!!
Made with Sumac, a middle eastern spice, the dressing is fruity, sweet and sour. I honestly could lap it up with a spoon!!! During the summer, I keep a container of it in the fridge to drizzle on grilled meat dishes, salads, and even strawberries!
It's also the perfect side to so many middle eastern recipes !! I love to serve it with this Moroccan Chicken, and this Yogurt Marinated Chicken.
What is Fattoush Salad?
A delicious Middle Eastern Salad that's made from toasted/ fried pita pieces that are combined with a variety of vegetables and tossed with a light dressing.
Lettuce, tomatoes, cucumbers and onions are the most common vegetables used in this salad, but radishes and carrots are also popular additions.
There really is no standard recipe - which means you can mix and match pretty much to your heart's content! Fattoush is an ideal salad to make when you are cleaning out the vegetable drawer!
Where is Fattoush Salad From?
This middle eastern salad can trace it's origins to Syria. Today, it can be found throughout the Middle East and it's one of the most popular recipes in Middle Eastern Cuisine.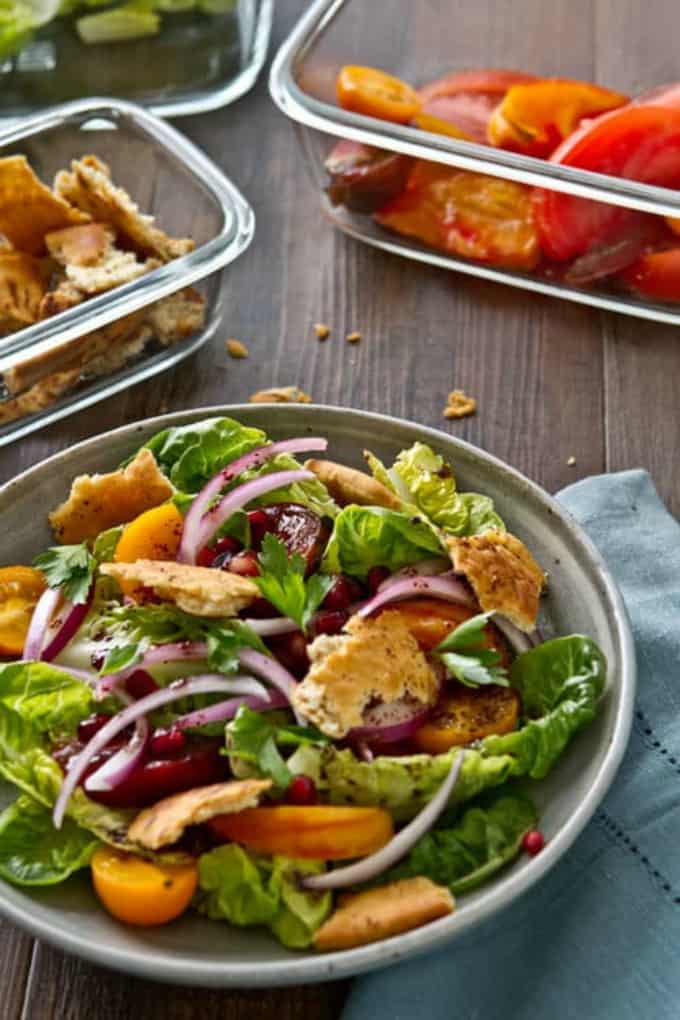 Ingredients you need to make this Fattoush Salad Recipe:
Lettuce - You will need a crunchy, sturdy lettuce for this salad. Romaine or Little Gem lettuce are great choices. Red leaf and green leaf lettuce also work!
Fresh tomatoes - vine-ripened or homegrown tomatoes are amazing in this salad.
Pita Bread - you can use fresh pita bread. If you happen to have some pita that is a little stale, definitely use it.
Red onion
Pomegranate seeds - these are optional, but I love the pop of sweet/sour flavor they give the salad.
Italian parsley
Olive Oil
Sumac - a common middle eastern spice with a fruity, earthy and slightly sour flavor. Sumac is an ingredient in za 'atar, a common middle eastern spice blend. You can find both sumac and za 'atar in any Middle Eastern market and even in many large grocery stores.
Fresh lemon juice
Pomegranate molasses - Pomegranate molasses is a thick syrup made from pomegranate juice. It's available from Middle Eastern markets and online. If you don't have it, you can substitute balsamic vinegar.
Fresh garlic
Dried or fresh mint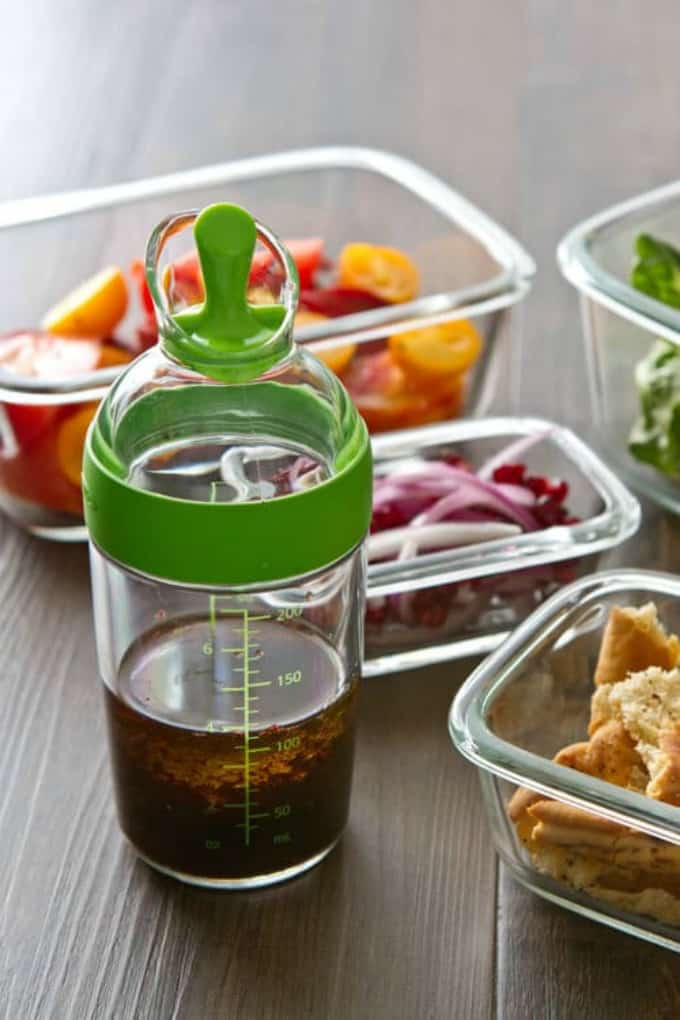 How to Make Fattoush Salad
Make the Pomegranate Dressing: Combine the ground sumac, lemon juice, pomegranate molasses, mint, garlic, and salt in a small bowl. Drizzle in the olive oil and whisk until the dressing is smooth and thoroughly combined.
Preheat the oven to 325 degrees.
Brush the pita bread with olive oil and sprinkle with some of the sumac. Place on a lined baking sheet.
Bake for 15 minutes.
Remove the pan from the oven and flip the pitas over. Brush with olive oil and sprinkle with sumac and bake for another 10 15 minutes or until the pitas are browned and crispy.
Remove from the oven and let cool. Break into pieces.
Combine the lettuce, tomatoes, and onions in a large salad bowl. Drizzle with ½ of the dressing and toss. Taste and add more dressing if desired.
Garnish with the pomegranate seeds, parsley and pita pieces.
What goes with Fattoush Salad:
Other Middle Eastern recipes I love to serve this salad with...
If you enjoyed this recipe, I'd love for you to give it a 5 Star rating! Cheers, Nancy
📖Recipe
Save
Save
Save
Save
Save