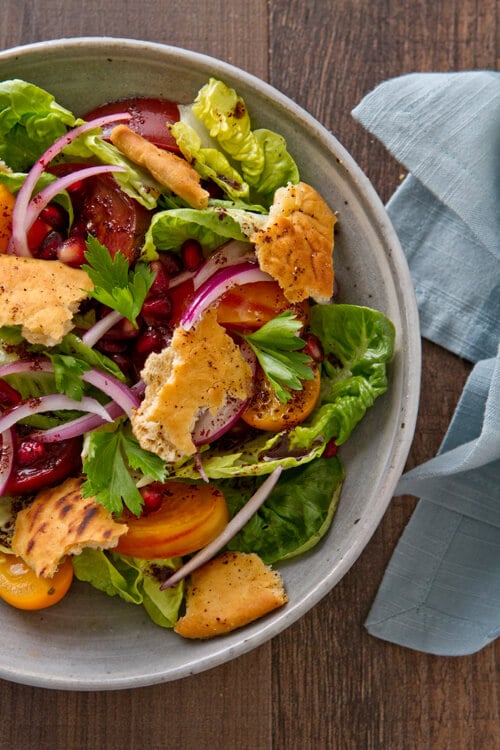 Pomegranate Fattoush Salad. My new "go to" staycation salad. Huh? Ok, remember when 'staycations" became a thing?  Yeah, me too – and this year I am actually doing one. With  the hubs having a new job and our boys only being home together for a couple of weeks, a vacation just wasn't in the cards. So, "staycation" it was.  I put on my "trip planner hat" and came up with a pretty impressive list of things to do- day trips to museums, concerts, plays, etc., etc.
And picnics – lots and lots of picnics- and this Pomegranate Fattoush Salad.
And it's been a blast.
So, when OXO contacted me about test driving their new line of Good Grips Glass Snap Containers, I couldn't raise my hand fast enough. Between the picnics and my increased storage demands (note: college boys eat a LOT of food!!) I knew I'd really put these containers through their paces.  Not only did I get to try out these new containers, but OXO graciously sent a set of their 2-in-1 Salad Servers and  their Little Salad Dressing Shaker for me to play with.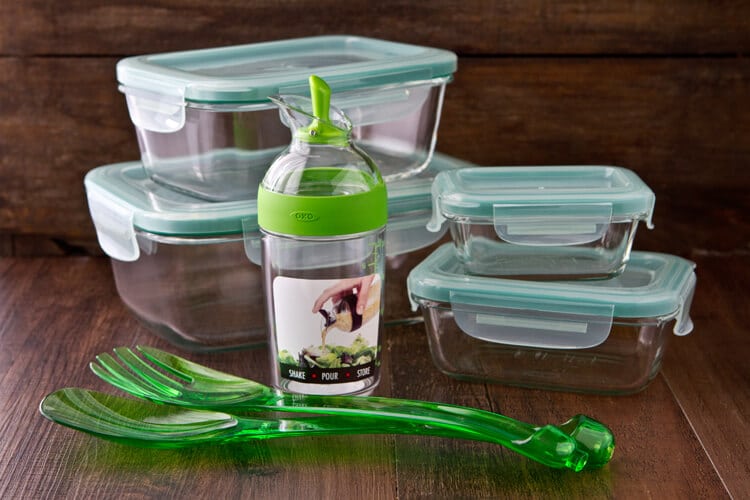 Made from BPA- free borosilicate glass, these containers can go from freezer to the oven without breaking or shattering – and can go in my dishwasher- which my plastic stuff can't.   Like all OXO products, though, it's the attention to detail that really sets them apart and one of the reasons I'm such a fan.  The containers nest for easy storage (unlike my plastic ones) and the lids are not only secure, but leakproof – and yes I can personally vouch for this – but let's not go there, ok?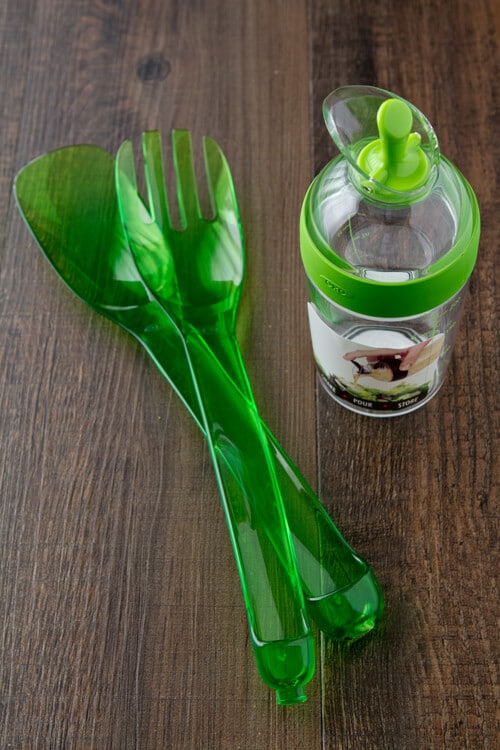 Ok, a word about the 2-in-1 salad servers and their Little Salad Dressing Shaker. Love them. These servers  lock together without being bulky and you can use them together or singly for serving. And the salad dressing shaker? What's not to love – measurement markings on the side, a dripless pour spout and a lid that doesn't leak. Any questions???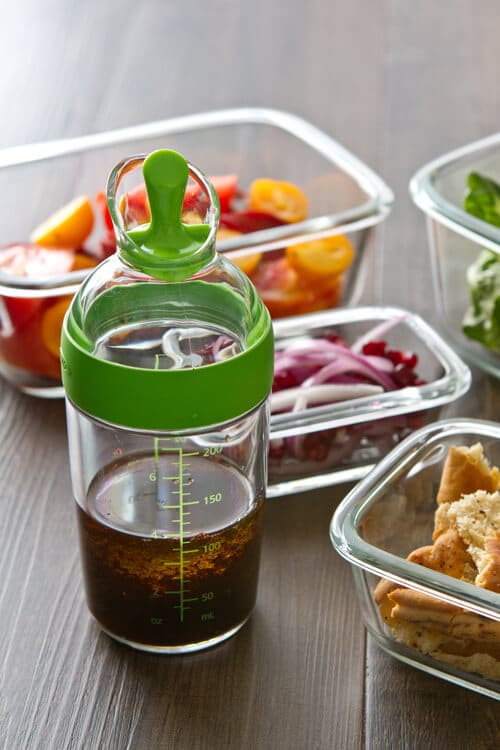 So, what did I make to try out these goodies? This Pomegranate Fattoush Salad. Not typically my hubs favorite kind of salad BTW – but his verdict "this is fantastic!" Which I think says it all. Heirloom tomatoes, thinly sliced red onion, pomegranate seeds and a zippy vinaigrette with sumac, lemon juice and pomegranate molasses drizzled over crisp greens and topped with crunchy pita chips.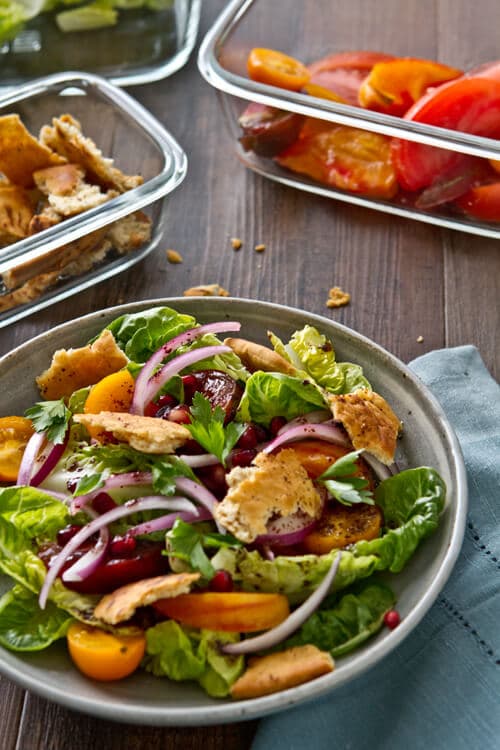 Juicy, sweet, tart and pretty darn addictive – and "picnic perfect"!!!
OXO products featured in this post were graciously provided by OXO. As always, all opinions stated are mine and mine alone.
Pomegranate Fattoush Salad
Pomegranate seeds and a zippy dressing update this classic middle eastern ssalad,
Ingredients
Dressing:

1

Tablespoon

ground sumac

1/4

cup

fresh lemon juice

2

Tablespoons

pomegranate molasses

2

cloves

garlic

mashed to a paste

1/2

teaspoon

salt

1/2

tsp.

dried mint

optional

1/2

cup

olive oil

Salad:

2 -

six inch pita breads

1

Tablespoon

olive oil

1/2

teaspoon

sumac

4

large heirloom tomatoes

cut into wedges

6

cups

Little Gem or torn romaine leaves

1/2

cup

slivered red onion

1/2

cup

pomegranate seeds

1/2

cup

parsley leaves.
Instructions
For the dressing:

Combine all the ingredients in the Little Salad Dressing Shaker and shake to combine.

Dressing can be made 1 day ahead. If making ahead, refrigerate after making.

For the Salad:

Pre heat the oven to 325 degrees.

Brush the tops of the pita bread with 1 Tablespoon of olive oil.

Sprinkle with sumac.

Bake for 15 minutes, until the pita tops are a deep golden brown.

Remove pitas from the oven, flip over and brush with remaining olive oil

Sprinkle with remaining sumac.

Return to the oven and bake for another 10 - 15 minutes until the pitas are crispy.

Remove from oven and let cool.

Break into pieces and store in one of the Good Grips glass snap containers if not using immediately.

In a large bowl, combine the little gem or romaine leaves, tomatoes and red onion.

Toss 1/2 of the dressing.

Taste and add more dressing if necessary.

Garnish with the pita croutons, pomegranate seeds and parsley.
Nutrition
Calories:
358
kcal
|
Carbohydrates:
20
g
|
Protein:
2
g
|
Fat:
31
g
|
Saturated Fat:
4
g
|
Cholesterol:
0
mg
|
Sodium:
313
mg
|
Potassium:
583
mg
|
Fiber:
4
g
|
Sugar:
12
g
|
Vitamin A:
157.2
%
|
Vitamin C:
46.2
%
|
Calcium:
5.8
%
|
Iron:
12.4
%
Save
Save
Save
Save
Save
Save