Sweet, sour and a bit tangy, this Italian inspired One Pan Chicken Scarpariello might just become your weeknight bff! A simple dish of chicken and peppers (with a little sausage ?) it's quick enough for weeknights but interesting enough for company!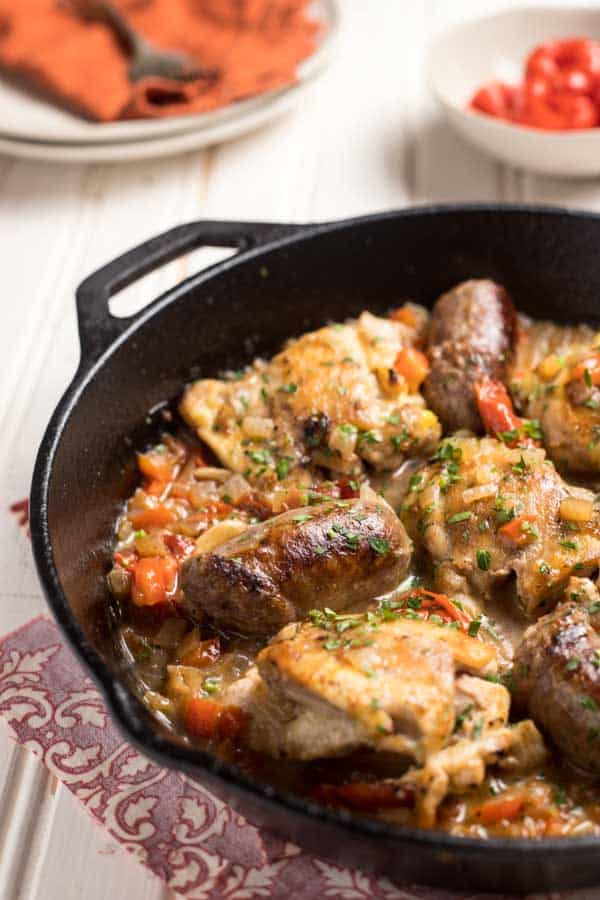 If you've been around the Table for a while, you know I'm a huge fan of one pan  dinners – and this Chicken Scarpariello is a welcome addition to my list! Garlic, onions, red bell peppers and sweet pickled peppers (I used peppadews) flavor this dish – flavor wise it tastes like sweet and sour chicken – but with an Italian flair!
Where did One Pan Chicken Scarpariello come from?
Great question! The answer is that like so many dishes, no one exactly knows for sure. Some believe this chicken and peppers dish  originated in New York – others claim it's from southern Italy.  "Scarpariello" means shoemaker or shoe fixer – the story goes that because both husband and wife typically worked to make the shoes, there was little time to make dinner and so meals were made from whatever was quick and handy – sounds familiar, doesn't it? Personally, I'd like to thank whoever it was that came up with this chicken and peppers dish because it is absolutely delicious and absolutely weeknight friendly!
How to make One Pan Chicken Scarpariello:
See how easy peasy this dish is to make!
Step #1:  In a heavy skillet (I recommend cast iron!) brown the sausages in a little olive oil. Remove and then add the  boneless chicken thighs ….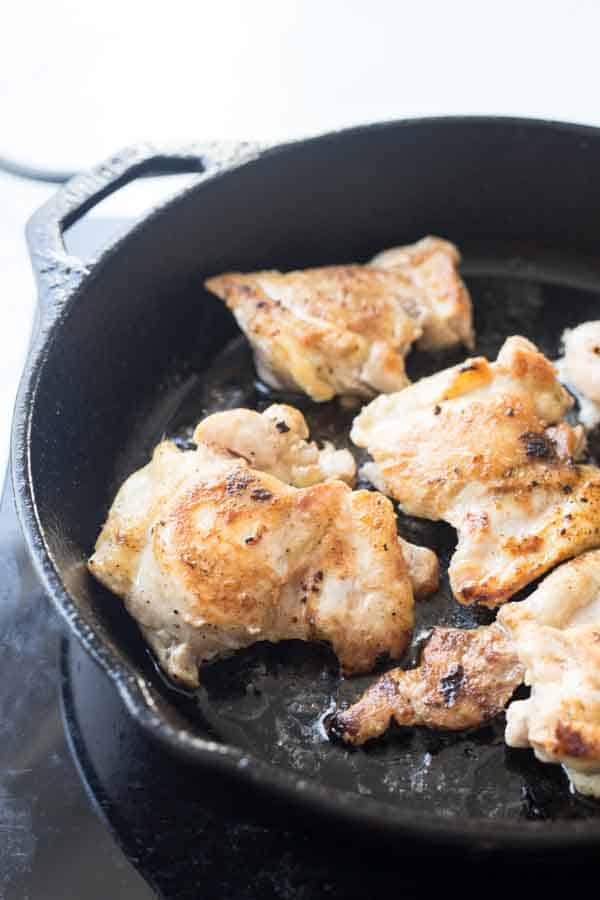 Step#2: Remove the chicken and add the garlic and brown it – but be careful not to burn it!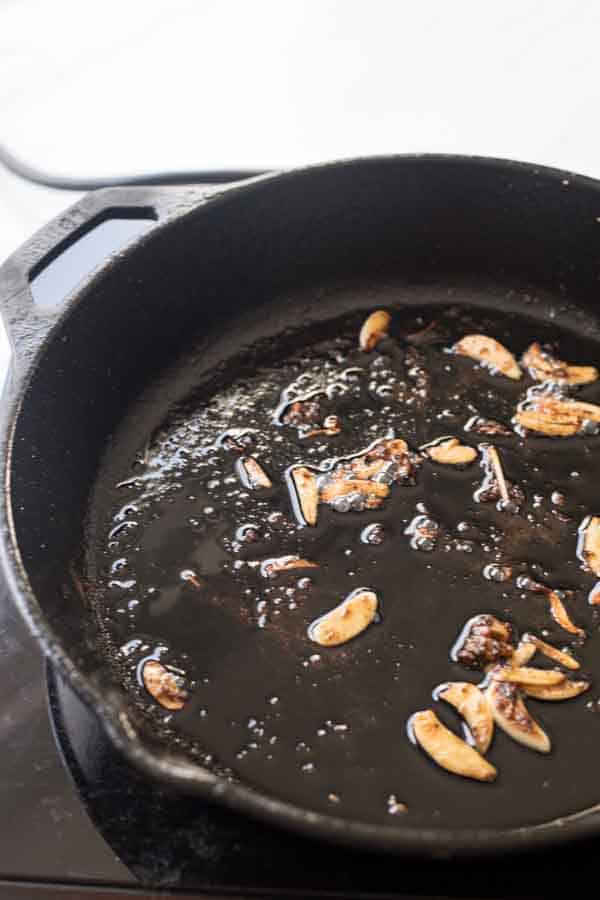 Step #3: Remove the garlic and set aside. Add the onions and bell peppers and saute until slightly golden. Add the wine and stock,  scraping up the browned bits and let the sauce cook down for about 10 minutes. and then add all the remaining ingredients  including the sausage and chicken.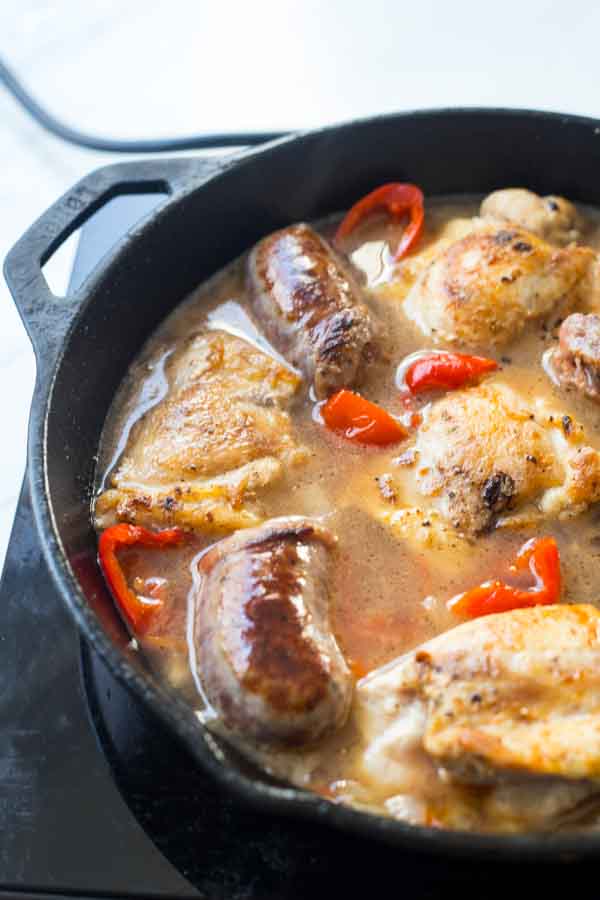 Step #4: Cook the chicken, uncovered  over medium high heat until the chicken registers 165 on an oven thermometer and the sauce has reduced down. Add the peppedews and stir to combine.
Step#5: Serve with roasted potatoes or rice – I recommend making the Instant Pot Parmesan risotto to go with the dish – sooo good!
One Pan Chicken Scarpariello
Ingredients
2

links

sweet italian sausage

1

Tablespoon

olive oil

4

boneless, skinless chicken thighs

1

onion

cut into 1/2 inch dice

1

red bell pepper

cut into 1/2 inch dice

4

cloves

garlic

sliced

3/4

cup

dry white wine

3/4

cup

chicken stock

1/3

cup

peppadew peppers

chopped

3

sprigs

fresh rosemary

2

Tablespoons

fresh parsley

minced
Instructions
Heat a large, heavy bottomed skillet over medium heat. Add the olive oil and heat until the oil begins to shimmer, about 2 minutes.

Add the sausages and cook until nicely browned, about 3 minutes. Turn the sausages and cook for another 3 minutes. Remove from the pan.

Add the garlic and saute 1 - 2 minutes until brown but not burned! Remove from the pan and reserve.

Add the chicken and season with salt and pepper. Cook until browned on both sides, about 3 minutes per side. Remove from pan and reserve.

Add the onions and bell peppers and saute for 2 - 3 minutes until the onions are translucent and beginning to turn golden. Add the wine, stock, garlic and rosemary, scraping up any browned bits. Increase the heat to high and boil until reduced by a third, about 6 - 8 minutes.

Reduce the heat to medium andd the chicken, sausage and peppadew peppers back to the pan. Cook until the chicken reaches 165 degrees on an instant read thermometer, about 5 - 7 minutes.

Garnish with parsley and serve with rice or roasted potatoes.
Notes
Notes:
You can buy jarred, pickled peppadew peppers for this recipe or search your markets olive bar where you can purchase a smaller amount! 
To get the best sear on chicken, blot the chicken dry with paper towels. 
To save time, you could mince the garlic and add it with the peppers and onions. I like to saute it separately for this dish since I believe it imparts more garlic flavor but if time is an issue, cooking it with the onions and peppers works great too! 
Nutrition
Calories:
249
kcal
|
Carbohydrates:
9
g
|
Protein:
23
g
|
Fat:
9
g
|
Saturated Fat:
1
g
|
Cholesterol:
109
mg
|
Sodium:
175
mg
|
Potassium:
508
mg
|
Fiber:
1
g
|
Sugar:
4
g
|
Vitamin A:
30.3
%
|
Vitamin C:
72.1
%
|
Calcium:
2.9
%
|
Iron:
8.5
%