Want the juiciest, most tender shrimp? Oil poach them!!! If you like shrimp scampi, you will love this easy, healthy one pan Oil Poached Spanish Sherried Shrimp recipe with lemon and tomatoes.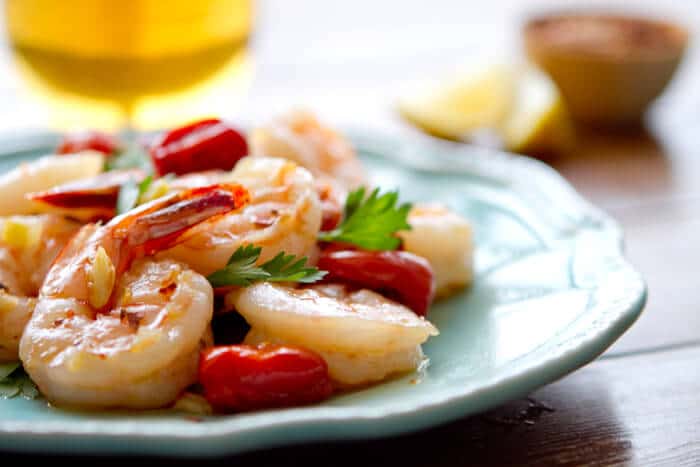 If there were a self help group for overzealous cookbook collectors I'd be a charter member. You don't even have to walk into my kitchen to know I am obsessed with food - my bookshelves proudly display the evidence. There is no rhyme or reason to my collection - and there is no organization either, but we'll talk about that another time, ok?
So, my latest addition is "Cooking Techniques and Recipes with Olive Oil" by Mary Platis and Laura Bashar - two very talented ladies that I have the good fortune to know personally. Recently, Melissa's Produce invited to to a luncheon to launch the book and learn a little more about olive oil with George Menzelos of Arianna Trading Company.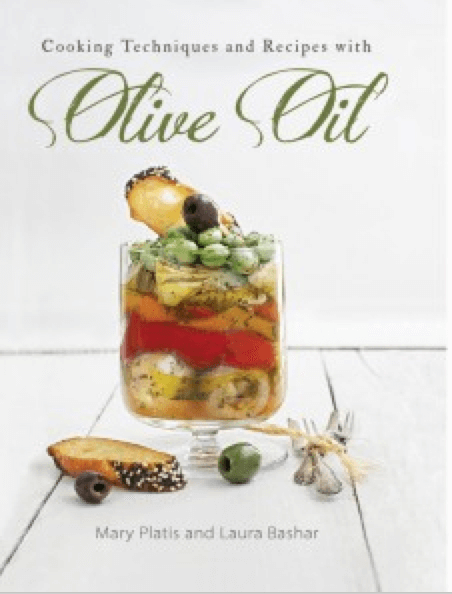 I am sure you are all thinking "olive oil? What is there to know?' But after this lunch I learned there is a lot!
Cooking Techniques and Recipes with Olive Oil is chock full of fabulous information about olive oil - from varieties to processing methods to how to buy it to my personal favorite - techniques. You know, how to really cook with olive oil! One technique that intrigued me though was the concept of oil poaching - literally using oil instead of water to cook foods.
Food. Cooked. In. Olive. Oil. Yesssssss.........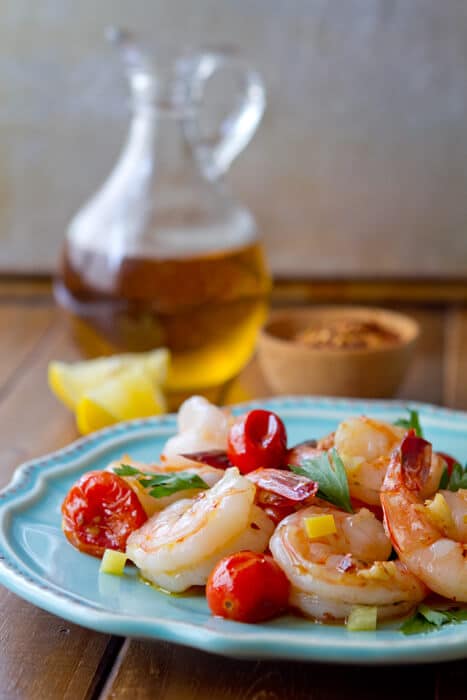 Since I had a shrimp recipe I was working on, I thought the oil poaching technique would work so I toddled into the kitchen to give it ago. Now, see those lovely shrimp on the plate?? Well, if you can get them to the plate after cooking them, more power to you - the first batch didn't make it that far....
So, I just had to make another batch because I couldn't stop eating them so that I could show you!
Juicy, tender shrimp flavored with garlic, smoked paprika, tomatoes , preserved lemons and sherry bathed in that glorious olive oil. Serve them with some crusty bread to sop up all that luscious oil or add a bed of pasta - to um... sop up all that luscious oil... or just eat 'em out of the skillet- trust me, it is all good.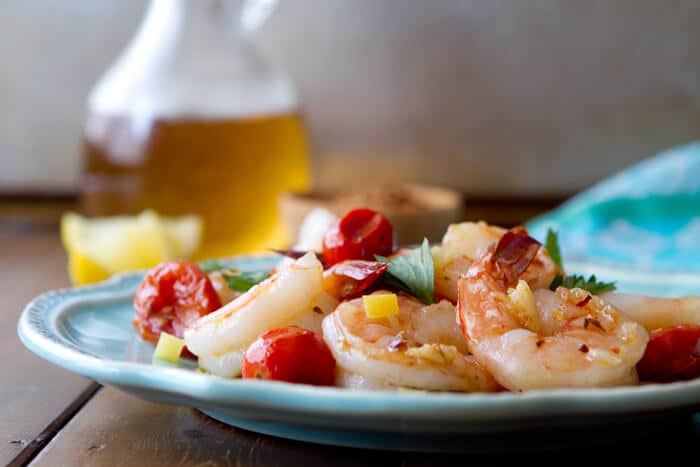 And this technique? Magic I tell ya, magic. Salmon would be amazing done this way... sigh....
As you know the holidays are just around the corner and this book and a bottle of the Arianna Olive Oil would make a fabulous gift for both foodies and non foodies on your list... or for fellow members of the "overzealous cookbook collectors club"!!!
Are you a shrimp lover? Check out my Shrimp with Crispy Pancetta, Tomatoes and Rosemary or my Shrimp Scampi Toast
📖Recipe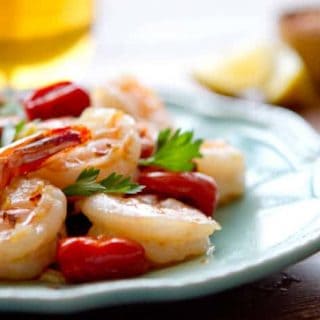 Ingredients
1

lb.

shrimp

16 - 20 ct peeled and deveined

2 - 3

cups

extra virgin olive oil

4

cloves

garlic

minced

1

tsp.

smoked Spanish paprika

1

tsp.

red pepper flakes

½

tsp.

salt

¼

cup

Spanish sherry

2

Tbsp.

minced preserved lemon

optional

juice of 1 lemon

3

Tbsp.

chopped fresh parsley

1 ½

cups

cherry or pearl tomatoes
Instructions
Add the olive oil to a large saute pan. Add the shrimp. Cook over medium low heat until the oil reaches 180 degrees. Simmer shrimp for 10 minutes until the shrimp are pink and just cooked through. Remove shrimp and drain on paper towels.

Pour off all but ½ cup olive oil. Warm the oil over medium heat. Add the garlic, salt and red pepper flakes and saute for about 1minute - don't burn the garlic!

Add the sherry, paprika, lemon juice, tomatoes and preserved lemon. Cook for 5 minutes or until the tomatoes are softened. Quickly add the shrimp to re warm. Take the pan off the heat and evenly divide mixture between 2 plates. Sprinkle with the parsley. Serve with crusty bread or ladle shrimp and sauce over freshly cooked pasta.
Nutrition
Calories:
306
kcal
|
Carbohydrates:
12
g
|
Protein:
49
g
|
Fat:
4
g
|
Cholesterol:
571
mg
|
Sodium:
2309
mg
|
Potassium:
717
mg
|
Fiber:
3
g
|
Sugar:
4
g
|
Vitamin A:
4360
IU
|
Vitamin C:
74
mg
|
Calcium:
396
mg
|
Iron:
8
mg