French sugar puffs are a buttery, tender and slightly sweet treat to serve with coffee, tea or dessert! Ready in under one hour, no rolling required!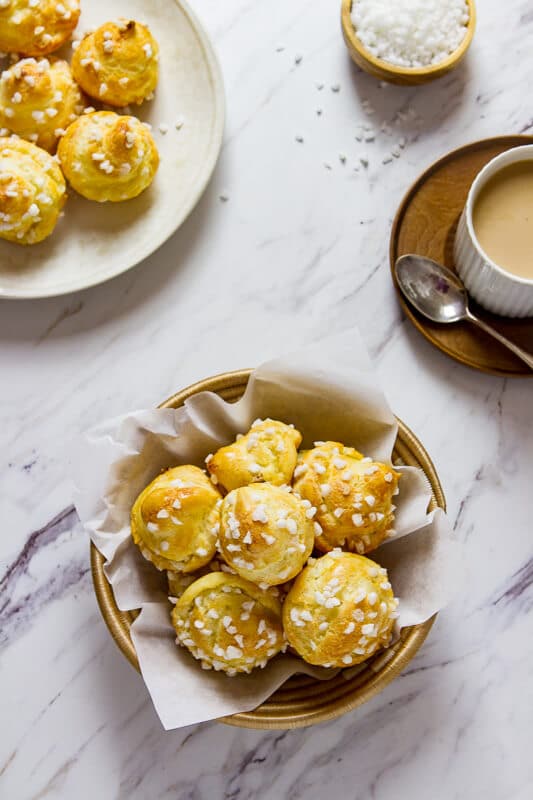 With each trip (this was my 4th) I discover more and more things to love about France and Paris.. and on this trip, these French Sugar Puffs (or Chouquettes)  were on the top of my list. Ok, well after  crepes, croissants, baguettes, CHEESE, chocolate..and the Eiffel Tower…
The  baguettes, cheeses, charcuterie, pastries, butter and yogurts were as delectable as I remembered. No matter where we ate – a cafe, a nice restaurant or a meal assembled from market finds,  the food was delicious. The question of course is.. why?
Why French food is so good
Ok, yes, I  was in  Paris.. but other than that.. why? After pondering this question over a glass of wine or two.. I think I have the answer.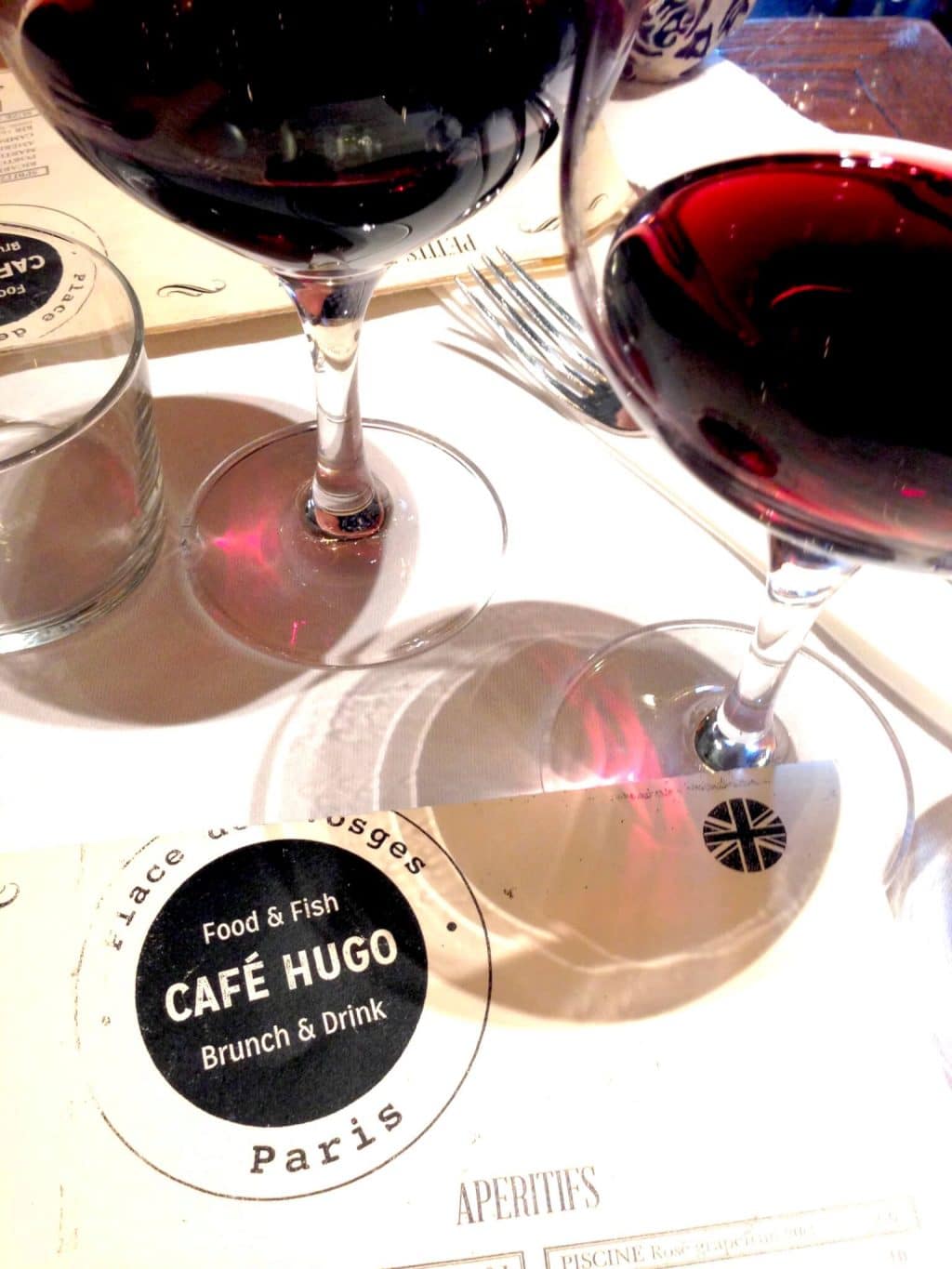 Restraint.
An odd word when you think of it… but I think it is key to understanding French food. Every dish I had reflected this principle. This simple gallette I had at West Country Girl -smoked salmon, cheese, chives graces a thin and lacy bretton style crepe. The filling was in perfect proportion to the crepe. You could taste every component – the textures and flavors were in total balance.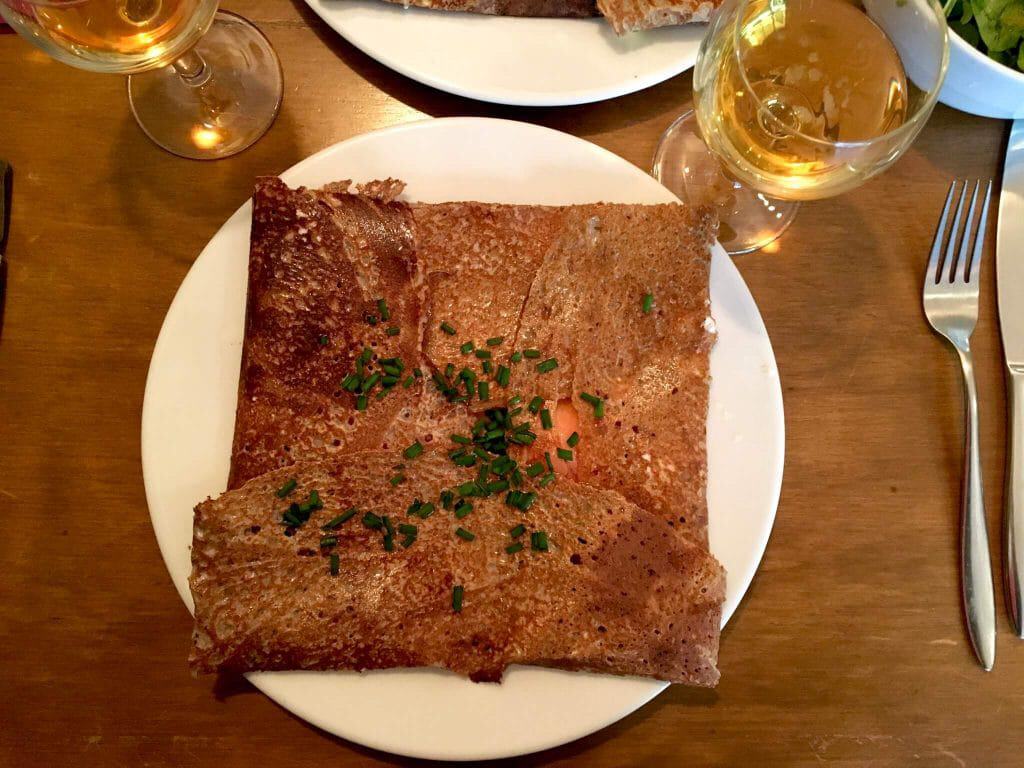 Simple… and so satisfying.
French Sugar Puffs (Chouquettes)
Which brings me (in a rather round a bout fashion!) to these little French Sugar Puffs. This delightful snack can be found at virtually every patisserie and is typically sold by the bag for a euro or two. French Sugar Puffs  are simply airy puffs of pate choux dough sprinkled with crunchy pearl sugar and are an excellent example of restraint. Not too sweet, they are buttery and tender with just enough  crunchy sweetness to keep your tastebuds happy. They're an ideal partner to an afternoon cup of tea or coffee or even as an accompaniment to a summer sorbet. I've also  been told that these are equally good for breakfast – not that I would know anything about that….
Now, if getting to Paris is bit too long of a trek for these little morsels the good news is you can easily make them at home!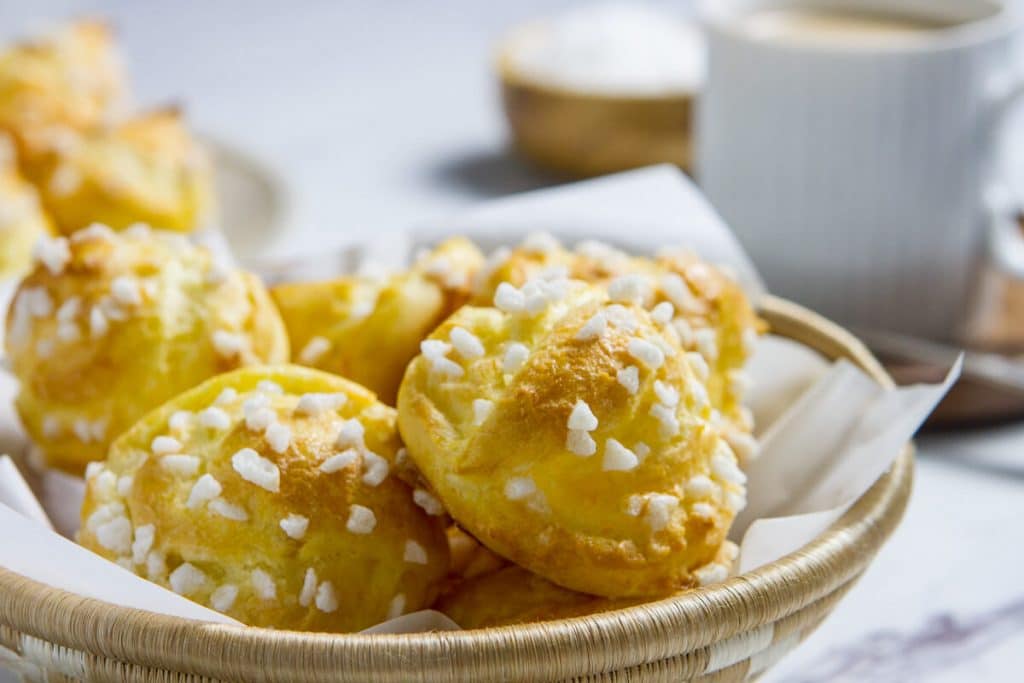 Tips for making Sugar Puffs
Use a butter with a high butterfat content.
Have all your ingredients measured out before you start.
After measuring your flour, make sure to sift it.
Measure carefully! Baking is all about the ratios.
Adding the salt and sugar to the water/butter mixture is critical.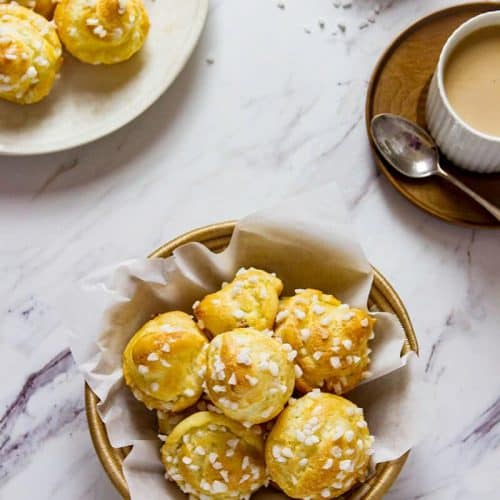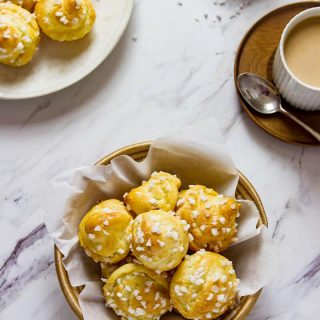 Ingredients
½

cup

water

3

Tablespoons

unsalted butter cut into chunks

large pinch of salt

1

teaspoon

sugar

½

cup

flour

sifted

2

large eggs

1

egg mixed with 1 Tablespoon of water.

⅓

cup

pearl sugar
Instructions
Pre heat the oven to 425 degrees.

In a small saucepan bring the water, butter, salt and sugar to a low boil, making sure the butter is completely melted.

Remove the pan from the heat and add the flour all at once.

Using a wooden spoon, stir until the flour is fully incorporated.

Return the pan to medium high heat and cook, stirring constantly for 2 - 3 minutes until the dough pulls away from the sides of the pan and there is a film on the bottom of the pan.

Remove the pan from the heat and let cool for several minutes.

Add the eggs one at a time, stirring it into the dough until it is thoroughly incorporated.

You can drop the dough by tablespoons onto a parchment lined baking sheet or place the dough into a piping bag fitted with a ½ inch tip and pipe it. Space the puffs about 2 inches apart.

Lightly brush the puffs with the beaten egg, tapping down any peaks that may have formed.

Sprinkle liberally with pear sugar.

Bake for 15 - 20 minutes until the puffs are golden brown.

Turn off the oven.

Remove the pan from the oven and, using a toothpick, prick a small whole in each puff.

Return puffs to the oven and prop the door open with a wooden spoon.

Let the puffs sit in the oven for another 10 minutes.

Remove and enjoy!
Nutrition
Calories:
990
kcal
|
Carbohydrates:
119
g
|
Protein:
23
g
|
Fat:
47
g
|
Saturated Fat:
25
g
|
Cholesterol:
581
mg
|
Sodium:
200
mg
|
Potassium:
249
mg
|
Fiber:
1
g
|
Sugar:
71
g
|
Vitamin A:
1760
IU
|
Calcium:
84
mg
|
Iron:
5.2
mg