A couple of weeks ago, in my post on Apricot Chicken with Cranberry Rice Pilaf, I confessed one of my deepest, darkest secrets - my penchant for buying new and unusual ingredients at the grocery store and then remorsefully trying to figure out what to do with them.
Well, in the immortal words of Britney Spears "oops, I did it again" - although this time the ingredient wasn't new, and I had a few ideas of what to do with it.
The ingredient in question is "Lyle's Golden Syrup" a british ingredient that my Grandmother grew up with that has become more widely available in recent years. So what exactly is it? Golden cane syrup to be exact - a bit thinner than honey or corn syrup and with a light caramel flavor.
So, what exactly do you make with this?? Well, you could certainly make flapjacks (not pancakes but an early forerunner of the granola bar) or make Chocolate Caramel Slice Bars. Can you guess which one I chose??
Caramel Slice Bars, a.k.a. Millionaire's Shortbread, Caramel Bars, Windsor Bars, or Milky Way bars are a cross between a bar cookie and a candy. Sinfully rich, they consist of a layer of shortbread topped by a layer of smooth caramel and milk (or in this case semi sweet) chocolate.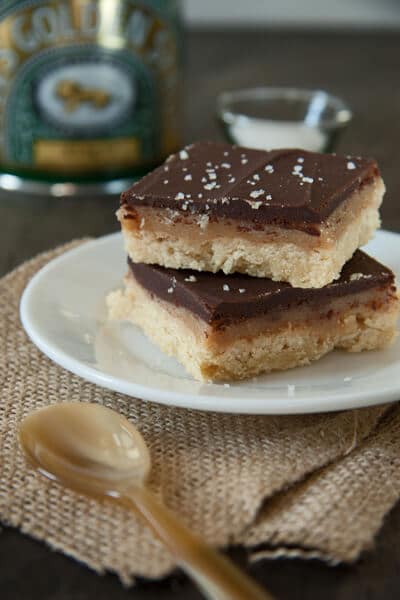 I am not going to lie to you, these bars are full of butter - but because they are so rich you won't be tempted to eat a large portion (or so I keep telling myself, uh huh...) so they aren't something you'd make everyday. But when nothing else but rich caramel and chocolate will do, these are the bars for you!!!
Curious about flapjacks?? You can find some great recipes for them here!
Ladles and Jellyspoons - English Flapjacks
Real Epicurean Maple Pecan Flapjacks
[print_this]
Chocolate Caramel Slice Bars
If you can't find Lyle's Golden Syrup, you can substitute honey or or agave syrup. These bars can be made 3 days in advance. But be careful, they might not last that long!!
(adapted from Bon Appetit)
Crust
1 cup flour
¼ cup golden brown sugar, packed
2 tsp. cornstarch
¼ tsp. salt
½ cup unsalted butter, cut into ½ inch cubes
1 Tbsp. ice water
1 large egg yolk
Filling
1 - 14 oz. can sweetened condensed milk
½ cup golden brown sugar
6 Tbsp. unsalted butter, diced
2 Tbsp. Lyle's Golden Syrup
1 tsp. vanilla extract
6 oz. bittersweet chocolate, chopped
3 Tbsp. whipping cream
pinch fleur de sel (optional)
Directions;
Pre heat the oven to 350 degrees. Line a an 11x7x2 pan with foil, letting the excess hang over the edges. Generally butter the foil. Set aside.
Blend the flour, golden sugar, cornstarch and salt in the bowl of a food processor. Add the butter and process until the flour mixture resembles coarse bread crumbs. Add the egg yolk and the water. Blend until the mixture clumps.
Dump the mixture into the prepared baking pan and press dough evenly into the bottom of the pan. Pierce all over with a fork.
Bake the crust for 15 - 30 minutes or until the crust is golden brown. If bubbles form, pierce them with the fork.
Let crust cool completely.
For Caramel Layer:
Whisk sweetened condensed milk, ½ cup golden brown sugar, ¾ stick diced unsalted butter, syrup and vanilla in a medium saucepan over medium high heat. Whisk until the sugar dissolves and the butter melts.
Attach a candy thermometer to the side of the pan and bring mixture to a gentle boil, whisking constantly. Continue to whisk mixture until temperature reaches 225 degrees - about 6 minutes.
Pour the caramel evenly over the cooled crust. Let set for 15 - 30 minutes.
Combine chocolate and whipping cream in a medium bowl and microwave at 15 second intervals until the chocolate has melted. Stir to combine. Spread chocolate over the caramel. Refrigerate bars until the chocolate is set. Refrigerate.
Remove foil from pan and set bars (still in the foil) on a cutting board. Gently fold down the foil so that it is flat. Cut into 4 lengthwise strips and cut each strip into 5 or 6 bars. Sprinkle lightly with fleur de sel if desired. Serve cold.
[/print_this]