Well, it's officially Fall which means…. yep, the holidays are just around the corner!!  I know, "thanks for the reminder" is probably hovering on your lips.
So think of this as just a helpful reminder… and by helpful, I mean that in the truest sense.  You see, the best way to beat holiday stress is to plan a little ahead.. and that is exactly what this post is about. One of the best things about writing a food blog is  getting to review cookbooks, which make great holiday gifts right? Well, this one is not only drop dead gorgeous but filled with delicious recipes and clear and concise instructions for … candy, which also makes a great holiday gift, right? See, I told you this was gonna be helpful!!!  Ok, so about this book. It's called  "Sweet Confections"   by Nina Wanat and photographed by Diane Cu and Todd Porter, a.k.a White on Rice Couple. The book is filled with gorgeous and easy to make candies…. and trust me they are truly easy and I am not just saying that… hot sugar and I have never been friends so if I can do this, believe me, so can you.
Flipping through the book, I had a hard deciding what to make first… but I decided on the candied orange peel.  I have several recipes that use it and I'd been thinking about making a cookie with it… and so of course I did both! The candied orange peel turned out exactly as I'd hoped – wonderful on it's own and even better mixed into these cookies. It imparts an orange flavor that you can't get using orange zest/juice/extract alone.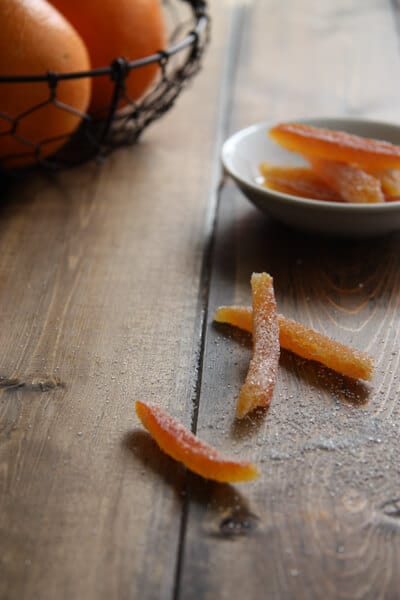 So do yourself a favor… pick up a copy (or two or three!) of this book…. it will inspire you to make some homemade treats for gift giving. Or let your "inner shopper" out and splurge on some adorable packaging supplies and package up some terrific holiday gifts!! And… to make this even EASIER I am giving away a copy of this gorgeous book!!! So no excuses NOT to get started on those holiday preparations!!
So, how do you win this book?? Easy!! Just leave me a comment with your favorite candy – want more chances? Sign up for my RSS feed (or just let me know that you already do!), follow me on Twitter and/or follow me on Facebook! Just leave a comment for each!! Winners will be drawn via Random. org on FRIDAY,  SEPTEMBER 30th!!!
Chocolate and Orange Icebox Cookies
Ingredients
1 cup unsalted butter
1 1/2 cup sugar
1 egg
1 tsp. vanilla extract
2 1/2 cups flour
1 1 /2 tsp. baking powder
1 tsp. salt
1 cup mini semisweet chocolate chips
1/4 cup minced candied orange peel
Candied Orange Peel (adapted from "Sweet Confections" by Nina Wanat)
3 oranges
2 cups water
2 cups sugar
1/4 cup corn syrup or 1/4 teaspoon cream of tartar
pinch of kosher salt
Instructions
Cream the butte with the sugar and beat until light and fluffy. Add the egg and the vanilla. Beat until well combined. Combine the flour, baking soda and salt. Add to the butter mixture and beat until blended. Mix in the mini chocolate chips and the candied orange peel. Divide the dough in half. Shape into logs about 1 1/2 inches thick. Wrap in parchment or wax paper and refrigerate until firm. To Bake:
Pre heat oven to 350 degrees. Line several sheet pans with parchment.
Slice dough into 1/4 inch slices. Place approximately 2 inches apart on a sheet pan and bake for 10 to 12 minutes or until edges are lightly browned. Remove to wire racks to cool.
Directions for Orange Peel:
Cut the top and bottom off each orange. Score the peel in 1 inch wide strips. Using your fingers, remove the peel from the orange, scraping away any membrane that remains. Place the peels in a saucepan and cover with water. Bring to a boil and reduce to a simmer. Simmer for 20 minutes or until peels are tender. Drain.
When cool, cut the peels into strips 1/4 inch wide. Set aside.
In the same saucepan, combine the 2 cups of water, sugar and corn syrup or cream of tartar. Bring to a boil over medium high heat. Add the peel. Reduce the heat and simmer for 30 minutes or until the peel is translucent and tender. Remove from the heat and pour the syrup and peels into a heatproof container. Let sit overnight at room temperature. Store, covered, in the refrigerator. To coat peels in sugar, remove peels from the syrup and let dry overnight and then roll in sugar.
7.6.4
99
https://www.acommunaltable.com/chocolate-and-orange-icebox-cookies/