QVC channel? No interest. Nordstrom's half yearly sale? Oh please… I avoid it like the plague.  But put me into a grocery store and it's all over – I have no willpower. None. Something interesting in aisle nine? into my cart it goes with a speed that rivals the Housewives of Beverly Hills at a Christian Louboutin sale.  The remorse  of course doesn't set in until I get home and start unpacking my bags  and the inevitable question comes up –  "what exactly am I going to do with this?"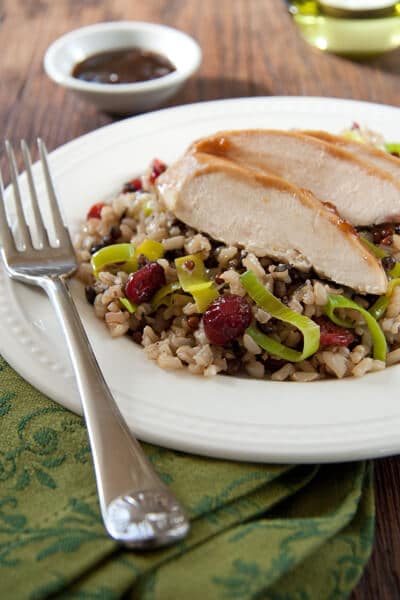 Fortunately, that wasn't a problem with my latest impulse purchase –  a bag of  Trader Joe's Brown Rice Medley. A mix of brown rice, black barley and daikon radish seeds may sound a bit unusual, but I could think of numerous ways to use it. In fact, I had a hard time deciding exactly what recipe I was going to make with it first.  With the brown rice and daikon radish seeds,  asian style dishes are the first to come to mind. But, nah  that was too easy. Nope  I had to try something a bit different. So, I made a simple pilaf with chicken stock, sauteed leeks, dried cranberries and thyme. And it was good, very good. Topped with an Apricot Glazed Chicken, it's a simple and easy weeknight dish with an added bonus…  the leftovers (with a bit of tweaking) make a perfect brown bagged lunch the next day!
[print_this]
Apricot Glazed Chicken with Cranberry Rice Pilaf – I used the Brown Rice Medley from Trader Joe's. If you can't find this in your area, you can substitute parboiled brown rice or a brown and wild rice blend instead.
(Serves 4)
Chicken
1/4 cup apricot preserves
1 Tbsp. balsamic vinegar
1 1/2 tsp. dijon mustard
4 skinless, boneless chicken breasts, rinsed and patted dry
salt and white pepper to taste
Rice Pilaf
1 cup Trader Joe's Brown Rice Medley
2 1/2 cups low sodium chicken stock
1 leek, washed and sliced into 1/4 inch thick rounds
1 Tbsp. olive oil
1/2 cup dried cranberries
2 tsp. dried thyme
salt and pepper to taste
Directions:
Pre heat the oven to 375 degrees.
In  a small bowl, combine the apricot preserves, balsamic vinegar and dijon mustard. Season to taste with salt and pepper. Set aside.
In a large saucepan heat 1 Tbsp. olive oil over medium high heat. Add the leeks and saute until the leeks are bright green and tender – about 3 minutes.
Add the rice, chicken stock and thyme. Stir to combine. Cover the saucepan and bring mixture to a boil. Reduce to a simmer and cook for approximately 35 minutes or until the liquid is absorbed and the rice is tender. Remove saucepan from the heat and stir in the cranberries. Cover and let sit for 10 minutes.
While the rice is simmering, line a rimmed sheet pan with foil and spray with cooking spray.
Place chicken breasts on the prepared sheet and brush with the glaze. Place into the oven. Baste the chicken with the remaining glaze after about 15 minutes into the cooking time. Continue to cook  until the chicken is done and has reached an internal temperature of 165 degrees – about 20 – 25 minutes. Remove from oven.
Serve with the rice pilaf.
Notes: This makes a great base for a "leftover lunch"!!  For lunch I doubled the glaze recipe and saved half for the next day. To the reserved glaze, I added about 3 Tbsp. olive oil to make a dressing. I tossed a handful of baby spinach with the dressing and then stirred some of the dressing into the leftover rice pilaf and layered the pilaf over the spinach and topped with some of the leftover sliced chicken for an Apricot Chicken and Spinach Salad!
[/print_this]