This week I've been noshing on  the  perfect Herb Hummus which put me in the mood for middle eastern inspired food. I've had this recipe for  Turkey Kibbe Kebabs bookmarked for several years and decided that it was high time I tried it.
In case you aren't familiar with it Kibbe (or Kibbeh) is a dish made of bulgur or rice and chopped meat that is common in the cuisines of Syria, Lebanon, Palestine, Israel and Jordan. The best-known variety is a torpedo-shaped croquette with a bulgur crust that is stuffed with rice and minced beef or lamb and fried.  Other types of kibbe are shaped into balls or patties and can be baked or poached. It is the kind of dish that every family has their own recipe for and their own tradition regarding how it is made and flavored.
I adapted this recipe from "The Professional Chef's Techniques of Healthy Cooking" by The Culinary Institute of America that I bought after a week stint at the St. Helena campus.  This version uses ground turkey and the Kibbe is grilled rather than fried. These kebabs are surprising light and are subtly  flavored with cilantro, mint, cumin and allspice. I served them with some freshly made pita bread and a romaine salad with tomatoes, cucumbers, onions and dressed with a light lemon vinaigrette – oh and of course some of the Herb Hummus!!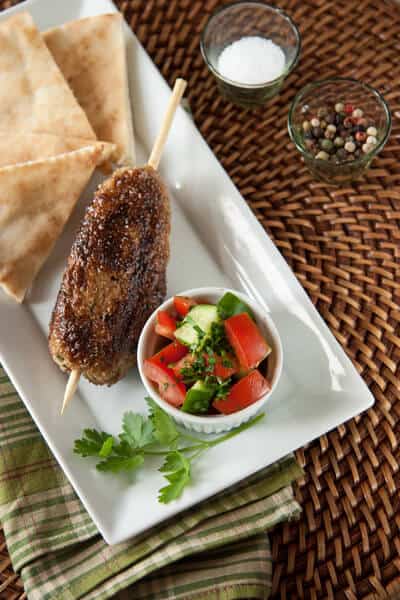 Turkey Kibbe Kebabs
The recipe calls for glazing the kebabs with a mixture of molasses, soy sauce and olive oil.  I substituted pomegranate molasses (which you can find in a middle eastern market) and I highly recommend it!
Glaze:
1 Tbsp. molasses
1 Tbsp. reduced sodium soy  sauce
1 Tbsp. olive oil
Kebabs
½ cup fine grind bulgur
1 lb. ground turkey
1 cup diced onion
2 Tbsp. minced jalepeno
2 Tbsp. non fat yogurt
2 Tbsp. olive oil
2 Tbsp. chopped parsley
2 Tbsp. chopped cilantro
2 Tbsp. ground cumin
1 Tbsp. chopped mint
1 tsp. ground allspice
½ tsp. ground black pepper
¼ tsp. cinnamon
¼ tsp. cayenne pepper
Directions:
For the glaze, combine all the glaze ingredients in a small bowl and whisk to combine. Set aside.
In a large pan, soak 10 medium skewers in hot water. Set aside.
In a medium bowl, combine the bulgur with 2 cups of hot water. Let sit for 10 minutes. Drain in a strainer and set aside.
Combine all of the kebab ingredients in the bowl of a food processor. Squeeze any remaining liquid from the bulgur and add to the mixture in the food processor. Process until all the ingredients are combined.
Divide mixture into 10 balls. Form each ball into a log and thread one of the soaked skewers through each  log.
Heat a lightly oiled grill pan over medium high heat. Place kebabs on the grill pan and cook for about 3 minutes, brushing with the glaze.
Turn the kebabs and continue to cook, brushing with the remaining glaze until the kebabs are cooked through.