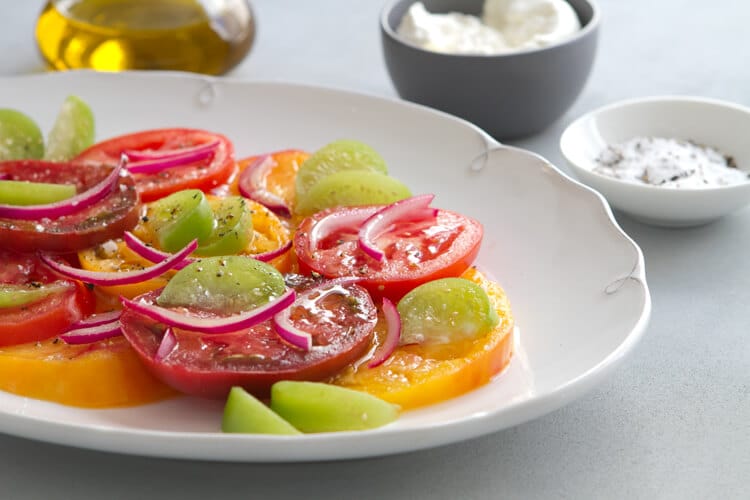 Confession time.
I feel a little stupid posting this "recipe" and I am sure a lot of you are thinking "wow, Nancy, an heirloom tomato salad, how original!"
I know - and to be honest, I seriously debated whether or not to post it... but after having it two (ok, three!) days in a row and not growing tired of it, I decided it was worthy of sharing.
So what makes it worth bothering with?
Tomatillos. Have you ever tried them in a salad? I'm betting the answer to that question would be "no!" Sure, you've had them in salsa or in enchilada sauce. But by themselves? Raw?? What???  Well, I hadn't either until recently when it occurred to me that since I love them in salsa I would probably really like them in a salad.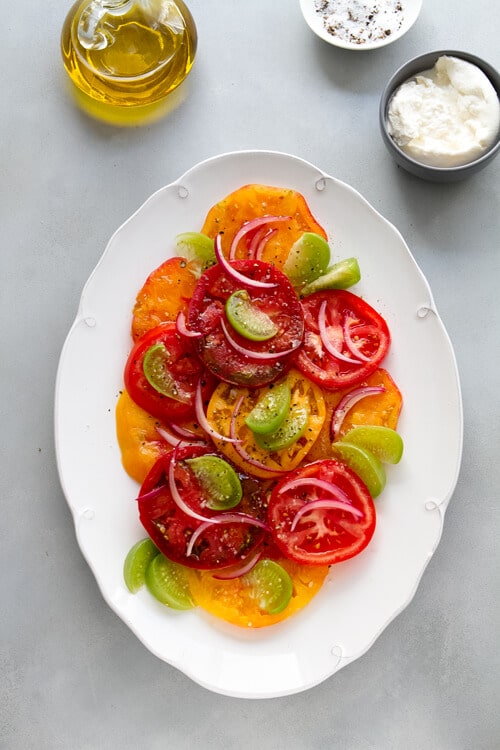 And I didn't just like them. I loved them.
With tomatoes. And yes, the heirlooms are fabulous  and would probably taste great no matter what I paired with them. But honestly? This salad is just as good with any homegrown or farmer market fresh tomato - heirloom or not.
But a word of warning - if you don't have access to to that category of tomato this salad will be nothing special. In fact, it will be downright ... blech... so don't go there.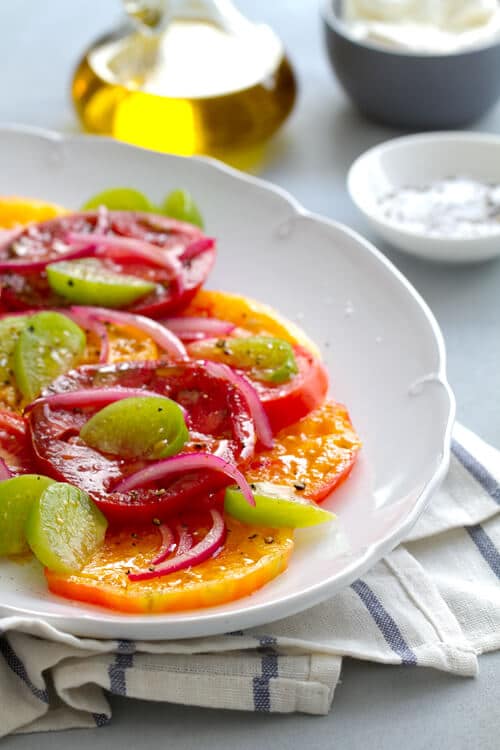 So what makes this little addition to what is, after all, a very common salad, so special? It's the combination of sweet and earthy tomato with the citrusy tang of the tomatillo. Throw in a  little marinated red onion for bite and dress simply with some good red wine vinegar and extra virgin olive oil. Add a good sprinkling of crunchy salt (Maldon or fleur de sel) and a  grind of fresh pepper. If you're feeling indulgent some burrata or avocado wouldn't be amiss.... and speaking from experience both work really well.
And there you have it - a salad that sums up summer for me... and something definitely worth sharing with all of you!!!
Hungry for some other summer salad recipes? You may enjoy...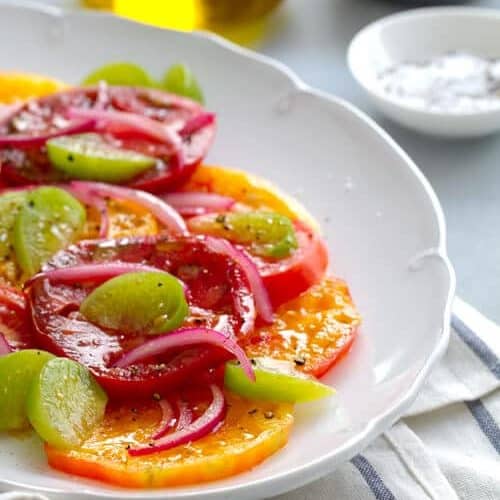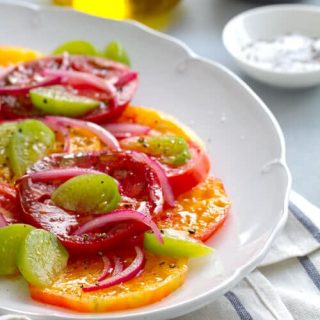 Ingredients
4

heirloom tomatoes

sliced

2 to

tomatillos

sliced into ¼ inch slices

1

quarter of a red onion

sliced into ⅛th inch slices

1

ball burrata cheese or 1 ripe avocado

sliced (optional)

2

Tablespoons

red wine vinegar

2

Tablespoons

extra virgin olive oil

½

teaspoon

maldon sea salt or fleur de sel

freshly ground black pepper
Instructions
Place onion slices into a small bowl and toss with 1 Tablespoon red wine vinegar and a large pinch of salt. Set aside.

Slice tomatoes ¼ inch thick. Layer onto a medium sized serving platter.

Place tomatillo slices on top of the tomatoes.

Add the marinated onion slices.

Drizzle with remaining red wine vinegar and extra virgin olive oil.

Sprinkle with remaining salt and a few grinds of black pepper.

Add the burrata cheese or avocado slices if using.

Serve!
Nutrition
Calories:
97
kcal
|
Carbohydrates:
7
g
|
Protein:
1
g
|
Fat:
7
g
|
Saturated Fat:
1
g
|
Sodium:
298
mg
|
Potassium:
331
mg
|
Fiber:
1
g
|
Sugar:
4
g
|
Vitamin A:
1025
IU
|
Vitamin C:
18.9
mg
|
Calcium:
19
mg
|
Iron:
0.4
mg