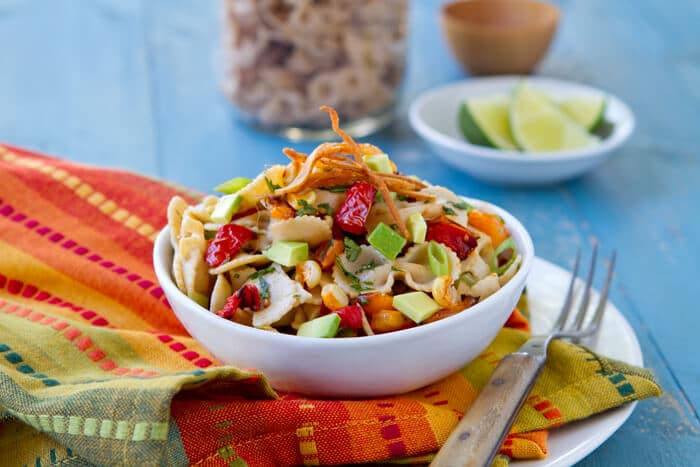 How a happy experiment led to this Easy Mexican Pasta Salad with Chile Lime Dressing...
One of the things I love most about writing this food blog is that I get to try foods I've never had before. So when Hodgson Mill sent me boxes of their new Whole Wheat pasta to experiment with for their Summer Pastabilities contest, I couldn't wait to start playing with it!
I have to admit that up to this point, I haven't been a huge fan of  whole grain pastas and I've tried quite a few - they were either tough or doughy or just downright unappealing so I was a little skeptical. But this pasta is  different -  tender and flavorful, with just a hint of nuttiness - in short,  it's delicious!!
After narrowing down my ideas I decided to try my hand at a pasta salad - another dish that isn't always high on my "favorites" list despite the fact that I  love pasta. My objection? For the most part I've found them to be bland and well.. boring, which is a shame, since pasta salads are perfect for summer eating and are a great choice for  picnics, barbeques and potlucks.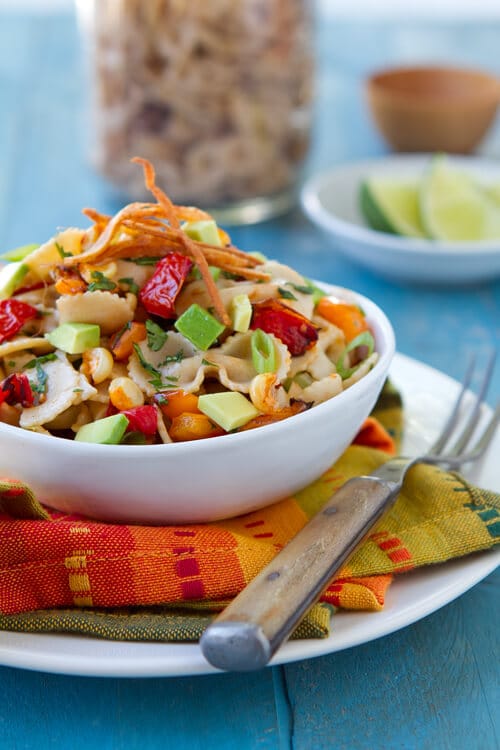 Since I love the flavors of chile, lime and tomatoes I thought that would be a great base to start from - and if my "taste testers" are to be believed, I was right. To add a bit more flavor, I roasted corn, tomatoes and peppers  and then added a little avocado and sliced green onion, finishing it all off with a  zesty lime and chile dressing . Now this is a mexican pasta salad!!!
I was compensated by Hodgson Mill for this recipe but as always, all opinions stated are entirely my own.
📖Recipe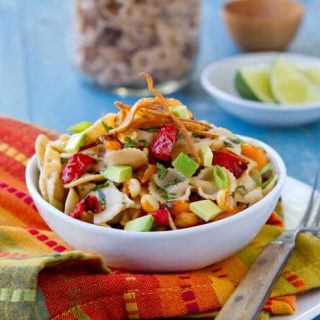 Ingredients
1

– 10 oz. box Hodgson Mill Whole Wheat Pasta – bowtie or medium shells

1

quart

chicken stock

3

quarts

water

2

ears of fresh corn

kernels cut off the cob

6

roma tomatoes

cored and cut into ½ inch dice

1

large orange bell pepper

seeded and cut into ½ inch dice

1

large avocado

peeled, seeded and cut into ½ inch dice

3

scallions

sliced ¼ inch thick

¼

cup

minced cilantro

3

Tbsp.

corn oil

Corn Strip garnish

optional_

2

small corn torillas

cut into ⅛ inch strips (optional)

1

cup

canola oil

optional

Dressing:

Juice of two limes

3

Tbsp.

white wine vinegar

1

Tbsp.

agave nectar or honey

½ - 1

jalepeno seeded and minced

¼

tsp.

chile powder

large pinch of salt

¾

cup

corn oil
Instructions
Pre heat oven to 400 degrees.

Combine the chicken stock and water in a large saucepan or stockpot and bring to a boil. Add the pasta and stir until the water is boiling vigorously. Cook for 7 to 9 minutes until desired tenderness. Drain pasta and set aside.

While the pasta is cooking, combine the corn, tomatoes and bell pepper on a sheet pan sprayed with cooking spray. Drizzle with the 3 Tbsp. corn oil and season with salt and pepper. Roast the vegetables for 15 – 20 minutes until vegetables are nicely browned. Remove pan from the oven and set aside.

To make the dressing, combine the lime juice, white wine vinegar, jalepeno, agave nectar, chile powder and salt in a small bowl. Whisk to combine. While whisking, slowly drizzle in the corn oil. Set dressing aside.

Corn strip garnish (optional): Heat the canola oil in a medium saucepan over medium high heat. When oil just begins to simmer, drop one of the tortilla strips in the oil. Cook for 2 minutes until nicely browned. If browning too quickly, reduce heat. Add the tortilla strips in small batches, being careful not to crowd the pan. Using a slotted spoon, remove the strips from the oil and drain on several layers of paper towels. Dust with chile powder and salt while still warm. Set aside.

To make the salad, place the pasta in a large bowl. Add the roasted vegetables and drizzle the dressing on. Toss to thoroughly mix and taste, adding more dressing if desired.

Gently mix in the avocado, scallions and cilantro. Garnish with the tortilla strips if using.