Caramelized Citrus and Avocado Salad...tangy citrus, creamy Fuerte avocados,crunchy cucumbers and fresh herbs all dressed up in a bright and sunny citrus vinaigrette...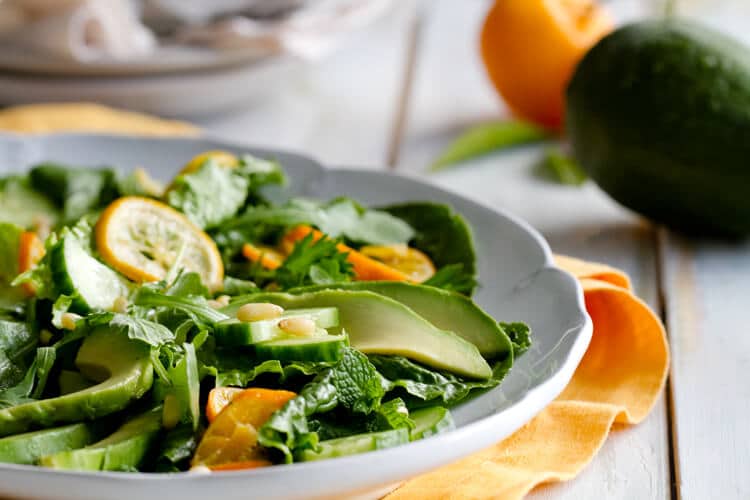 It really doesn't get better than that, does it?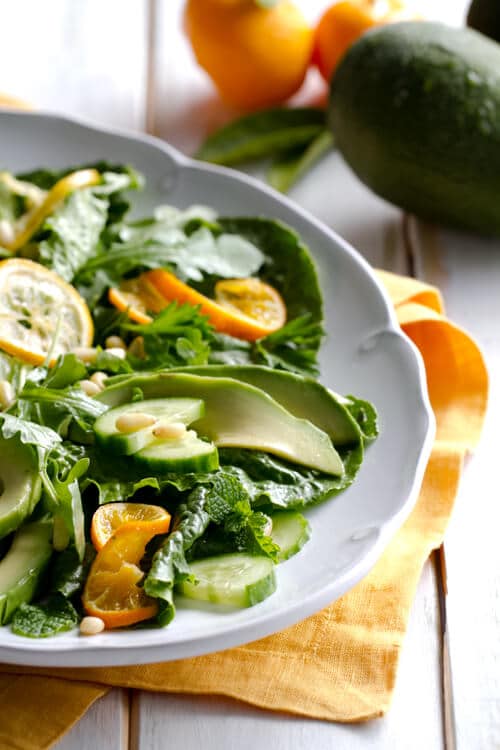 These are not just any avocados. These are Fuerte avocados from California Avocados Direct - a family operated ranch where the Holtz family has been growing avocados for over 100 years - growing not only Hass but Fuerte and Reed avocados. If you aren't familiar with either Fuerte or Reed avocados, it isn't surprising since you won't find them in your local grocery store. Both the Fuerte and the Reed are more fragile and thus have become less popular - which is a shame because they are both incredibly delicious.
And why I am so thankful for California Avocados Direct which makes it sooo easy for me to get my hands on these beauties!!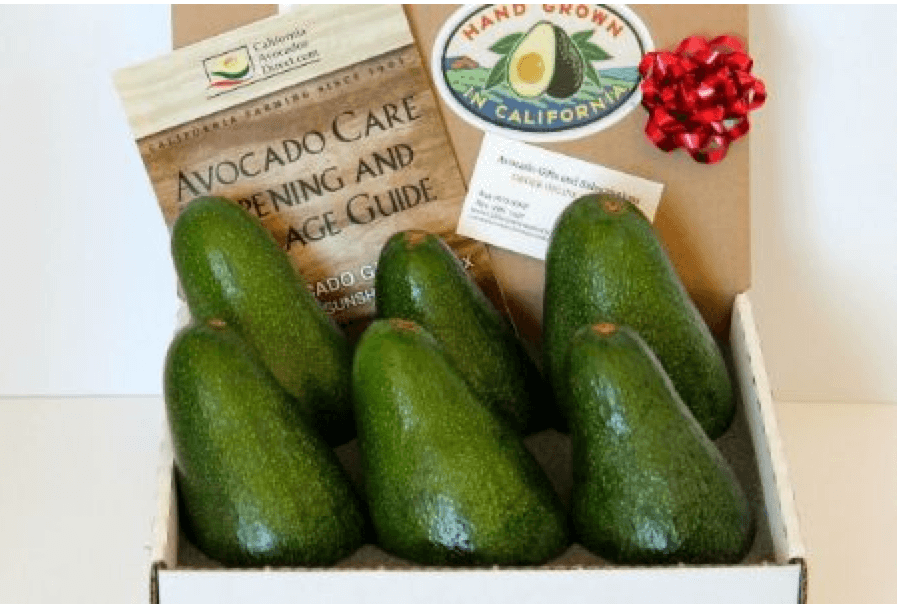 These Fuerte avocados are, without question, the BEST avocados I've ever had. Period. Think of the best Hass avocado you've ever had and then, imagine a more intense, creamier and silkier texture.
Better yet, order some of these incredible avocados and try them - plain, or in this Caramelized Citrus and Avocado Salad.
With the "big game" coming, now is a perfect time to order some of these luscious avocados.
And regardless of who wins the game, you'll still be a "winner" with these avocadoes from California Avocados Direct!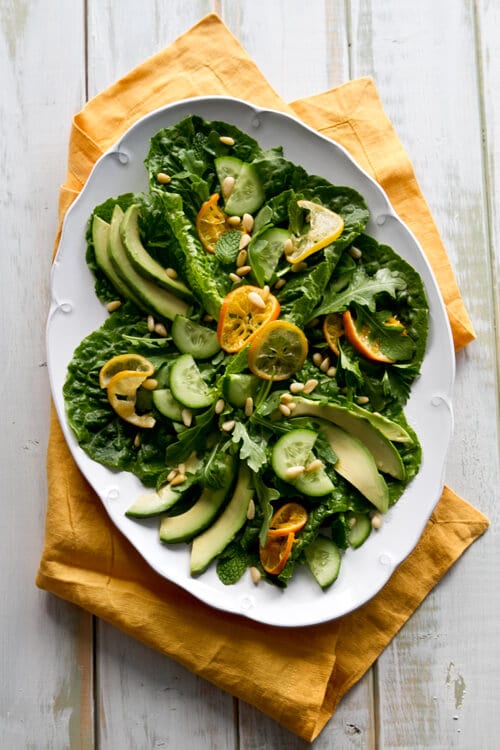 California Avocados Direct graciously provided me with avocados for this post. As always, all opinions stated are mine alone.
If you love salads as much as I do, you might also enjoy: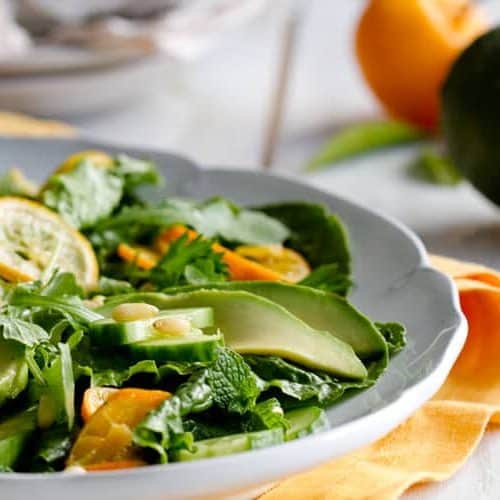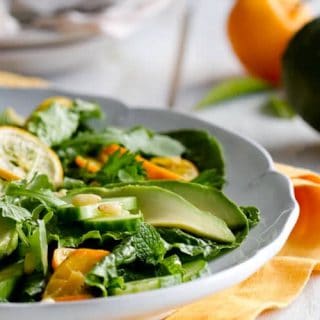 Ingredients
Salad:

1

lemon

sliced into ⅛th inch slices and seeded

1

tangerine

sliced into ⅛th inch slices and seeded

¼

tsp.

salt

¼

tsp.

sugar

1

Tablespoons

olive oil

2

cups

arugula

1

small head baby romaine

leaves separated and washed

¼

cup

fresh mint leaves

¼

cup

fresh italian parsley leaves

2

Tablespoons

toasted pine nuts

2

Fuerte avocados

peeled, pit removed and sliced ¼ inch thick

2

small persian cucumbers

sliced lengthwise and cut into ¼ inch slices

Dressing:

2

Tablespoons

extra virgin olive oil

2

Tablespoons

fresh lemon juice

2

Tablespoons

fresh tangerine juice

2

Tablespoons

white wine vinegar

1 - 2

teaspoons

honey

white pepper

to taste

salt

to taste
Instructions
For the salad:

Pre heat the oven to 325 degrees.

Bring a small saucepan to a boil and add the lemon and tangerine slices. Blanch for 2 minutes. Remove and pat try with a paper towel.

Place the lemon and tangerine slices in a small bowl and drizzle with 1 Tablespoon olive oil. Sprinkle with the salt and the sugar.

Place citrus slices on a parchment lined sheet pan and place in the oven

Cook for 20 minutes or until the citrus slices look dry and are slightly golden.

Remove from oven and cool.

For the dressing:

Combine the citrus juices and the vinegar in a small bowl. Season lightly with salt and white pepper, whisking to combine. Add the honey and whisk. Taste, adding a bit more honey if needed (this will depend on how sweet your tangerines are and how sweet you like your dressing). Slowly drizzle in the olive oil. Taste again and adjust seasonings as needed.

On a large platter, scatter the romaine leaves and top with the arugula.

Arrange the avocados, cucumbers and citrus slices on top.

Sprinkle the mint and parsley leaves on top followed by the toasted pine nuts.

Season lightly with salt and pepper if desired.

Drizzle with the dressing or pass separately.
Nutrition
Calories:
339
kcal
|
Carbohydrates:
20
g
|
Protein:
4
g
|
Fat:
29
g
|
Saturated Fat:
3
g
|
Cholesterol:
0
mg
|
Sodium:
137
mg
|
Potassium:
899
mg
|
Fiber:
9
g
|
Sugar:
7
g
|
Vitamin A:
1705
IU
|
Vitamin C:
47.9
mg
|
Calcium:
76
mg
|
Iron:
1.9
mg