As promised I am back with a wonderful main dish – Steak with Salsa Verde!!
But before we get to that, here's a little sneak peek at what I'll be selling on Saturday at the Food Blogger's Bake Sale – Tequila Spiked Caramel Corn and Bourbon Spiked Caramel Corn!!! So, if you haven't made plans to hit one of the Bake Sale's there is still time for some great treats for a great cause!!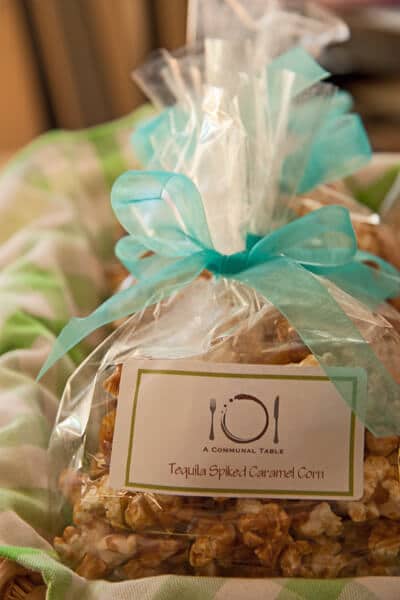 Ok, so back to our normally scheduled programming!
Steak with Salsa Verde – I know, steak isn't something to get real excited about -so this is  ALL about  the sauce!!!   If you only make ONE sauce this  spring/ summer, this should be it!! This is the third batch I've made and I have been slathering it on just about everything – meat, chicken, fish, shellfish, pasta, potatoes, tomatoes – anything that can use a zesty little zip of flavor will benefit from a generous dollop of this.  Fresh herbs, a little garlic, a little dijon mustard, capers and anchovies are whomped in the food processor (and yes, "whomped" is a bona fide cooking term) to create this fresh, zippy sauce.
This dish would be great paired with either the Margarita Granita with Spicy Shrimp or the Goat Cheese Panna Cotta's as a first course. Add some roasted potatoes and some steamed or roasted asparagus and you have a meal that is perfect for Spring!
Easy Spring Menu with Friends
Steak with Salsa Verde
Roasted Potatoes
Roasted Asparagus
Strawberry and Kiwifruit Pavlova
[print_this]
Steak with Salsa Verde
(Adapted from Mario Batali)
(Serves 4)
Steak:
4 – 6 -8 oz. top sirloin steaks (or choose your favorite!)
Salsa Verde
1 cup stemmed fresh italian parsley
1 cup fresh basil leaves
1 cup fresh mint leaves
2/3 cup drained capers
2 cloves of garlic
1 Tbsp. dijon mustard
2 anchovy filets
1/2 tsp. sugar
1/4 cup extra virgin olive oil
1/8 tsp. smoked paprika
salt and pepper
Directions:
For Salsa Verde:
Combine all the ingredients in the bowl of a food processor. Process until all the ingredients are blended. Taste and adjust seasonings. (Can be made 2 days ahead, cover and refrigerate).
For Steak:
Pat steak dry and season with salt and pepper. Grill over medium high heat until internal temperature reaches 135 – 140 degrees (depending upon thickness of steak time will vary from 5 to 10 minutes a side).
Remove steaks and let rest. Slice steaks and place on serving plates. Drizzle with Salsa Verde and pass remaining sauce.
[/print_this]