Tender, juicy grilled ribeye steak is delicious. Dolloped with this umami rich Italian Salsa Verde ? Sublime! Grilling boneless ribeye steaks is one of the best ways of cooking these luscious steaks and it couldn't be easier!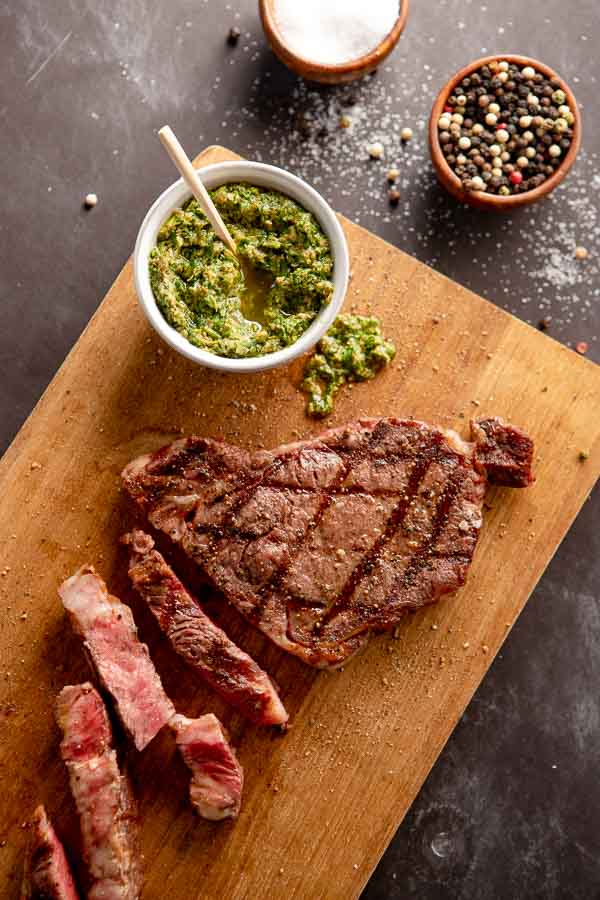 Ribeye steaks are one of our favorite steak cuts. Tender, juicy and versatile – you can cook ribeye steaks on the grill, in cast iron on the stove. But I think the best way to cook a ribeye is to grill them! Delicious with just a good grind of pepper and salt, boneless ribeye steaks are also delicious with compound butters like this Bercy Butter or with sauces, like this Italian Salsa Verde!
What is Italian Salsa Verde?
Probably the most delicious condiment for grilled ribeye that you've never heard of! Italian Salsa Verde is a cousin to the more familiar pesto.Unlike pesto though, this salsa verde or green sauce is served with roasted meats. Made of parsley, basil and mint, olive oil, capers, dijon and anchovies, you just plop everything in a food processor or a blender and whomp it around. Herbacious and salty with a bit of a kick, this italian salsa verde recipe is the perfect counterpoint to the richness of a grilled ribeye.
How to Grill Ribeye:
Grilling a Ribeye is really, really easy!
Step #1: First, take your steaks out of the refrigerator and let them come to room temperature. This is important! If the steaks are too cold, you will overcook the outside and have a raw center! Give then a good shower of salt and pepper!!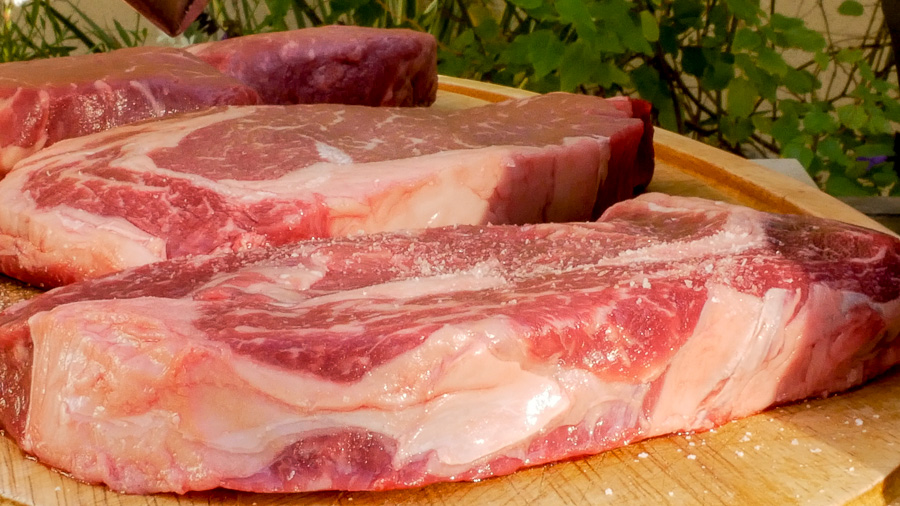 Step #2: While the ribeye steaks are coming to room temperature – clean your grill! This seriously makes a difference. Give that grill a good scrub with the brush!! Then, start your grill if you are grilling with charcoal. Since gas grills don't take as much time to come to temperature, you can wait a bit longer. Note: my grill takes about 10 minutes to heat on a medium high setting which is what you want. If you are making the Italian Salsa Verde, you can whomp it together in the blender or food processor while you are waiting! Next, Oil your grates. To oil your grates, fold a paper towel into fourths and dip it into a small bowl of neutral flavored oil. Using long tongs, grasp the paper towel and rub it along the grates.
Step #3: Now that your ribeye steaks are at room temperature and your grill is ready to go, lay those gorgeous steaks on the grill!! Notice the angle I laid the steaks at? This is how you get that nice cross hatching grill marks. After 1- 2 minutes, lift and turn the steaks clockwise – I think of it as having the steaks point first at 4:00 and then at 8 0'clock.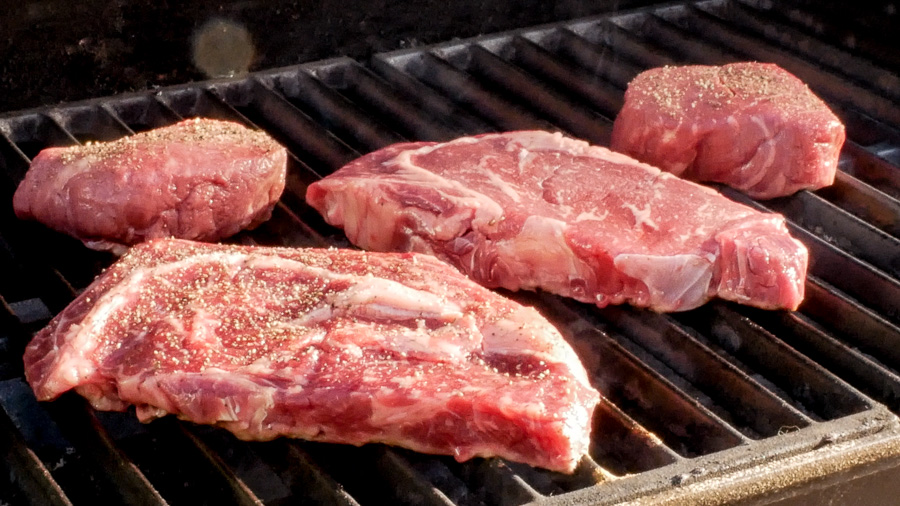 Step #4: Depending upon the thickness of your steaks (and how you like them) grill for 3 – 4 minutes per side.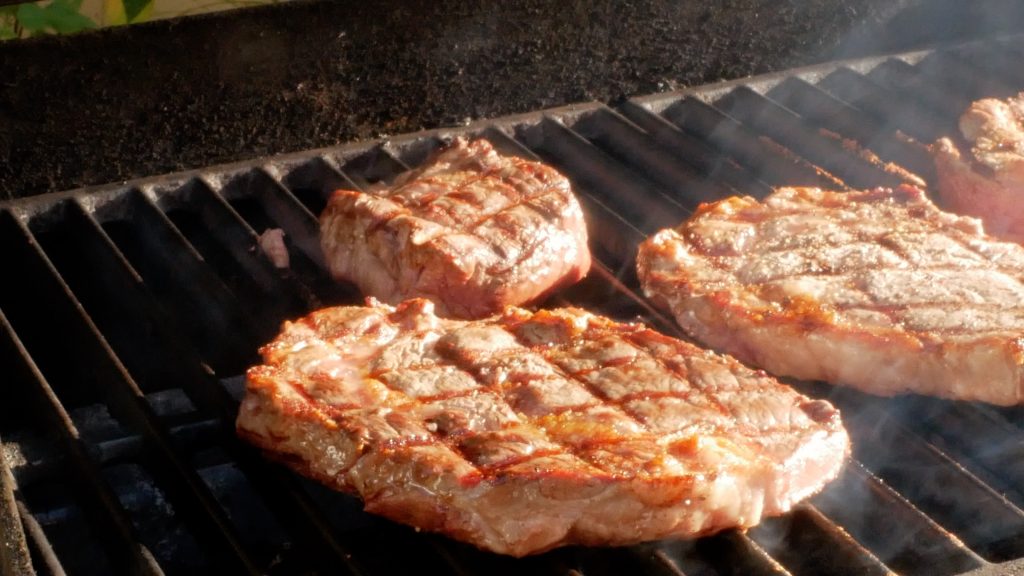 Step #5: To test doneness you can use a meat thermometer (inserted sidewise to measure the internal temperature – 120 – 125 degrees for rare and 130 – 135 degrees for medium rare) – or do the "poke" test. Using your finger, poke the steak (soft for rare) and gently yielding for medium rare. I recommend you use both when first starting to grill steaks – that way you get a feel for what rare and medium rare "feel" like! Remove the steaks to a rack set over a rimmed sheet pan and let them rest for a few minutes while you assemble your plates or serving platter. Then serve with the Italian Salsa Verde!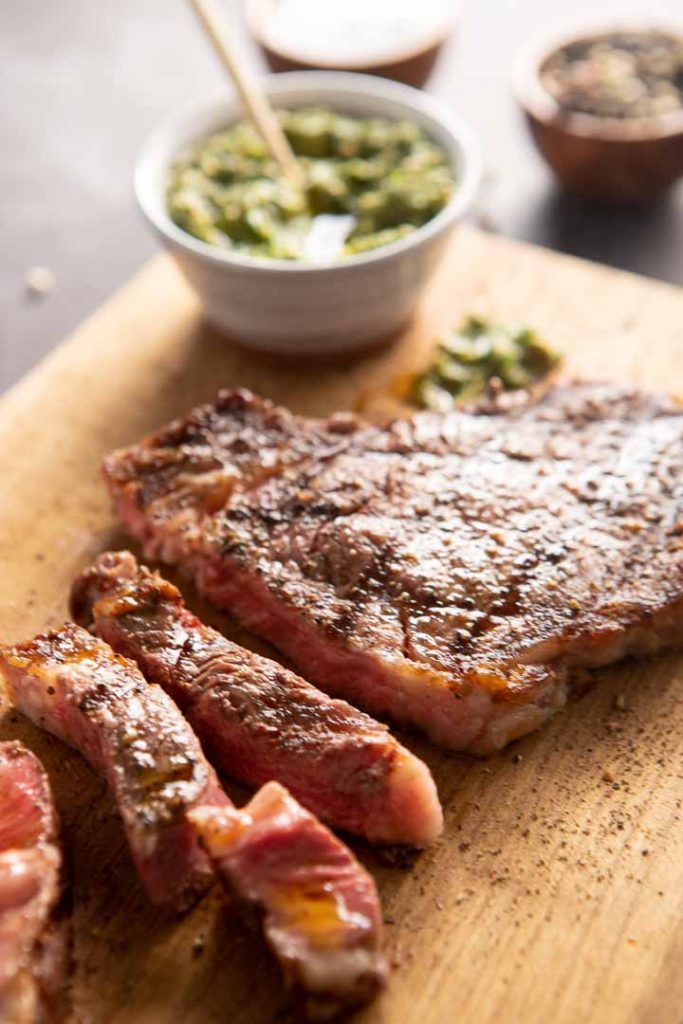 If you liked this recipe, I'd love for you to leave me a comment or rate it!!! Looking for other meaty recipes? Why not try…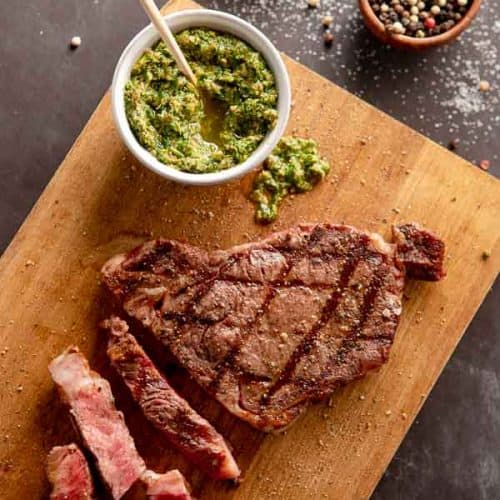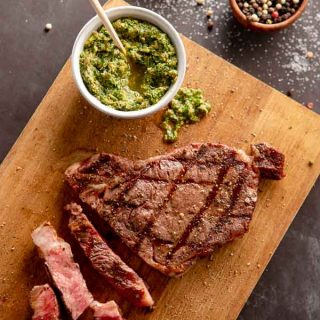 Grilled Rib Eye with Italian Verde Sauce
Tender, juicy grilled rib eye steak is delicious. Dolloped with this umami rich Italian Salsa Verde ? Sublime! Grilling boneless rib eye steaks is one of the best ways of cooking these luscious steaks and it couldn't be easier!
Print
Pin
Rate
Add to Collection
Go to Collections
Ingredients
4 - 6 -8

oz.

boneless ribeye steaks
Salsa Verde
1

cup

stemmed fresh italian parsley

1

cup

fresh basil leaves

1

cup

fresh mint leaves

⅔

cup

drained capers

2

cloves

of garlic

1

Tbsp.

dijon mustard

2

anchovy filets

½

tsp.

sugar

¼

cup

extra virgin olive oil

⅛

tsp.

smoked paprika

salt and pepper
Instructions
Italian Salsa Verde
Combine all the ingredients in a food processor or blender and process until a thick paste forms. Salsa verde can be made up to 3 days ahead and refrigerated.
For the Ribeye steaks
Remove the steaks from the refrigerator 30 minutes before grilling. Season liberally with salt and pepper.

Scrape the grill. Pre heat the grill to medium high heat. Oil the grill (see Step # 3). Place the steaks on the grill on a diagonal. Cook for 1 - 2 minutes and turn clockwise a quarter turn. After another 1 - 2 minutes, turn the steaks over, repeating the placement of the steaks on the grill.

Remove the steaks to a rack set over a rimmed baking sheet and let rest for 2 - 3 minutes. Serve!
Recipe Notes
When choosing steaks, look for steaks with good marbling. This means the steaks will be juicier! As for thickness, look for steaks that are about 1 - 1 ¼ inches thick. If grilling thinner steaks, reduce the cooking time by about 1 minute per side. 
The Italian Salsa Verde is great with grilled flank steak, tri tip, or even pork! I've also thinned it a bit with water and used as a salad dressing or slathered over grilled slices of country bread. 
These ribeyes are great served with these Hatch Chile and Corn  Fritters or for a more decadent side, my Potatoes Hashed in Cream! 
Nutrition
Calories:
150
kcal
|
Carbohydrates:
5
g
|
Protein:
2
g
|
Fat:
14
g
|
Saturated Fat:
2
g
|
Cholesterol:
1
mg
|
Sodium:
864
mg
|
Potassium:
176
mg
|
Fiber:
2
g
|
Sugar:
0
g
|
Vitamin A:
2175
IU
|
Vitamin C:
26.3
mg
|
Calcium:
76
mg
|
Iron:
2.4
mg