These shortcut vegetarian Samosas with Mint Chutney are filled with potatoes, peas and lentils and ready in under 45 minutes.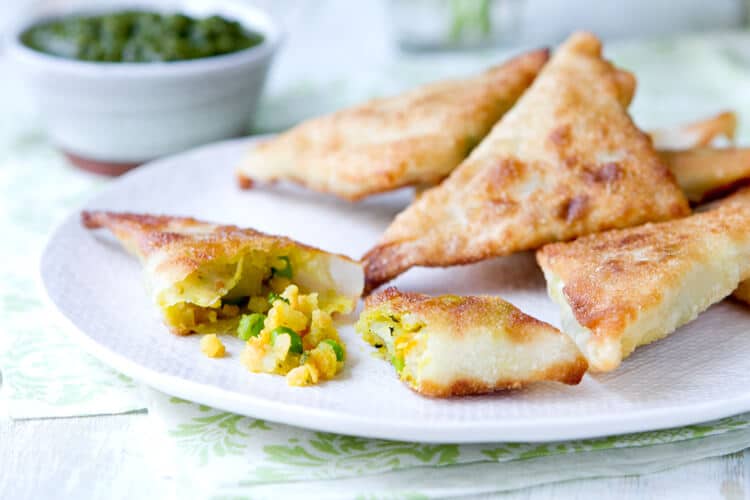 My students frequently ask me what my favorite cuisine is and it's definitely not a question I can easily answer. Depending on the day and my mood the answer ranges - one day it might be regional mexican and another it could be moroccan. One cuisine though that always ranks at the top of my list is Indian.
The first time I "really" had indian food was on my honeymoon in London. My husband and I went out to a local indian restaurant and to be honest, we had no idea what to order! Fortunately, we were seated next to a very nice young indian couple who took pity on us and helped us navigate the menu.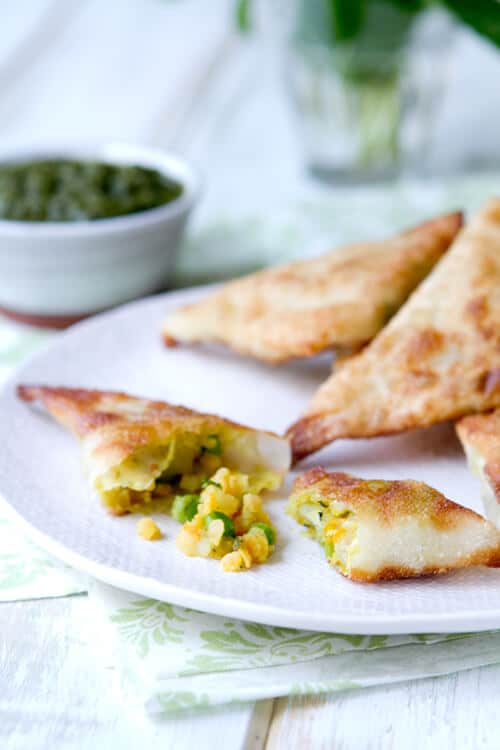 The one dish I remember from that long ago meal was samosas - those wonderful little pastry packets stuffed with potatoes, lentils and peas and dipped in a fragrant, spicy chutney.
And I've been missing them ever since.. that is until I came up with these Samosas with Mint Chutney!
Over the years I've ordered them occasionally with varying degrees of success - but haven't made them at home. Too many steps - making the pastry, the filling, the dipping sauce - just seemed like an awful lot of work for something that is really more of an appetizer. Recently, I saw reference to using egg roll wrappers instead of pastry - and the idea intrigued me so I decided to "give it a go" and see if I could streamline the process.
So, I came up with a couple of shortcuts and although these Samosas with Mint Chutney aren't exactly like the traditional ones, I think they capture the flavors really well. And if these shortcuts means I can enjoy them more often? That's a win-win in my book!!
Although generally thought of as a snack or an appetizer, we enjoyed these for dinner with a large salad!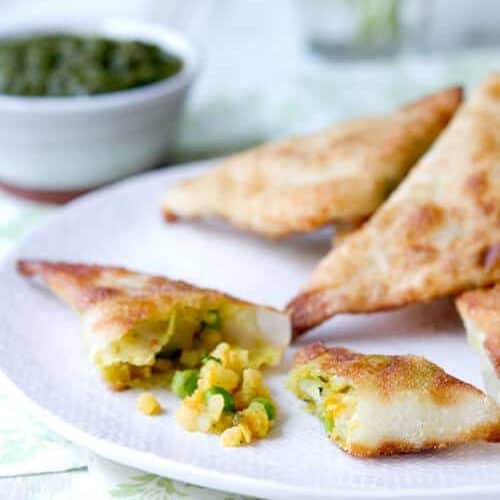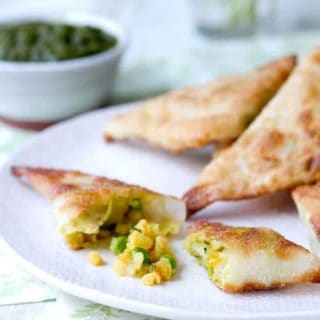 Ingredients
For the Samosas

1

package egg roll wrappers

1

large baking potato

⅓

cup

red lentils

2

Tablespoons

fresh mint

minced

1

teaspoon

curry powder

1

teaspoon

ghee or unsalted butter

½

teaspoon

cumin

½

cup

frozen peas

rinsed in water to thaw

½

cup

vegetable oil

For the Mint Chutney

½

cup

cilantro leaves

½

cup

mint leaves

¼

cup

chopped onion

2

Tablespoons

fresh lemon juice

2

Tablespoons

water

¼

teaspoon

kosher salt

1

Tablespoon

jaggery or brown sugar

1

serrano chile

seeds and ribs removed, chopped

1 - ½

inch

piece of fresh ginger

peeled
Instructions
For Chutney:

Combine all the ingredients in the bowl of the small food processor and process until the ingredients are minced and form a paste like sauce. Taste and adjust seasoning, adding a bit more sugar if needed. Place in a bowl and set aside.

For Samosas:

Pierce potato with a fork and cook in the microwave for 8 - 10 minutes or until the potato is easily pierced with a fork. While the potato is cooking, add the lentils to a small saucepan of water. Bring to a boil and reduce to a simmer. Simmer for 3 - 5 minutes until the lentils are just cooked. Drain and rinse in cold water. Add to a large mixing bowl.

Add the cooked potato (without skin), mint, curry powder, ghee and cumin. Mix to combine. fold the drained peas in. Taste and adjust seasonings.

Cut eat egg roll wrapper in half. Starting at the bottom, add about a tablespoon of filling to the bottom of the egg roll strip. Fold one corner up and over the filling, making a triangle. Fold that triangle up, and continue to fold as you would a flag, completely enclosing the filling. Moisten the egg roll wrapper edge with water and press to seal. Repeat with remaining egg roll wrappers and filling.

Place ¼ cup oil in the bottom of a 10 inch skillet - oil should be approximately ¼ inch deep. Heat the oil over medium high heat till shimmering. Add 5 samosas to the pan and cook for 2 - 3 minutes or until golden brown. Turn and cook for another 2 - 3 minutes on the other side. Remove samosas to a paper towel lined tray. Repeat with remaining samosas, adding more oil as necessary.

Monitor temperature - if samosas are turning dark brown, lower your temperature. To test the oil, you can add a small piece of egg roll wrapper.

Serve the samosas with the mint chutney!
Recipe Notes
You can assemble these samosas several hours in advance and then fry them right before serving. 
Nutrition
Calories:
48
kcal
|
Carbohydrates:
3
g
|
Fat:
3
g
|
Saturated Fat:
2
g
|
Sodium:
21
mg
|
Potassium:
60
mg
|
Vitamin A:
80
IU
|
Vitamin C:
2.3
mg
|
Calcium:
5
mg
|
Iron:
0.3
mg