An easy vegetarian side or main dish, this moroccan citrus, cauliflower and barley salad is sweet, salty and a little crunchy and ready in under an hour!
I'm b-a-a-a-c-c-k-k!!!
And I can't tell you how happy that makes me! Between the holidays and a whole slew of work projects I've been up to my elbows in pots , pans and props – but I haven't forgotten you all!
So I thought I'd start off by sharing one of the best things to come out of my kitchen as of late, this Moroccan Citrus, Cauliflower and Barley Salad. Given how many recipes I've been working on and shooting that is saying something!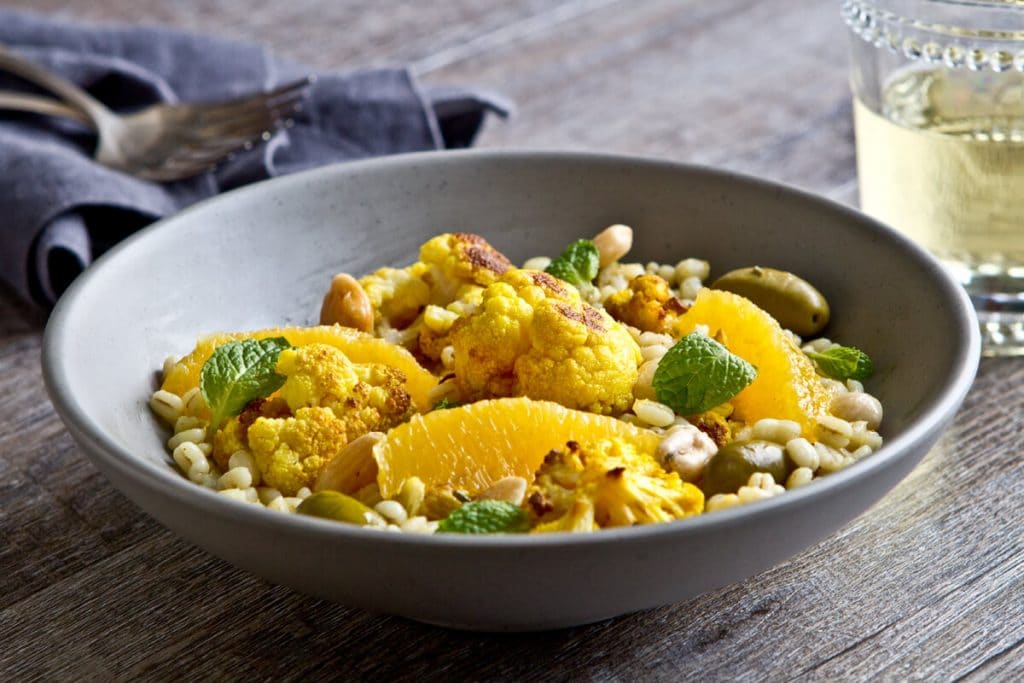 Moroccan Cuisine
I've always loved Moroccan food – and like most of you my first introduction to it was at a moroccan restaurant. A fresh citrus and radish salad, fluffy couscous and Bisteeya….  I was hooked. The artful mixture of spices and fresh ingredients  fascinated me… and still does.
While at first glance you wouldn't consider this a traditional moroccan dish, it definitely has all the components of one – bright citrus, salty olives and crunchy almonds all flavored with a layering of spice that is the hallmark of Moroccan cuisine.
Morocco's food has it's roots in Berber cuisine – the native cuisine of North Africa. Given Morocco's location (bordering both the Mediterranean and Atlantic oceans) it's cuisine has been influenced by a variety of cultures, including the Romans as well as the Arabs, who introduced many of the spices that we associate with Moroccan cuisine. The Arabs also introduced  the concept of "sweet and sour" which is characteristic of many moroccan tangine dishes and salads – including  this Moroccan Citrus, Cauliflower and Barley Salad.
Now that "citrus" season is in full swing, it's the perfect time for this salad, when we are all starting to crave those lighter and fresher foods of spring and summer. Sweet oranges, salty olives, meaty cauliflower and crunchy almonds all wrapped in an artful layering of fragrant spices and finished with fresh mint.
What more could you possibly want??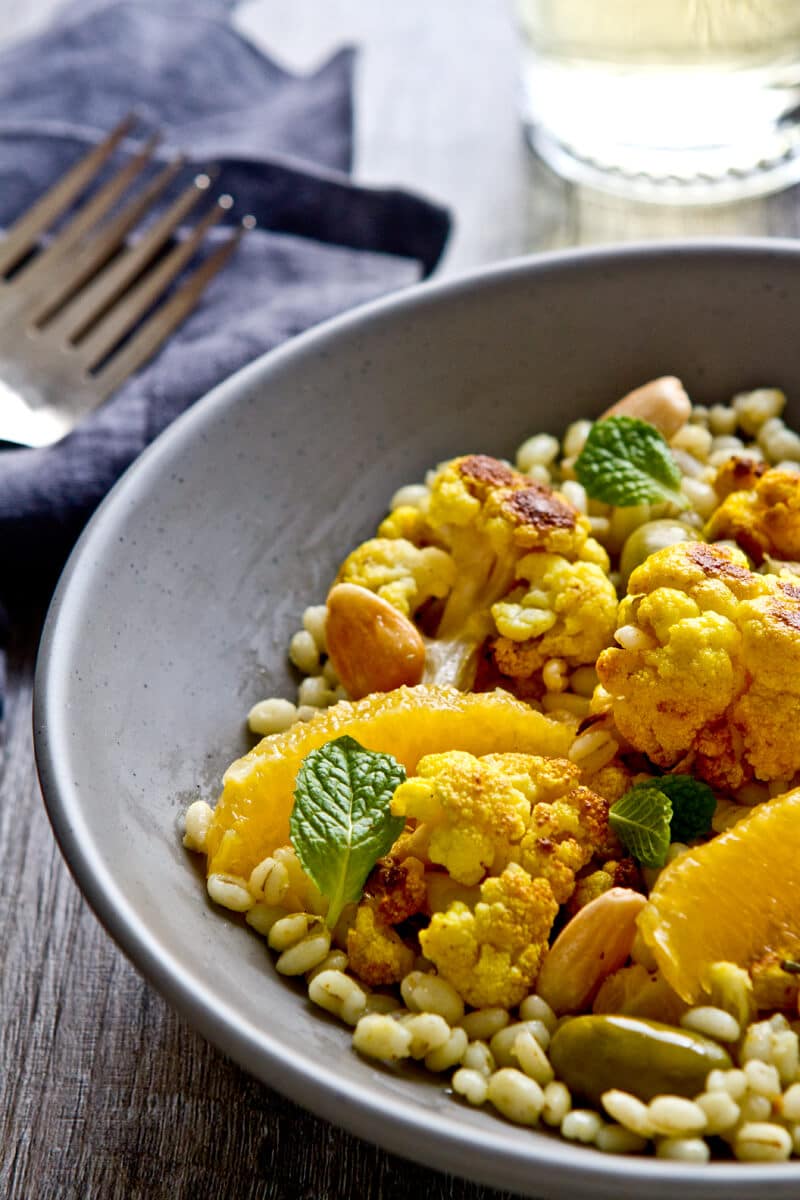 Serving Suggestions:
For a vegetarian main, some cooked chickpeas (like the ones from Melissa's Produce) would be fabulous!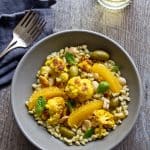 Moroccan Citrus, Cauliflower and Barley Salad
Ingredients
2

head cauliflower

broken into florets

1

teaspoon

turmeric

1

teaspoon

ginger

¼

teaspoon

white pepper

¼

teaspoon

ground cinnamon

large pinch grated nutmeg

½

cup

olive oil

3

navel oranges

peel and pith removed and slices cut in half

1 ½

cups

cooked barley

cook according to package directions

½

cup

toasted almonds

½

cup

torn mint

½

cup

green olives

chopped

2

tablespoons

lemon juice

2

tablespoons

white wine vinegar

salt and pepper to taste
Instructions
Pre heat the oven to 400 degrees.

Cook barley according to package directions.

Combine spices in a small bowl and stir to combine.

Place cauliflower florets on a sheet pan that has been sprayed with cooking spray.

Drizzle cauliflower with ¼ cup olive oil.

Sprinkle cauliflower with spices and toss to coat.

Roast for 15 – 20 minutes until cauliflower is browned and tender.

Remove from oven.

While cauliflower is cooking, slice the oranges, reserving any juice.

In a small bowl, combine the lemon juice, white wine vinegar, and olive oil. Season with salt and pepper. Set aside.

In a large bowl, combine the cooked cauliflower, barley, oranges, olives and mint.

Drizzle with the lemon and white wine vinegar dressing.

Toss to coat. Sprinkle with almonds and serve.
Nutrition Facts
Moroccan Citrus, Cauliflower and Barley Salad
Amount Per Serving
Calories 1720
Calories from Fat 1368
% Daily Value*
Total Fat 152g 234%
Cholesterol 0mg 0%
Sodium 1143mg 48%
Potassium 1927mg 55%
Total Carbohydrates 85g 28%
Protein 23g 46%
* Percent Daily Values are based on a 2000 calorie diet.
Save
Save
Save