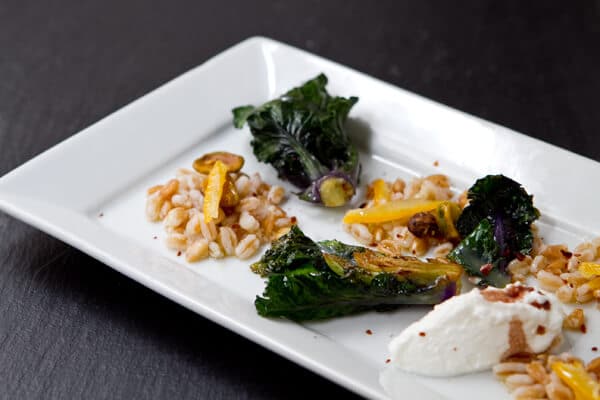 Last week I mentioned that Melissa's Produce had sent me some of their newest products including the sliced leeks I used in the Orzo Risotto with Leeks and Mushrooms. There were a couple of other surprises in the box as well including these adorable kale sprouts! A cross between Russian Red Kale and Brussel Sprouts they taste as you would imagine – a bit like kale and a bit like brussel sprouts! When I opened the box, I knew exactly what I was going to do with the kale sprouts  – make  Pan Roasted Kale Sprouts with Farro!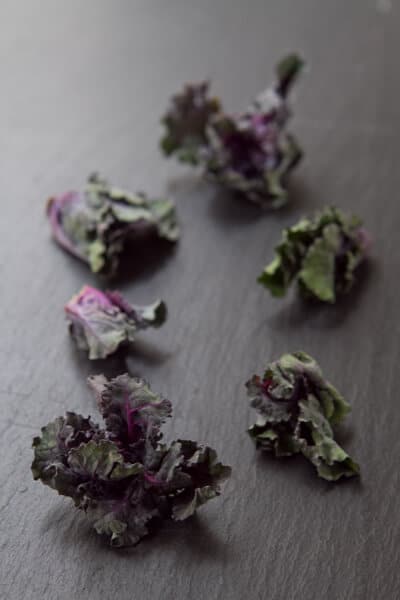 This is a recipe I've been wanting to share here on the Table and the kale sprouts presented the perfect opportunity. I love the combination of the nutty and slightly bitter sprouts with the chewiness of the farro.The preserved lemon adds a little tartness and salt and the pomegranate molasses provides an earthy sweetness with a little thick, greek yogurt to balance out all the flavors.  After playing around a bit with the kale sprouts, I decided to pan roast them and I think this is the perfect way to cook them.  You could just pan roast them and season them with a little coarse salt, pepper , a drizzle of hazelnut oil and a  splash of sherry wine  vinegar. Or you could make  this Pan Roasted Kale Sprouts with Farro which makes a perfect "one dish dinner" – but  if you need a little more substance for your meal, it would be great served alongside  a roasted chicken (from the grocery store if you're pressed for time). These pan roasted kale sprouts  also make a great lunch ( had to make a second  batch  because I ate the first one before I could photograph it :-)and this  would also make a great potluck dish since it's delicious at room temperature.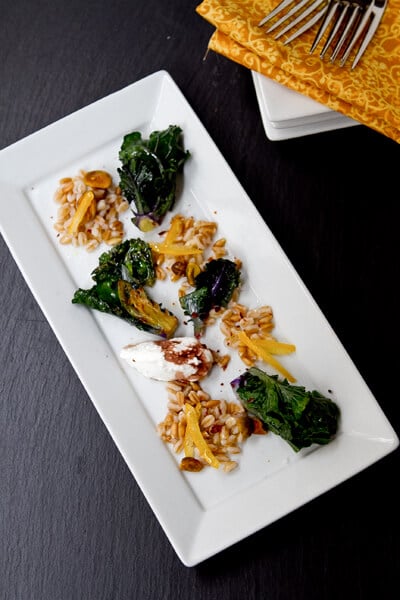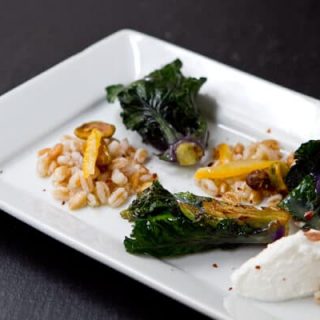 Pan Roasted Kale Sprouts with Farro
You can find pomegranate molasses, preserved lemons and aleppo pepper in middle eastern grocery stores. You can substitute balsamic glaze for the pomegranate molasses and lemon zest for the preserved lemons - but I highly recommend you make your own preserved lemon,
preserved lemons
since they are so easy to make. Finally, you can substitute smoked paprika for the aleppo pepper but again, I recommend searching it out!
Print
Pin
Rate
Add to Collection
Go to Collections
Ingredients
1

cup

farro

2

Tbsp.

fresh lemon juice

2

Tbsp.

white wine vinegar

3

Tbsp.

extra virgin olive oil

divided

1- 3

oz.

package Melissa's Kale Sprouts

cut in half lengthwise

1/4

cup

Lebne or plain greek yogurt

1

Tbsp.

pomegranate molasses or balsamic glaze

1/2

preserved lemon

rind cut into thin strips

1/4

cup

pistachios

1/2

tsp.

maldon sea salt

1/4

tsp.

aleppo pepper
Instructions
In a small bowl combine the lemon juice, white wine vinegar and 2 Tbsp. of the olive oil. Season with salt and pepper. Whisk to combine and set aside. In a large saucepan, bring 4 cups of water to a boil. Add the farro. Bring back to a boil and boil for 15 - 20 minutes or until farro is cooked but still firm to the bite. Drain and toss with the lemon juice/white wine mixture. Set aside.

In a large saute pan, heat the remaining tablespoon of oil over medium high heat. Add the kale sprouts, cut side down. Cook for 2 - 3 minutes until bottoms are lightly caramelized. Add 1/4 cup water (be careful because the pan is going to sputter and steam!) and reduce the heat to medium. Cover the pan with a lid and steam for 1 - 2 minutes until kale sprouts are tender but still firm to the bite. Remove sprouts from the pan and set aside.

On a platter, mound the farro. Place the kale sprouts on top and scatter tne preserved lemons and pistachios on top. Dollop the greek yogurt on top and garnish with a sprinkling of sea salt and the aleppo pepper.