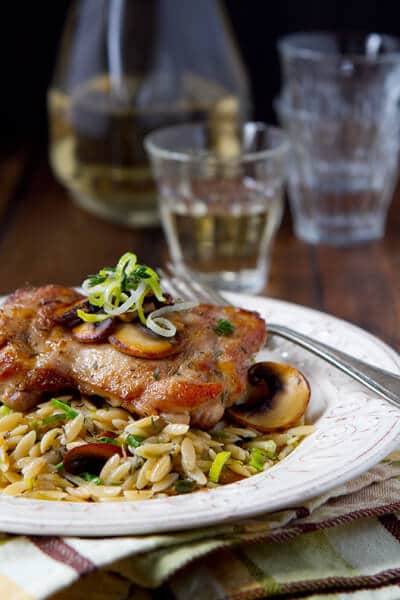 "So, what's for dinner?"
This might just be the most frequently asked question in our house, and some days it's easy to answer. Others? Not so much – especially when the world is running at a breakneck pace. Since that's been happening  a lot  lately I was very excited when a package of these pre sliced leeks from Melissa's Produce arrived on my doorstep – because not only did I have a great ingredient to use for dinner but I also knew EXACTLY what I was going to make to feed the starving hordes that night, Orzo Risotto with Leeks and Mushrooms!  How I came to that particular decision is a mystery .  But in this case all I can say is that however the idea came about I am very happy that it did, because in the immortal words of my husband "I could eat this a lot, like every week".
High praise indeed!
So, about these pre sliced leeks from Melissa's Produce. Brilliant. Simply brilliant. If you've always shied away from leeks because (a) they are a pain to slice and clean and dry or (b) wondered what in the heck you'd ever do with them… well, it's now time to embrace them since  Melissa's has done all the hard work for you. No cleaning, no chopping no drying, just open the package and cook them! Once you have, you will be  hooked. I think of leeks as the refined member of the onion family – they are mellow, sweet and almost herbal in nature – and were the perfect addition to this Orzo Risotto with Leeks and Mushrooms.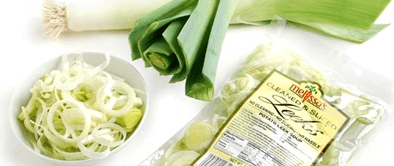 Since I've been on a "one dish dinner" roll lately, I know you'll be surprised to learn that I made this  Orzo Risotto with Leeks and Mushrooms as a "one dish dinner", but you could easily omit the chicken and serve it as a side dish – it would go beautifully with just about any white fish (halibut, tilapia, sea bass) or roasted poultry… or as a vegetarian main with some tender white beans.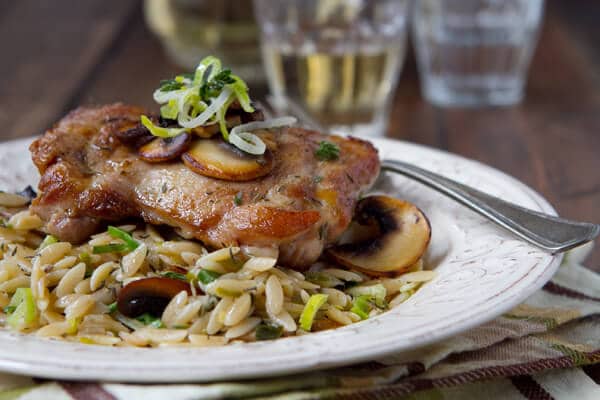 So, the next time the question of "what's for dinner?" come up, Orzo Risotto with Leeks and Mushrooms may just be the perfect answer!
Yields 4 servings
Orzo Risotto with Leeks and Mushrooms
15 minPrep Time
30 minCook Time
45 minTotal Time
Ingredients
1 cup orzo
1 1/2 cups chicken stock
1/4 cup dry sherry
1 package Melissa's Leeks
1 6 oz. package sliced mushrooms
1/4 tsp. freshly grated nutmeg
1 Tbsp. fresh thyme
1/4 tsp. white pepper
4 boneless, skinless chicken thighs
4 tsp. canola oil
1/4 cup grated parmesan cheese
Instructions
If making this dish with chicken:
Heat a large skillet or saute pan (one that has a lid!) over medium high heat. Add 3 tsp. of the canola oil and heat until oil shimmers but isn't smoking. Add chicken thighs and cook until brown and carmelized. Turn and continue cooking until chicken is cooked through - about 10 minutes depending upon thickness of the chicken thighs. Remove thighs and set aside.
To make the orzo, heat 1 tsp. canola oil in the same skillet or saute pan over medium high heat. Add the mushrooms, don't stir! When the mushrooms are nicely browned, remove from pan and set aside. Add the orzo and the leeks and cook for 2 minutes until leeks are limp and orzo is lightly toasted. Add the mushrooms back to the pan and add the sherry. Cook over medium heat until the sherry has almost evaporated. Add the stock, nutmeg,fresh thyme and pepper. Bring mixture to a boil and then reduce to a simmer and cover. Cook for 10 - 12 minutes and then stir the orzo. Continue to cook until all the liquid is absorbed and the orzo is tender. Add the parmesan cheese and stir. If using the chicken thighs, place the thighs on top of the orzo, cover and heat for 1 or 2 minutes. Garnish with additional sauteed leeks and fresh thyme sprigs if desired.
If making a vegetarian version, substitute a light vegetable stock for the chicken stock. Add the beans just before the orzo is done and stir to heat the beans.
7.6.4
180
https://www.acommunaltable.com/orzo-risotto-with-leeks-mushrooms/