Crema Catalana or Spanish custard, is Spains's version of Creme Brulee, but easier! A silky, creamy custard, flavored with cinnamon and citrus and topped with a shattering crust of caramelized sugar that just begs for a spoon!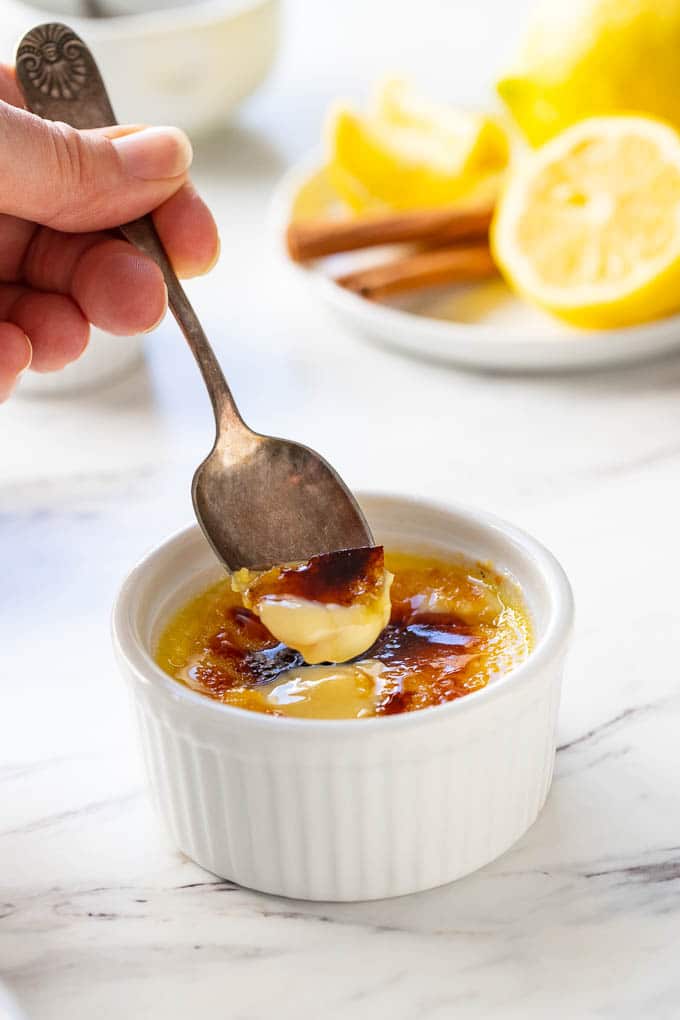 The Classic Crema Catalana Recipe
Like Creme Brulee, Crema Catalana is a classic custard but made "the Spanish way" – with milk instead of cream, less sugar and flavored with cinnamon and lemon or orange peel.
On my first trip to Spain I fell in love with this Spanish custard. Incredibly creamy with a delicate flavor and a light texture, this Crema Catalana dessert is just what I want after a plate of Spanish tapas!
But what set's this Crema catalana recipe apart is that it's made entirely on the stove top !!! That's right, no water bath, so no juggling ramekins into a pan and "hoping" I get the hot water into the pan and not in the ramekins!
What goes in Crema Catalana?
The ingredient list is short-just milk, eggs, sugar, cornstarch, cinnamon and either lemon or orange peel.
Cornstarch?? Yes, cornstarch! Most creme brulee recipes don't call for a thickener – the eggs and cream are enough. But… since this recipe uses milk instead of cream, the cornstarch helps thicken the custard.
Lemon or orange peel: you absolutely can use either or leave it out altogether. Here at ACT, we love this Spanish custard with whatever one we happen to have on hand!
Egg yolks: Regular eggs are fine here. So what to do with the extra egg whites? This Brownie Cake with Whiskey Meringue is fabulous!
Milk: This is not the time to watch your fat intake. You need full-fat milk for a silky and luscious texture!
Sugar: Granulated white sugar works best for both the custard and the caramelized sugar top.
How to make this Crema Catalana Dessert:
The path to a luscious Crema Catalana only takes a few steps!
Heat the milk with the cinnamon and citrus peel.

You'll need to stir the milk so it doesn't scorch!

Beat the eggs and sugar and add the cornstarch.

A whisk works great and you'll need to whisk for about 3 minutes. Bonus points for exercise!

Ladle in a little of the warm milk into the eggs and stir.

The purpose here is to "temper" the eggs. Hot liquid + cold eggs means scrambled eggs and that's not what you want. Adding the warm milk gradually prevents that from happening.

Strain the rest of the milk into the egg mixture and stir well.

By this point, the eggs and milk are about the same temperature so you can speed things up a bit.

Pour the mixture back into the pan and cook over low heat until thick.

Like step #1 above, you're going to need to stir this. Don't worry if the mixture seems a little lumpy. Use a whisk to smooth those lumps out.

Pour into ramekins and chill.

If you love a high caramelized sugar to custard ratio use creme brulee dishes. If you don't have those, custard cups or ramekins work just as well!!

Sprinkle with sugar and use a brulee torch to caramelize.
For all you visual people… step by step in photos!
Recipe Notes and Tips:
This custard is on the thinner side so if it's not as thick as you expect, don't worry. It's supposed to be that way!
If you don't have a torch you can use your broiler – check out this article on the best technique!
P.S. This Crema Catalana dessert would be a terrific ending for a tapas party featuring these Stuffed Mushrooms, Shrimp in Garlic Sauce and this Fresh Tomato Bread!
If you loved this Crema Catalana recipe, I would love for you to leave me a five star rating!
Cheers, Nancy
Crema Catalana
Creamy and velvety Crema Catalana or Spanish custard is the Spanish version of Creme Brulee! Made with milk instead of cream, this delicately flavored dessert will have you saying "ole!
Ingredients
2

cups

milk

2

Tablespoons

cornstarch

1

cinnamon stick

3

large strips citrus peel, sliced

lemon or orange

5

egg yolks

3/4

cup

sugar

1

pinch

salt
Instructions
In a small bowl, combine 2 Tablespoons of milk with the cornstarch and stir until the cornstarch is dissolved.

In a medium saucepan, combine the remaining milk, cinnamon stick and citrus peel.

Heat over medium-low heat until the milk begins to bubble, stirring frequently.

Remove the pan from the heat and let sit for 15 minutes so that the cinnamon and citrus can infuse the milk.

While the milk is heating, combine the egg yolks and sugar in a large bowl.

Whisk briskly until the eggs are thick and pale yellow. You can do this in a mixer but I use a whisk – less to wash!

Add in the cornstarch mixture and a pinch of salt and whisk to combine.

Ladle in a few tablespoons of the milk into the egg mixture and whisk.

Add in a couple more tablespoons of the milk and whisk.

Using a strainer, strain the rest of the milk into the egg mixture and whisk to combine.

Return the egg mixture to the saucepan and heat over medium-low heat, stirring constantly until the mixture thickens, about 5 – 8 minutes or until the mixture coats the back of a spoon or spatula.
Nutrition
Calories:
212
kcal
|
Carbohydrates:
33
g
|
Protein:
5
g
|
Fat:
6
g
|
Saturated Fat:
2
g
|
Cholesterol:
170
mg
|
Sodium:
49
mg
|
Potassium:
136
mg
|
Fiber:
0
g
|
Sugar:
29
g
|
Vitamin A:
7.5
%
|
Vitamin C:
9.9
%
|
Calcium:
12.7
%
|
Iron:
2.8
%