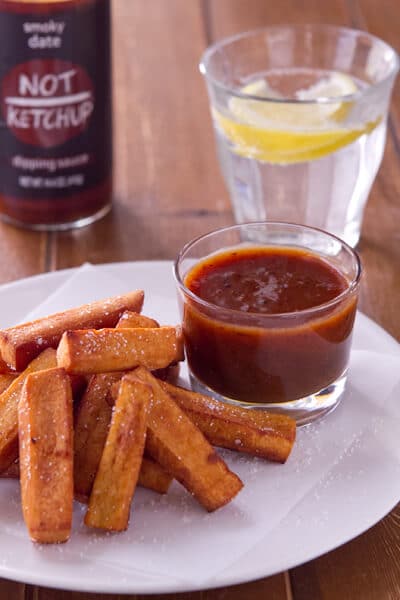 I have amazingly talented friends - some are photographers, fabulous food writers, bakers, food stylists.... and now product developers! My friend, Erika of In Erika's Kitchen has recently launched a line of sauces called Not Ketchup.
So what exactly is Not Ketchup??
Well, these are condiments that have the same consistency and sweet/sour/spicy characteristics of ketchup... but aren't made with tomatoes so they are "not ketchup!" Erika has come up with some fabulous combinations like Cherry Chipotle, Smoky Date and Blueberry White Pepper (and is rumored to have other flavor combinations in the pipeline!) As soon as I tasted them, my mind started spinning with all the possibilities for these sauces .... like these Indian Chickpea Fries with Smoky Date Not Ketchup.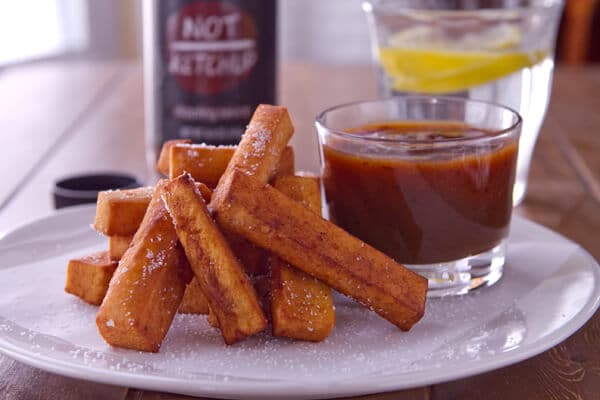 Truth be told, I've been on a bit of an Indian food kick lately - we recently returned from a trip to London and had some absolutely fabulous Indian food, including an amazing Aloo Tikki Chaat from one of the food vendors at the Borough Market... which started the wheels turning for these Indian Chickpea Fries with Smoky Date Not Ketchup. The Aloo Tikki Chaat was served with a couple of different chutneys - mint and a Tamarind Date one, which reminded me of Erika's Smoky Date Not Ketchup.. As I sat in the market happily devouring my chaat, I was sure that this Smoky Date Not Ketchup would pair beautifully with Indian inspired flavors - and I was right.
And after all, what could be more appropriate than ketchup and fries - or in this case, Indian Chickpea fries and Not Ketchup!
If you've never made chickpea fries they are incredibly easy to make and are a great choice for a side dish or for an appetizer - you can fry them a bit ahead and keep them warm in the oven - but they even taste good at room temperature.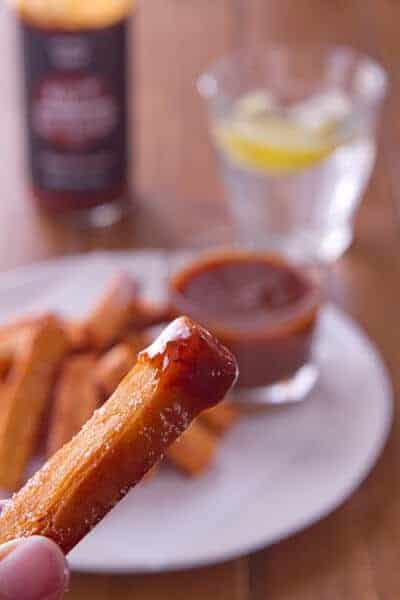 So, where can you get "Not Ketchup"? Well, it's available from a number of stores here in Southern California or you can order it from Not Ketchup!
Looking for some other ideas of what to make with Not Ketchup? These are on my list to try ASAP!
Chinese Long Beans and Cashews with Smoky Date Not Ketchup from She's Cookin'
Kale Salad with Chicken, Garbanzos and Oranges and Cherry Chipotle Not Ketchup from Shockingly Delicious
Gruyere and Thyme Goureges from Adventures in the Kitchen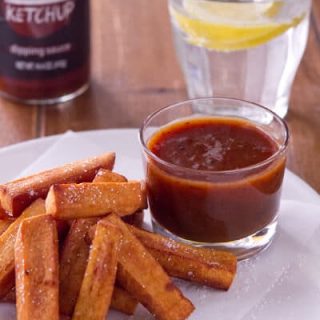 Ingredients
2 ¼

cups

chickpea flour

1

tsp.

salt

1

tsp.

ground cumin

1

tsp.

ground coriander

1

tsp.

ground ginger

1

clove

of garlic

pressed

4

cups

low sodium vegetable or chicken stock

1 ½- 2

cups

vegetable oil for fying

1

bottle Smoky Date Not Ketchup
Instructions
Spray a 9 x 13 inch pyrex with cooking spray and set aside.

In a heavy saucepan combine the chickpea flour, salt, spices and garlic. Slowly add the stock and whisk until the batter is smooth.

Place the saucepan over medium high heat and cook, whisking constantly, until the mixture thickens (about 8 - 10 minutes) and resembles wet sand.

Pour the mixture into the pyrex. Press plastic wrap directly on the chickpea mixture and refrigerate for 3 hours or overnight.

After chilling, turn the chickpea mixture out onto a cutting board. Cut mixture into batons about 3 inches by ½ inch.

Heat the vegetable oil in a skillet (preferably cast iron) over medium high heat. The oil is hot when it bubbles after dropping in small piece of the chickpea mixture.

Add the batons to the hot oil and cook until the fries are golden brown - about 2 minutes per side.

Remove fries and drain on paper towel lined plate. Continue cooking the fries in batches.

Season with salt and pepper if desired. Serve with Smoky Date Not Ketchup
Recipe Notes
Chickpea flour can be found in most natural food stores, middle eastern and indian grocery stores. 
Chickpea mixture can be made 2 days ahead and refrigerated.
Nutrition
Calories:
360
kcal
|
Carbohydrates:
49
g
|
Protein:
21
g
|
Fat:
7
g
|
Saturated Fat:
1
g
|
Cholesterol:
7
mg
|
Sodium:
869
mg
|
Potassium:
916
mg
|
Fiber:
7
g
|
Sugar:
11
g
|
Vitamin A:
115
IU
|
Vitamin C:
7.7
mg
|
Calcium:
64
mg
|
Iron:
5.4
mg