This summery gazpacho soup recipe is loaded with vegetables and lentils! Nutritious and refreshing it's ideal for vegetarians and vegans.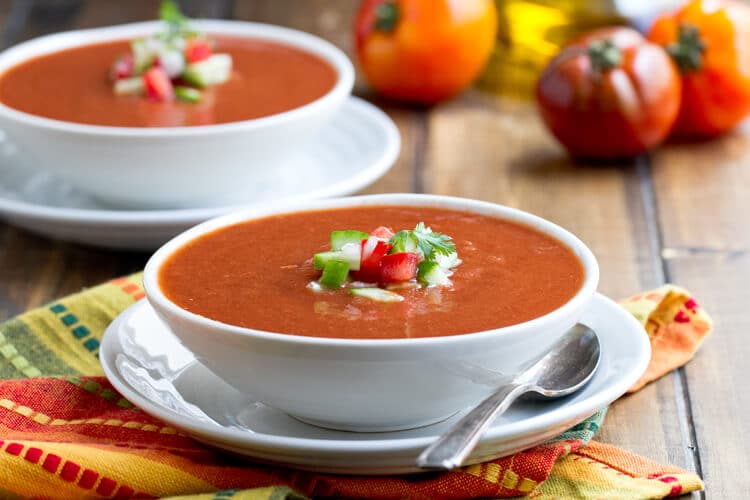 After a Limeade Rum Fizz and the S'mores Baked Alaska, I thought it was high time for something a bit more nutritious.
Like this Gazpacho! I vividly remember the first time I had gazpacho – I was in a mexican restaurant when I was 13 – and I thought it was one of the best things I'd ever had.
And since I had it in a mexican restaurant I assumed it was mexican. Well, you know what they say about assuming. Ahem.
Fortunately, I did learn that my beloved gazpacho was actually Spanish – and although it's now eaten throughout all of Spain as well as a huge chunk of the world (including mexican restaurants) it's origin is still shrouded in mystery. Some culinary historians think it is based on an ancient Roman dish… and others swear it came to Andulusia with the Moors. Regardless, whoever brought this soup to sunny southern Spain was a genius.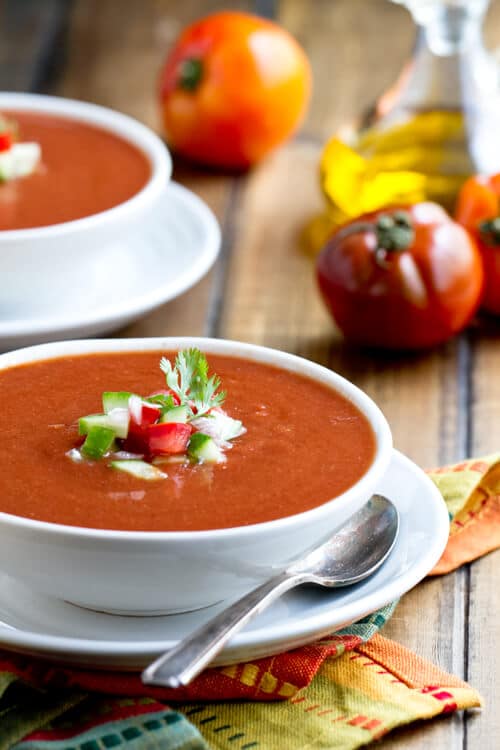 And if you've never had gazpacho, after one sip you will see why. Cool and tart, with just enough salt, spice and sour to keep your tongue busy, gazpacho is incredibly refreshing – and just the thing you want when the temperature soars.
Like most classic dishes, there are many recipes for this soup – in general though, gazpacho is made with tomatoes, onions, cucumbers, lemon juice, chiles and spices and thickened with stale bread.
But not this version. Nope, this one is thickened with…. lentils! Which is awesome.
Especially if you don't have any stale bread lying around. But that means I have to cook lentils!!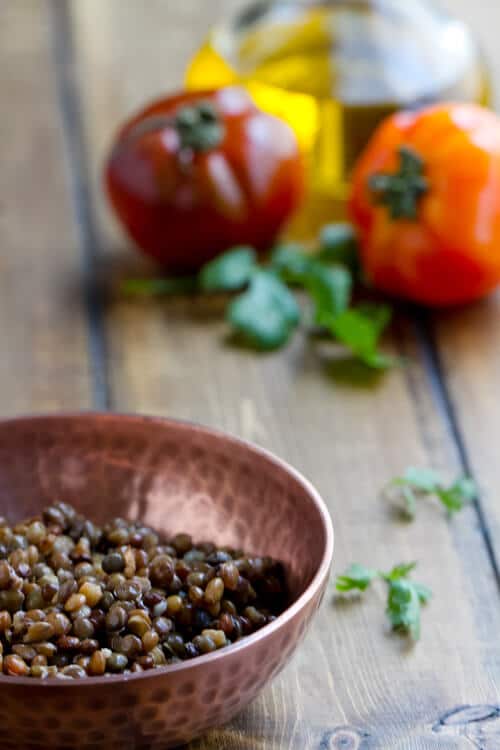 Nope. Wrong again! Well, wrong if you don't keep a box of Melissa's Steamed Lentils on hand at all times.
Which of course you do, right? Phew, glad we cleared that up! So armed with Melissa's Steamed lentils, some tomato juice, tomatoes and cucumbers, you can make this soup in about 10 minutes. No trip to a mexican restaurant required!
Gazpacho
Adapted from www.lentils.ca
Ingredients
3

cups

tomato juice

1 1/2

cups

chopped tomatoes

1

cup

cooked lentils

1

cup

chopped red bell pepper

1

cup

chopped cucumber

1

jalapeno

seeded (or not if you like heat!)

2

shallots

chopped

2

Tablespoons

fresh lemon juice

2

Tablespoons

canola oil

2

cloves

garlic

2

teaspoons

hot sauce

1/2

cup

diced tomatoes

optional

1/2

cup

diced cucumber

optional

1/4

cup

minced cilantro

optional
Instructions
Combine all the ingredients except optional tomatoes, cucumber and cilantro in a blender. Blend until smooth. Refrigerate soup for 2 hours or overnight to blend flavors. Spoon into bowls or glasses and garnish with the fresh, diced tomatoes, cucumbers and cilantro if desired.
Nutrition
Calories:
267
kcal
|
Carbohydrates:
38
g
|
Protein:
10
g
|
Fat:
10
g
|
Saturated Fat:
0
g
|
Cholesterol:
0
mg
|
Sodium:
277
mg
|
Potassium:
1321
mg
|
Fiber:
9
g
|
Sugar:
18
g
|
Vitamin A:
58.4
%
|
Vitamin C:
167.9
%
|
Calcium:
10.6
%
|
Iron:
29.5
%