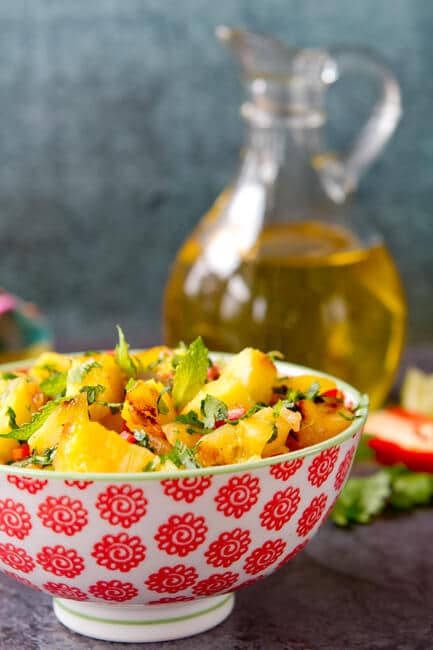 This easy grilled Asian Pineapple Salsa recipe is sweet, spicy and smoky. This summer standby is great with chips or fish, chicken or pork!
My poor grill.
During the summer, my grill rarely gets a night off – just about anything and everything gets thrown on there for dinner – salads, chicken, fish, burgers, steaksand even dessert have all taken their turn on those hot little rods. And yes, I even grill the ingredients for this Grilled Asian Pineapple Salsa. But one thing that does not get on that grill? Olive oil.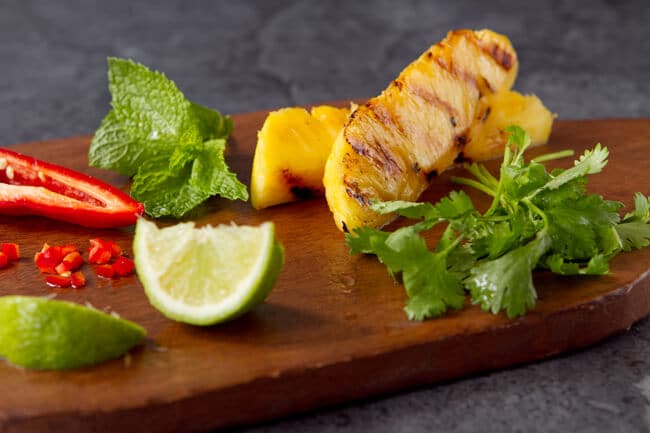 Not that I don't love olive oil –  if you've spent any time here at the Table, this should come as no surprise. But during the summer, well, my affections turn to another –  Mazola corn oil. Yup, that beautiful, golden hued beauty who far too often is passed over in favor of… olive oil.
And this folks, is a shame.
Why? Well, olive oil, despite it's lovely color, flavor and nutritional benefits does not belong on a grill!! It's smoke point is far too low – 325 – 375 degrees. With grilling, medium heat is about 325 – 375 – and if you want those lovely grill marks? Your grilling at 400 – 450 degrees.  Using olive oil for  grilling is at best a waste olive oil (as the heat destroys all those lovely flavors) and at worst will impart an acrid, rather nasty taste to your food.
Which is why I like using Mazola corn oil – it's smoke point is around 450 degrees.
But I like it for other reasons – flavor being one. To me, Mazola corn oil has a richer flavor and mouthfeel than canola oil and I love pairing it with grilled foods – it's a no brainer with anything mexican but works surprisingly well with other cuisines as well – like this Grilled Asian Pineapple Salsa!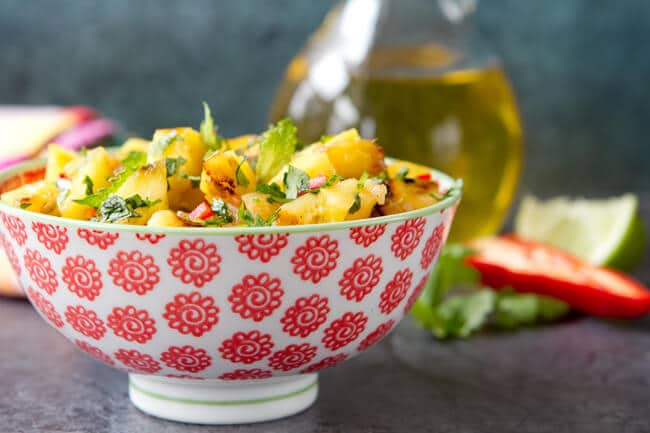 Last, but certainly not least is that  Mazola corn oil has a great nutritional profile – 14% saturated fat, 29% monounsaturated and 57% polyunsaturated fat. If you use a lot of olive oil like I do, corn oil is a perfect compliment to it in your diet – giving you a nice balance of both monounsaturated and polyunsaturated fats.
Speaking of diet, you'll be pushing that guacamole away in favor of this grilled asian pineapple salsa to dip those tortilla chips in – at least if you are like my son who braved the far reaches of my fridge to find it!  A mixture of grilled, fresh  pineapple,  sweet onion, cilantro, mint, jalapeno, garlic and ginger and wrapped up in a little fresh lime juice and corn oil it's a delicious dipper for tortilla chips – or on top of some grilled chicken… or salmon… or tossed with greens and leftover grilled chicken… see where I am going with this?? Yeah, you can use this salsa on just about anything!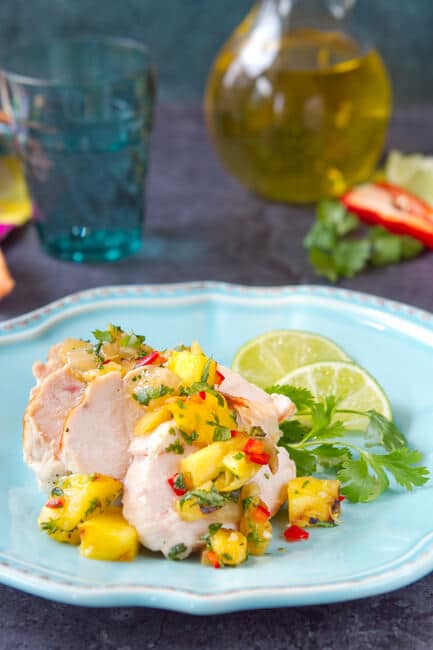 Your grill might not thank you… but your taste buds? Oh yes!!!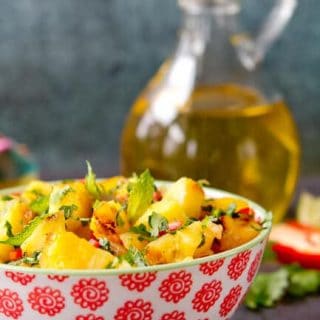 Ingredients
½

fresh pineapple

peeled, cored and cut into 1 inch thick batons

1

sweet yellow onion

maui or walla walla peeled and cut into ½ inch thick slices

2

Tbsp.

Mazola corn oil

1

inch

piece of peeled ginger

minced

3

cloves

garlic

minced

½

red fresno chile

minced

¼

cup

fresh mint

minced

⅓

cup

fresh cilanto

minced

2

limes

juiced

2

Tbsp.

Mazola corn oil
Instructions
Pre heat the grill to medium high heat. Brush the pineapple and onion with Mazola corn oil. Add to grill and grill until pineapple is caramelized and has turned a deeper shade of yellow - about 3 - 4 minutes per side. Add the onion slices and cook until onion is lightly browned.

Remove from grill and let cool.

When cool enough to handle, cut the pineapple into ½ inch dice and put in a large bowl. Dice the onion into ¼ inch dice and add to the pineapple. Add the remaining ingredients and stir. Season with salt and pepper. Taste and adjust seasonings - if you like it spicier add more fresno chile! Serve
Recipe Notes
Your yield on this will vary a bit depending on the size of your pineapple. For an average sized pineapple, my yield was a little over 3 cups! This salsa is great served with tortilla or wonton chips, on chicken, salmon or other fish!
Nutrition
Calories:
98
kcal
|
Carbohydrates:
25
g
|
Protein:
1
g
|
Fat:
0
g
|
Saturated Fat:
0
g
|
Cholesterol:
0
mg
|
Sodium:
9
mg
|
Potassium:
280
mg
|
Fiber:
3
g
|
Sugar:
15
g
|
Vitamin A:
200
IU
|
Vitamin C:
69.4
mg
|
Calcium:
53
mg
|
Iron:
0.9
mg