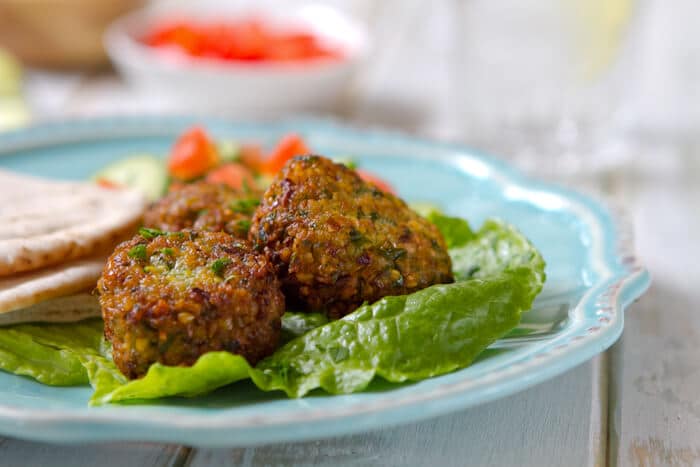 Years ago, I tried falafel and I wasn't impressed. The plate looked appealing, heaped with fresh tomatoes, cucumbers, tzatiki sauce and warm, pillowy pita bread surrounding golden brown discs of chickpeas and herbs. Looking at that plate, I knew I was going to love it. But after the first bite… I didn't. The falafel was bland, mushy and flavorless and I was beyond disappointed. Thinking that perhaps it was just that restaurant's version, I continued to try it at various restaurants only to be disappointed each time. As someone who loves middle eastern food, I couldn't figure out how this bland, mealy, tasteless dish could be so incredibly popular in the middle east. I even tried making it at home, looking at a variety of recipes, only to be equally disappointed. so I just chalked it up to a difference in taste, and left it at that.
Until a couple of years ago – when I really tasted Falafel for the first time… true falafel – and it was a revelation.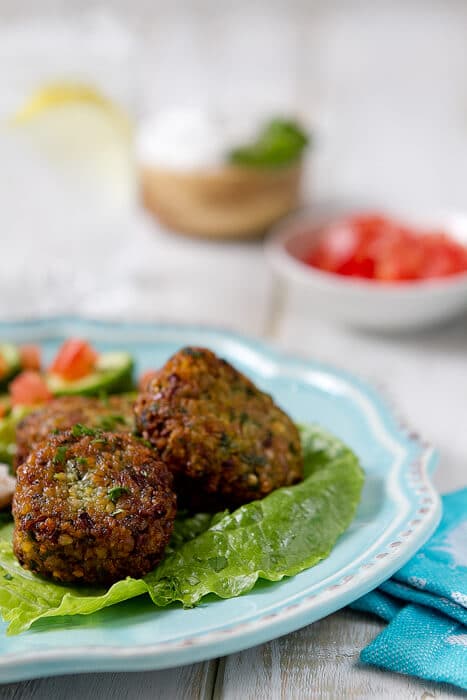 One evening, after my lecture on middle eastern food and culture, one of my students "A" asked me if I liked falafel. I mentioned that although I loved middle eastern food in general, I wasn't a fan of falafel. She smiled and said "ah, but you haven't had my mother's – and it is the best!" and then asked me if she could make it for the class during the next week's lab.
Of course I said "yes", mentally preparing myself for an uneaten plate of a food and a very disappointed student.
Well, you know what they say about "assumptions" … the plate lasted maybe 5 minutes and every single student (including me) begged "A" for the recipe – which she graciously gave us and which I am happy to share with all of you. Because if you've had falafel or even made it and weren't impressed, chances are you didn't have true falafel – but now you can.
With this recipe.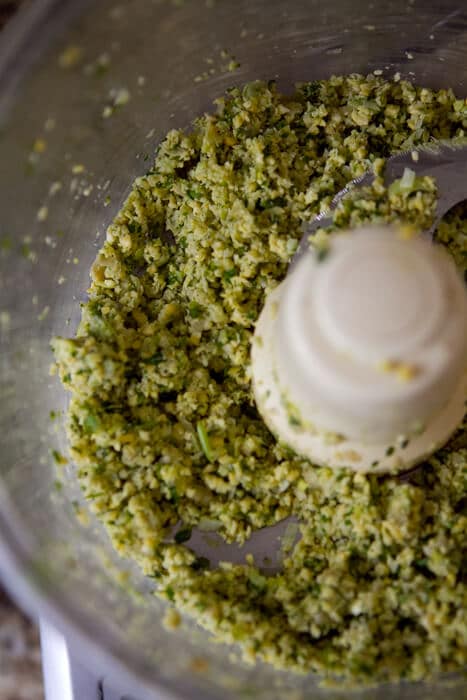 So, what made "A"s falafel better than any I'd ever tasted? Well, it was actually prepared properly. The secret is (drum roll please..) YOU CAN'T USE CANNED BEANS!!
Yes, I know.. there are hundreds of recipes out there using canned beans. But they are wrong. Now will it work? Yes… but will it be true falafel? No, not even close.
Canned beans are too soft and have too much water in them to make a proper falafel. You have to soak dried beans.
The good news is you don't have to soak them overnight – you can bring them to a boil and let them soak for an hour – either method will work. In fact, you can soak them and then freeze them and use them after they've thawed, making them as convenient as canned.
So if you haven't been a fan of falafel, try these. You won't be disappointed.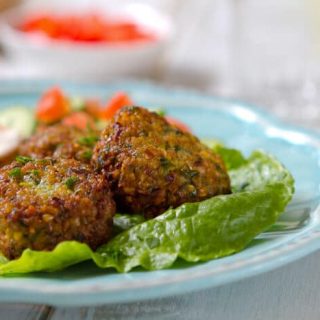 Ingredients
1

cup

dried chickpeas soaked

see note

2

cloves

garlic

peeled and smashed

1/2

cup

fresh parsley

stems and leaves

1/2

cup

fresh cilantro stems and leaves

1/3

cup

rinsed and chopped leeks

1/3

cup

chopped onion

2

Tablespoons

fresh ginger

peeled and chopped

1/2

teaspoon

cumin

1/2

teaspoon

baking powder

1

small pita bread

torn and soaked in water for 1 to two minutes

1

teaspoon

salt

1/2

teaspoon

baking powder

1 1/2

cups

canola oil

for frying

Tzatziki sauce

1

cup

lebneh

2

cloves

garlic

minced

1

diced persian cucumber

1

Tablespoon

dried mint or 2 Tablespoons fresh

minced

1

Tablespoon

fresh dill

minced

juice of 1/2 of a lemon
Instructions
Note: to soak the chickpeas: place dried chickpeas in a large bowl and cover with 2 inches cold water. Let soak overnight.

Drain beans and proceed with the recipe. If time is short, place chickpeas in a medium sized saucepan and cover with about 4 inches of water. Bring chickpeas and water to a boil and boil for 2 minutes. Turn off the heat and let beans soak for 1 hour. Drain and proceed with the recipe.

To make the falafel, add the chickpeas, garlic, parsley, cilantro, leeks, onions and ginger. Pulse until the mixture takes on a green hue and has a texture similar to cooked quinoa or grits.

Soak the torn pita bread in water for 1 to 2 minutes and squeeze dry. Add to the falafel mixture along with the cumin and salt.

Taste and adjust seasoning. Add the baking powder and pulse until combined.

Heat the oil in a large skillet (you want to have about 1/2 of inch of oil in the bottom of the pan. Heat the oil to 350 degrees (use a candy thermometer to measure temperature). While the oil heats, line a sheetpan with several layers of paper towels. When the oil is hot, scoop about 1 1/2 Tablespoons of falafel mix into your hands and form a small patty.

When the oil is hot, scoop about 1 1/2 Tablespoons of falafel mix into your hands and form a small patty.

Using a spatula, slide the patty into the hot oil. Cook until the patty is deep brown and turn over the finish cooking. Remove patty from the oil and place on the paper towel lined pan. Each patty should cook for about 3 - 4 minutes.

Repeat with the remaining falafel mixture. You can keep the patties warm in an oven set to 200 degrees. Serve immediately with diced tomatoes, cucumber slices, fresh pita and Tzatziki sauce
Tzatziki Sauce
Combine all the ingredients in a small bowls and stir to combine. Can be made 1 day ahead.
Recipe Notes
Do not use canned chickpeas in this recipe! Since the canned chickpeas are heat processed and canned in liquid, the chickpeas are softer and result in a mushy falafel!!
Nutrition
Calories:
1429
kcal
|
Carbohydrates:
186
g
|
Protein:
56
g
|
Fat:
55
g
|
Saturated Fat:
9
g
|
Cholesterol:
31
mg
|
Sodium:
2826
mg
|
Potassium:
3080
mg
|
Fiber:
39
g
|
Sugar:
37
g
|
Vitamin A:
4210
IU
|
Vitamin C:
65.7
mg
|
Calcium:
833
mg
|
Iron:
16.7
mg