This post was originally published December 11, 2015. 
I gave my favorite egg frittata recipe a makeover! This tender, baked frittata is filled with sauteed leeks and mushrooms and a surprising ingredient – yogurt! Moist, delicious and perfect for breakfast, brunch, lunch or dinner!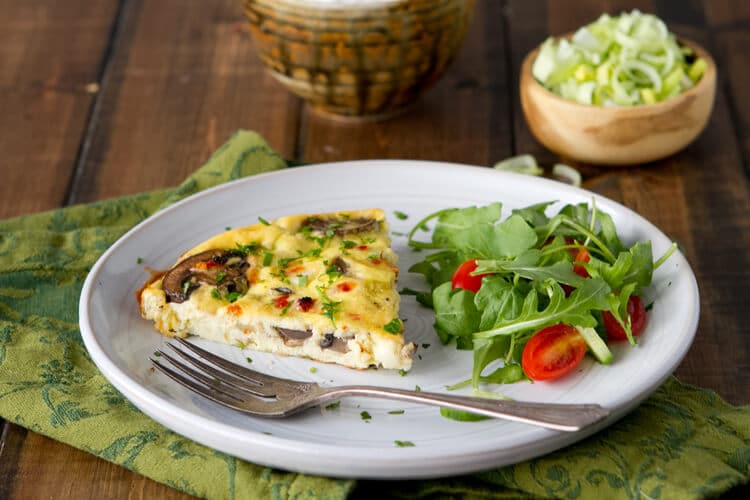 Get a head start on your New Year's Resolutions with this Leek, Mushroom and Yogurt Frittata!! It's that time of year again… yes, the holiday party season is here! Which means lots and lots of holiday goodies. So  I decided to get a head start on my New Year's resolution. No, it isn't about avoiding the goodies or working out 7 days a week. No,  this year my  resolution is all about "balance" – with work, with exercise and definitely with food!  In terms of food, that means focusing on more nutrient dense dishes – like this Leek, Mushroom and Yogurt Frittata.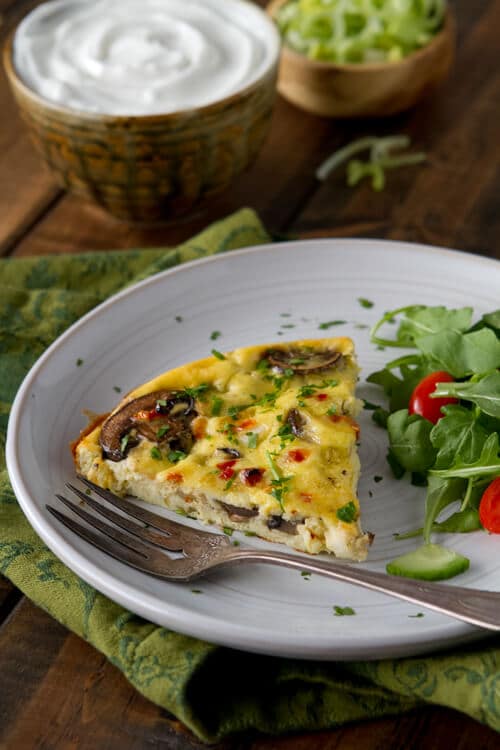 Yes, you read that right. Yogurt. In a frittata. Which probably won't surprise you since I use  yogurt in lots of dishes like my Pasta with Basil Yogurt Sauce and this Sweet Potato and Orange Smoothie!! Subbing yogurt for milk, cream and/or cheese is one of my favorite tricks to make dishes a bit healthier – and since I always have yogurt on hand, it makes whipping up dishes like this baked  egg frittata so easy!
Now, while I'd like to claim credit for the idea of adding yogurt to this baked frittata – I can't!  Putting yogurt with eggs is nothing new.  In the middle east, cooks often add yogurt to omelets and have been doing so for centuries. So I decided to see how it would work in a frittata.
And it's amazing. But more about that in a minute.
So what exactly is a frittata?
Basically, a frittata is an italian version of an omelet with a few differences:
a frittata is almost always cooked on the stove and finished in the oven.
Cooked in a cast iron skillet or an oven safe skillet, a baked frittata is ideal when you are serving a crowd!
The "filling ingredients" are folded into the eggs instead of encased in it.
Definitely easier to make than an omelet!
So, here is how you make a baked frittata!
Step #1: Gather up your ingredients – for this baked frittata recipe you'll need:
Olive oil, eggs, yogurt, leeks, mushrooms, sun dried tomatoes, salt, pepper, nutmeg and parsley.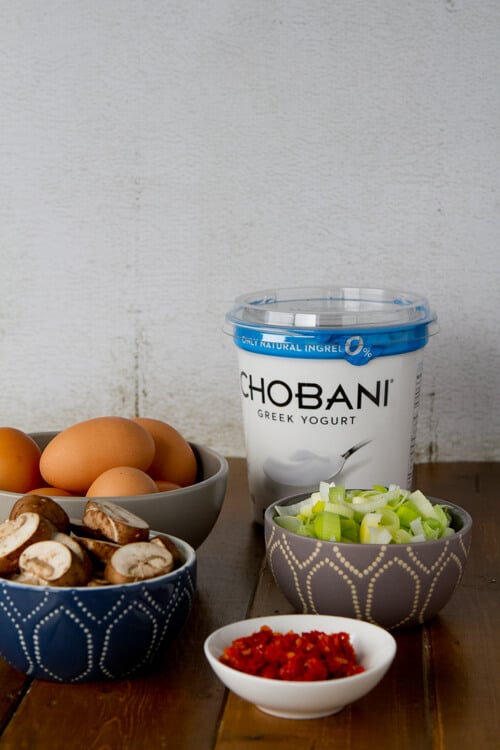 Step #2: Saute the leeks and mushrooms in the olive oil….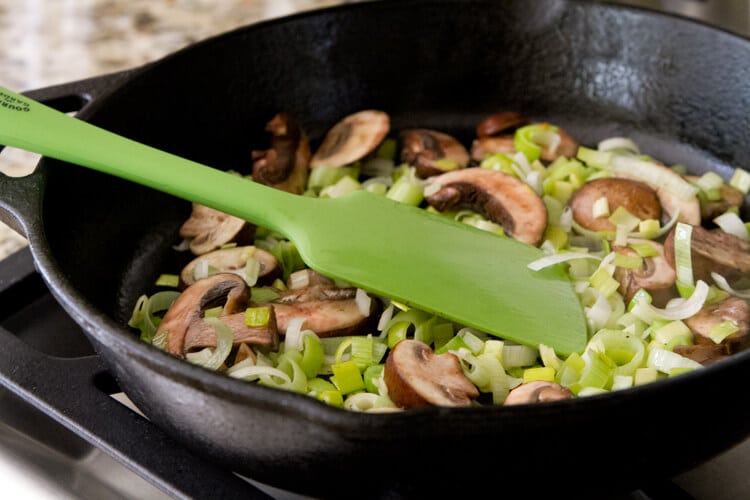 Step #3: While the leeks and mushrooms are cooking, combine the eggs with the yogurt, salt and pepper. Whisk to combine thoroughly.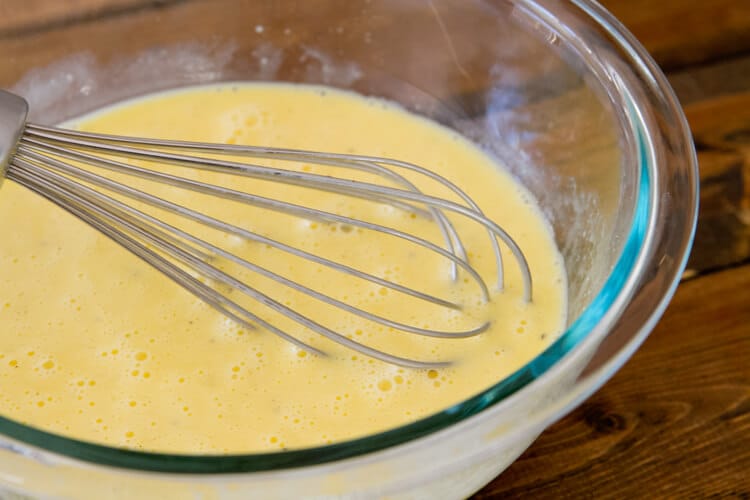 Step #4: Then add the eggs and yogurt to the sauteed leeks and mushrooms and sprinkle with the sun dried tomatoes. Now, you "might" be tempted to add a little cheese to this frittata, but it honestly doesn't need it!  Non fat plain greek yogurt provides an amazing amount of flavor on it's own!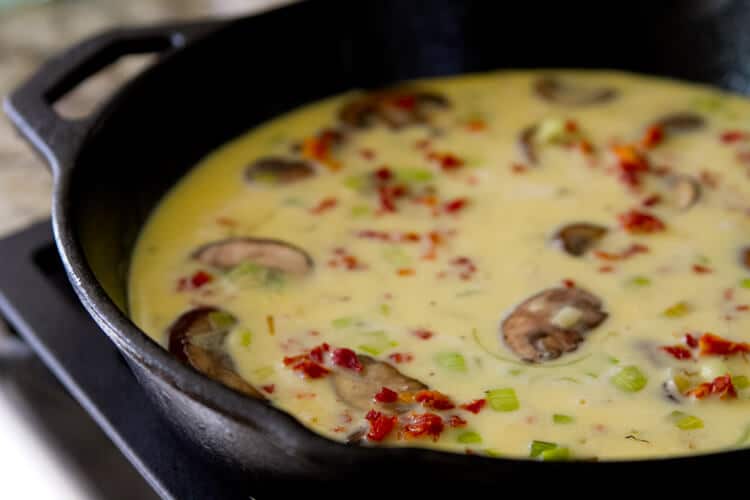 Step #5:  Bke for 25 minutes until the frittata is puffed and golden brown!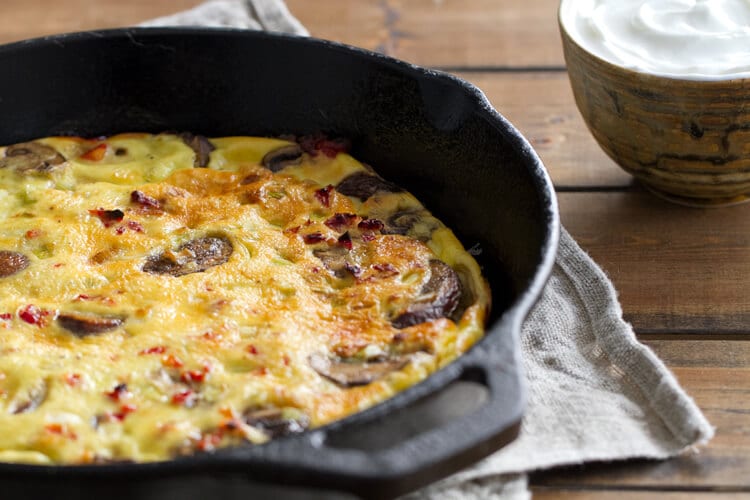 Step #6: Take it out of the oven and let rest for 3 – 5 minutes and then slice and enjoy! With a little side salad and perhaps some fresh bread a quick and nutrient dense dinner is served.
Or brunch.
Or lunch.
Or a late night munch.
What to serve with this Egg Frittata:
Leek, Mushroom and Yogurt Egg Frittata Recipe:
If you aren't a leek and mushroom fan, feel free to substitute other vegetables – fresh tomatoes, bell peppers, zucchini, spinach, onions and shallots would all be fabulous as well as other fresh herbs like tarragon, thyme and cilantro!
Like this egg frittata recipe! I'd love for  you to rate it!!!!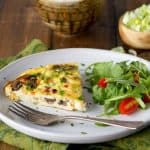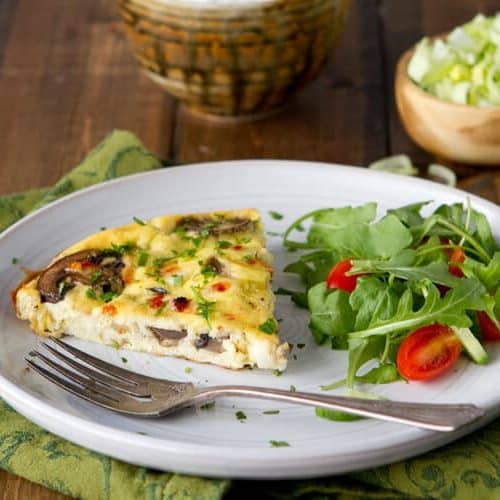 Leek, Mushroom and Yogurt Frittata
This easy, 30 minute vegetarian Leek, Mushroom and Yogurt Frittata recipe is luscious and ideal for breakfast, brunch or dinner.
Ingredients
Main Ingredients

2

Tablespoons

olive oil

1

cup

sliced mushrooms

brown or white - your choice!

1

cup

sliced leeks

rinsed well

6

eggs

2/3

cup

Chobani® Non Fat Plain Greek Yogurt

1

teaspoon

salt

1/2

teaspoon

pepper

Additional ingredients:

1/4

cup

drained and chopped sun dried tomatoes

1/4

teaspoon

freshly grated nutmeg

1

Tablespoon

minced fresh parsley
Instructions
Pre heat the oven to 350 degrees.

Add 2 Tablespoons olive oil to an oven safe skillet (do not use a non stick pan since you will be baking this fritatta in the oven).

Over medium high heat, heat the oil in an oven safe skillet until it just begins to shimmer.

Add the leeks and the mushroom and saute for 5 minutes or until the mushrooms and leeks are tender.

While the leeks and mushrooms are cooking, combine the eggs and yogurt in a bowl.

Whisk thoroughly to combine.

Add 1 teaspoon salt and 1/2 teaspoon pepper and 1/4 teaspoon freshly grated nutmeg if using.

Whisk to combine.

Pour the egg/yogurt mixture into the skillet.

Sprinkle the sun dried tomatoes on top if using.

Cook over medium high heat for 3 minutes until the eggs just begin to set at the edges.

Carefully place skillet in the oven.

Bake for 20 - 25 minutes or until the eggs are set and top is golden brown.

Remove from oven and let rest for 5 minutes.

Slice and serve.
Nutrition Facts
Leek, Mushroom and Yogurt Frittata
Amount Per Serving
Calories 140
Calories from Fat 81
% Daily Value*
Total Fat 9g 14%
Cholesterol 164mg 55%
Sodium 474mg 20%
Potassium 241mg 7%
Total Carbohydrates 4g 1%
Protein 8g 16%
* Percent Daily Values are based on a 2000 calorie diet.