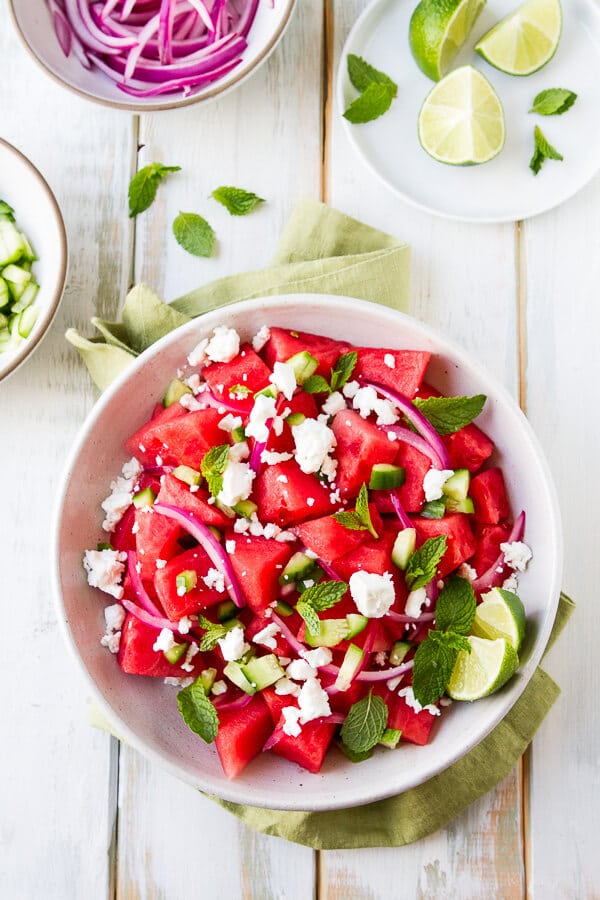 Summer is salad season and I can't think of any salad that  characterizes everything I love about summer more than this Watermelon, Mint and Cucumber Salad.  Cool, crisp with a hit of briny salt from fresh feta cheese, this salad is a natural partner for almost anything that comes off the grill – like this Yogurt, Lemon and Mint Grilled Chicken.
I first came across this idea when I was trying to put together a menu for a summer  get together.  Since we were flying in the day of the party, I needed dishes that I could shop for and prep in the afternoon. Needless to say, it was hot!  I knew I wanted dishes that were refreshing and light that would also work with grilled meat, fish and vegetables. This Watermelon, Mint and Cucumber Salad fit the bill and was a huge hit at the party. Since then, it's  become a summer staple in my house!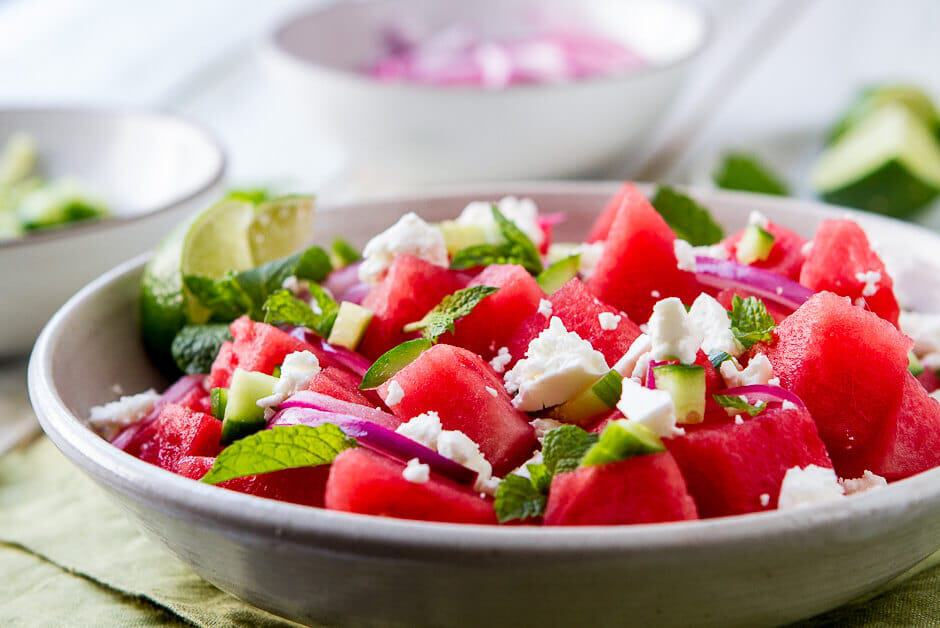 While this salad seems like it's the creation of a cutting edge chef, the history of this Watermelon, Mint and Cucumber Salad goes back much, much farther. Ever wonder where watermelons came from? Well, being the food nerd that I am, I decided to do a little research on these summer juice bombs and to tell you the truth, it was fascinating! We don't know exactly where watermelons originated (most people think it was somewhere in Africa) but we do know that  Watermelons  were enjoyed by the  ancient Egyptians as well as the ancient greeks. It was  the  greeks that first paired watermelon with feta cheese and this popular side dish is  often combined with  cucumbers and mint in a refreshing salad.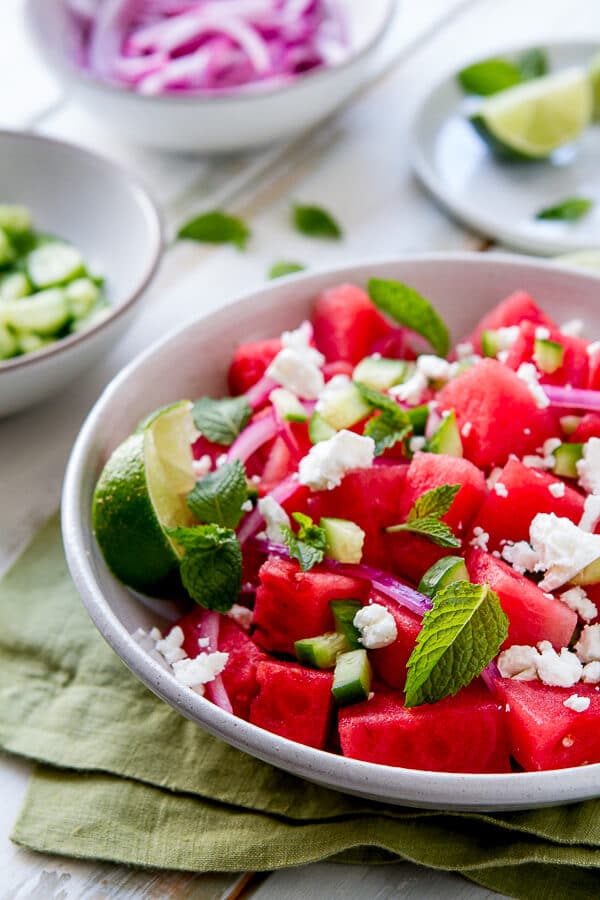 Watermelon, Mint and Cucumber Salad Hints:
Choose a watermelon that is heavy for it's size.
Look for ones with a creamy yellow splotch – that means the watermelon ripened on the vine!
Give it a good thump – the watermelon should sound hollow!
For less bitter onions, squeeze some lime juice over the onions and sprinkle with salt and let sit for 30 minutes.
Prep all the ingredients ahead of time but wait to combine them just before serving.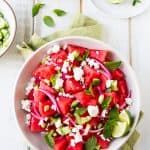 Watermelon, Mint and Cucumber Salad
Ingredients
1/2

small red onion

halved and cut into 1/8 inch slices

3

Tablespoons

lime juice

2

Tablespoons

extra virgin olive oil

1

small seedless watermelon

cut into 3/4 inch dice (approximately 6 cups)

2

persian cucumbers or 1 english cucumber

cut into 1/2 inch dice

1

cup

feta cheese

preferably packed in brine

1/4

cup

thinly sliced fresh mint leaves

salt
Instructions
Add the onion to a small bowl and drizzle with 1 Tablespoon lime juice and sprinkle with salt. Toss to combine and let sit for 15 to 30 minutes.

In a large bowl, combine the watermelon, cucumber and onion. Toss to combine.

Sprinkle with the feta and mint.

Serve.
Nutrition Facts
Watermelon, Mint and Cucumber Salad
Amount Per Serving
Calories 354
Calories from Fat 99
% Daily Value*
Total Fat 11g 17%
Cholesterol 22mg 7%
Sodium 289mg 12%
Potassium 1035mg 30%
Total Carbohydrates 63g 21%
Protein 8g 16%
* Percent Daily Values are based on a 2000 calorie diet.