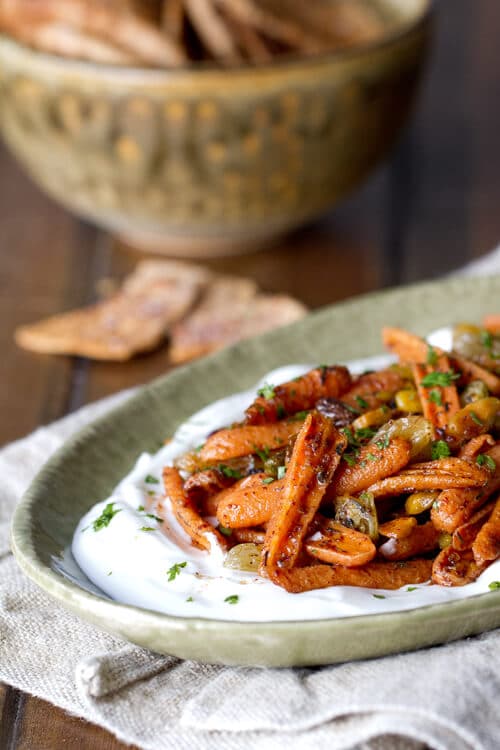 Today I'm thinking outside the box with this Creamy Sweet and Spicy Carrot Dip!!!
I'm pretty good at including vegetables at lunch and dinner. Snacking is where I run into trouble – especially when I'm  planning  appetizers.
My "fall back" position is always cheese, meat and seafood recipes – which are great, but not so much for my friends – many of whom are vegetarian or trying to cut back on the amount of cheese and meat they eat.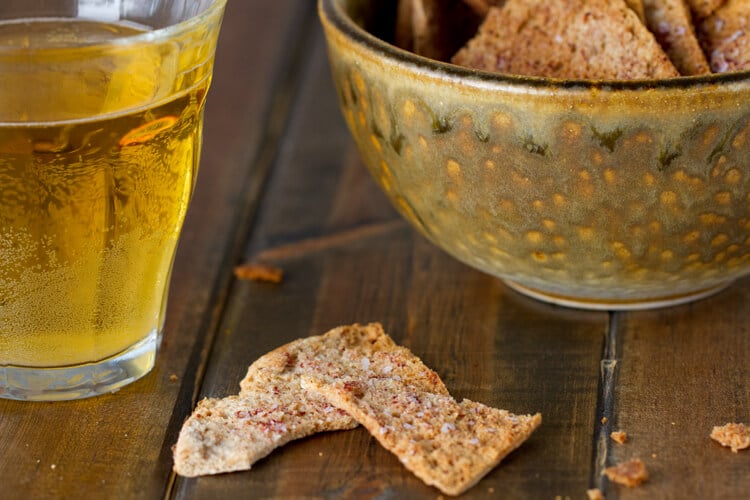 This pretty much leaves me with chips, guacamole and salsa, hummus and veggies trays. Nothing wrong with those  of course. But since I'm always trying to  "expand my horizons" I've been on the hunt for more "vegetable centric" appetizers to include in my repertoire.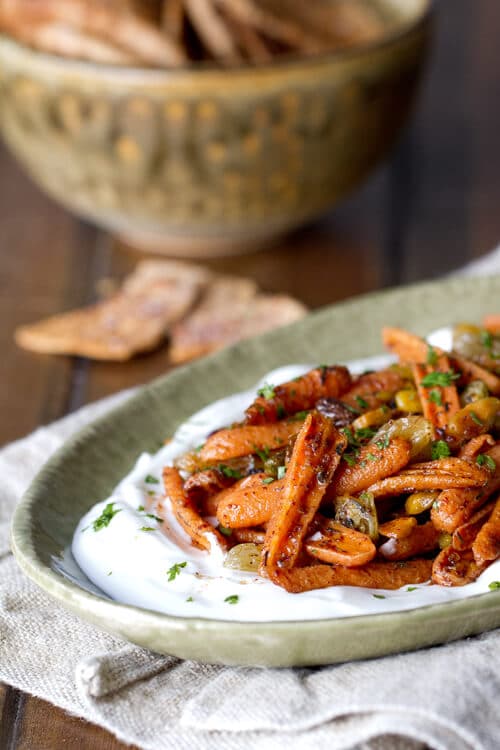 And I have to say, this Creamy, Sweet and Spicy Carrot Dip is now my number one, go -to appetizer recipe. For soooo many reasons.
It tastes fantastic – sweet carrots subtly flavored with coriander, cumin and sumac and crowned with sultana raisins and pistachios on top of tangy yogurt.
It can be made ahead and assembled just before serving.
It's portable!
It's pretty!
I can find all the ingredients in my local grocery store.
And this year, it's even the right color for Superbowl Sunday!!! (Yeah, I'm a Broncos fan – but don't hold that against me!!) But even if you're not a bronco's fan, you'll still be winner with this Creamy Sweet and Spicy Carrot Dip!
Looking for some other "vegetable centric" dips? Then my Healthy Roasted Butternut Squash Dip or this Kopanisti Dip are right up your alley!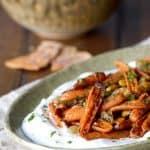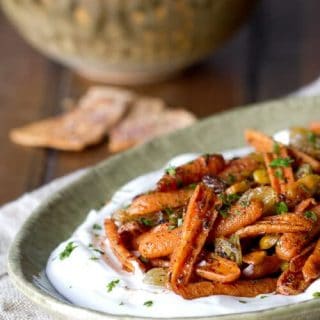 Creamy Sweet and Spicy Carrot Dip
Creamy sweet and spicy carrot dip - an easy vegetarian make ahead appetizer is a perfect year round appetizer for parties and get togethers.

Ingredients
1

pound

medium carrots

2

Tablespoons

olive oil

1/2

teaspoon

salt

1 1/2

teaspoon

sumac

divided

1

teaspoon

ground coriander

1/2

teaspoon

ground cumin

2

Tablespoons

unsalted butter

for vegan version substitute pistachio oil

1/4

cup

golden raisins

sultanas

1/2

cup

chopped pistachios

1 1/2

cups

whole milk

plain greek yogurt (for vegan version use soy yogurt)

1

Tablespoon

minced parsley

Pita chips for serving
Instructions
Pre heat the oven to 450 degrees.

Slice the carrots into 2 - 3 inch lengths and slice 1/4 inch thick.

Place the carrots in a large bowl. Drizzle with the olive oil and sprinkle with the salt, sumac, coriander and cumin.

Spread evenly on a greased sheet pan and roast for 15 - 18 minutes until the carrots are slightly charred at the edges and tender.

Remove from the oven and cool.

While the carrots are roasting, place the butter in a small frying pan. Over medium low heat, cook the butter until it is browned and has a lovely nutty aroma. Add the raisins, pistachios and sumac and lemon zest. Cook, stirring until the raisins puff - about 1 minute. Let cool. If using the pistachio oil, toast the pistachios in the dry skillet and soak the raisins in hot water for 1 minute and then drain.Combine with the pistachio oil and sumac and proceed with the recipe.

Toss the carrots with the butter mixture (oil if making vegan version). Spread the yogurt on the bottom of a shallow serving bowl or platter. Spoon the carrot and raisin/pistachio mixture over the top. Garnish with the minced parsley and serve with the pita chips.

Spread the yogurt on the bottom of a serving bowl or platter. Toss the carrots with the butter mixture
Recipe Notes
If making ahead, don't add the pistachios to the browned butter. Instead toast them lightly and keep separate, stirring them in right before serving. If you don't have sumac, you can find it in middle eastern markets and some large grocery stores. Feel free to substitute smoked paprika for the sumac and increase the lemon zest to a whole lemon. Adapted from Sunset Magazine
Nutrition Facts
Creamy Sweet and Spicy Carrot Dip
Amount Per Serving
Calories 329
Calories from Fat 207
% Daily Value*
Total Fat 23g 35%
Cholesterol 24mg 8%
Sodium 411mg 17%
Potassium 708mg 20%
Total Carbohydrates 26g 9%
Protein 7g 14%
* Percent Daily Values are based on a 2000 calorie diet.