Easy and cheesy Chicken sliders made on the grill, in the oven or on the stove! This is the slider recipe you want when feeding a crowd and/or you're pressed for time!
Made with boneless chicken thighs and slathered with your favorite green Chile sauce and topped with a pineapple coleslaw, these sliders are sweet, spicy, tender and juicy!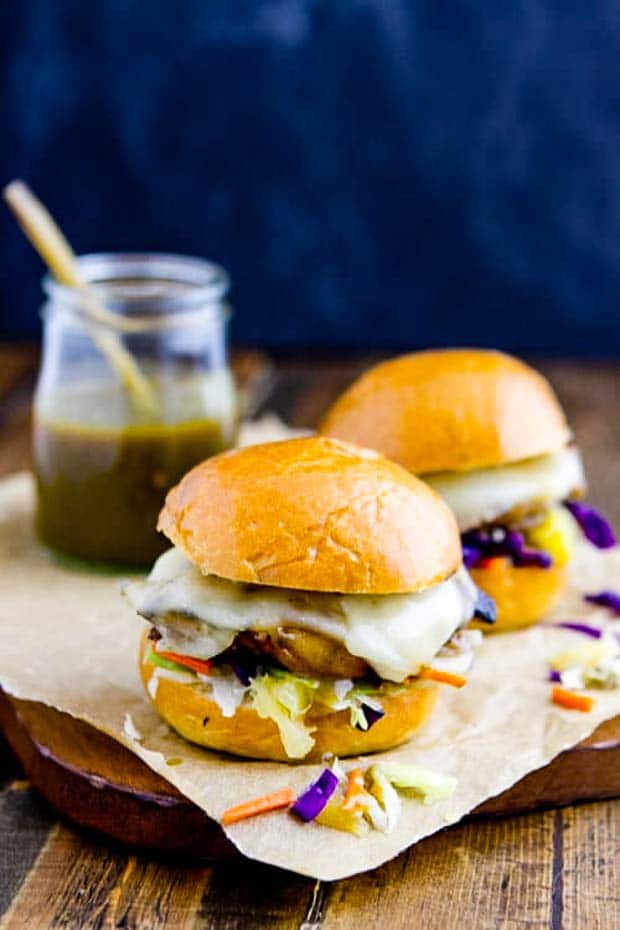 Sliders and football... a match made in heaven! Most people think football is about... well, football. But not me. Nope, for me it is all about the food! Grilled chicken , easy appetizers and salads are my tailgating go to's - and these sliders are at the top of my list!
So if you've been thinking it's time to put away that grill... think again - because you are going to want to fire that grill up pronto to make these grilled Chicken Sliders! Don't have a grill? No problem! Because you can make this easy chicken slider recipe in the oven or on top of the stove!
So there is absolutely no reason not to make these sliders!!!
Yes, these Chicken Green Chile Sliders are easy and yes they taste amazing (if I do say so myself!) but the best part??? You can make these even if you are tailgating away from home. Seriously!
What you need to make this Chicken Sliders recipe
Boneless, skinless chicken thighs
Green chile sauce OR BBQ sauce
Sliced Jack or Havarti cheese from the deli
Slider buns
Bagged coleslaw mix
Crushed pineapple packed in juice
Honey
Vegetable oil
Salt and pepper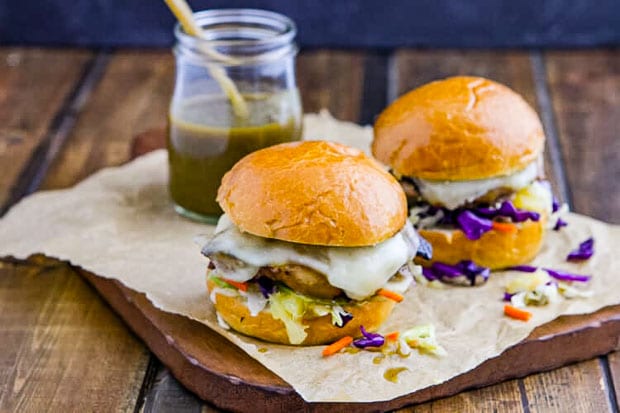 How to make Chicken Sliders
Marinate the chicken thighs in the green chile sauce (or bbq sauce if using. You can marinate them in a bowl, but I like using a ziplock bag!
Prep the slaw while the chicken is marinating. Combine the canned pineapple with juice, green chile sauce, and honey and whisk to combine. Drizzle in the vegetable oil and whisk. Season to taste with salt and pepper.
Toss the coleslaw with the dressing.
Preheat the grill to medium-high. Remove the chicken from the marinade and add to the grill.
Grill for 3 - 4 minutes, basting occasionally with a little bit of the green chile sauce.
Turn the chicken and grill for another 3 - 4 minutes, basting again with the sauce. TIP: The chicken is ready to turn when it easily lifts from the grate!
Add a slice of cheese to each chicken thigh. Close the grill and let the cheese melt for about 2 minutes.
Remove the chicken from the grill and place each thigh on a slider bun. Top with some of the coleslaw and top with the remaining bun half.
Serve with additional sauce if desired.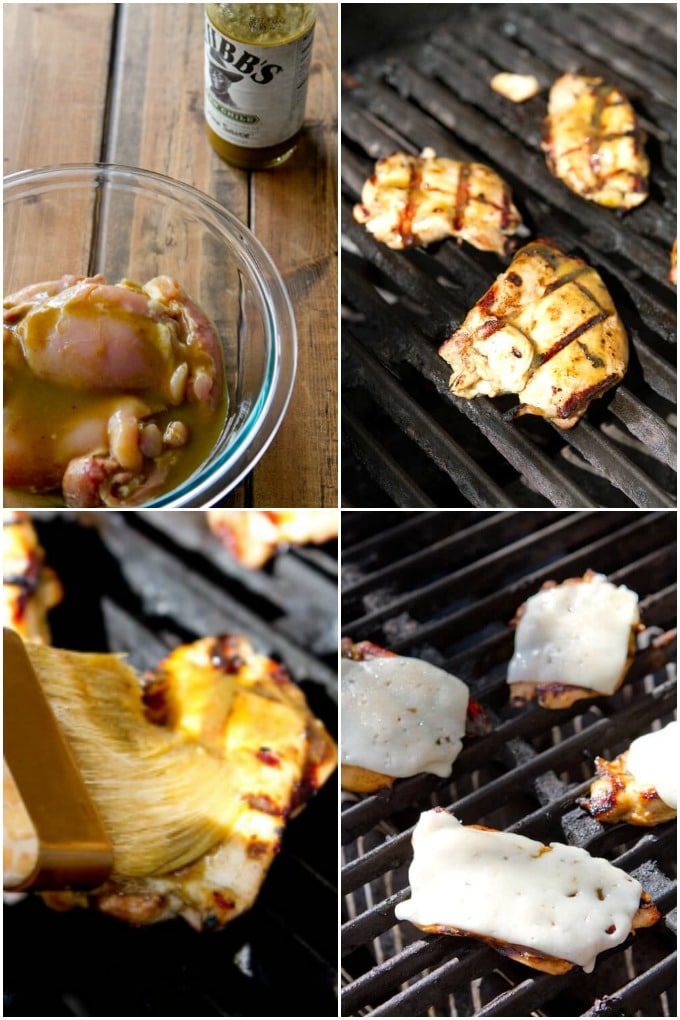 What to serve with these Chicken Sliders!
These sliders go with just about anything! Appetizers and salads that can be made ahead and are easy to transport are perfect for tailgating! Some of my favorites include this easy, make-ahead Gazpacho and this Mexican Corn Salad!
What are your favorite tailgating recipes? I'd love for you to share them in the comments!
Other slider recipes you might enjoy: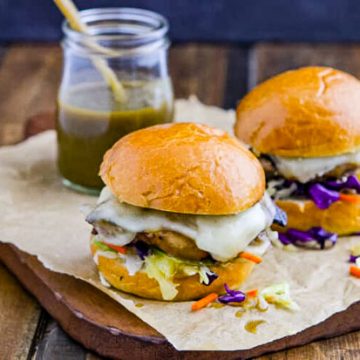 Ingredients
1

pckg. Foster Farms skinless and boneless chicken thighs

cut in half

1

bottle Stubbs Green Chile Everyday Sauce

Four

4 inch slices Havarty or Jack cheese

½

cup

thinly sliced red cabbage

½

cup

coleslaw mix

one - 8 oz. can crushed pineapple packed in juice

1

teaspoon

honey

1

Tablespoon

vegetable oil

salt and pepper to taste

8

slider buns

sliced in half horizontally.
Instructions
Place chicken in a bowl or ziploc bag and pour 1 cup of Stubbs Green Chile Anytime sauce over, coating the chicken thoroughly.

Let marinate for 1 or more hours.

While the chicken is marinating, assemble the slaw. Place the red cabbage and coleslaw mix in a bowl (or if travel tailagating in a ziploc bag).

Drain the juice from the pineapple ( you should have about ¼ of a cup) into a small bowl or a Solo cup if travel tailgating! Mix with 1 Tablespoon of Stubbs Green Chile Anytime Sauce. and 1 teaspoon honey. Whisk ( for travel tailgating, a plastic fork will work!) Drizzle in 1 Tablespoon of vegetable oil and whisk again. Season with salt and pepper to taste. Drizzle dressing on cabbage mix. Stir in the reserved pineapple.

Pour about 2 Tablespoons of the Stubbs sauce in a small bowl or Solo cup.

Pre heat the grill to medium high. On clean grates place the chicken thighs and close grill. Grill for 3 - 4 minutes or until chicken easily releases from the grates, basting once or twice with the Stubbs sauce.Turn over, close grill and grill for another 2 - 3 minutes. Open the grill and place ½ slice of cheese on top of each chicken thigh. Close the grill and let the cheese melt for another 2 minutes. Open the grill and check chicken for doneness. Chicken is properly cooked when the interior temperature of the thigh is 165 degrees.

Remove thighs from the grill to a clean plate. Place 2 Tablespoons of slaw on the bottom of each slider bun. Top with the chicken and a small drizzle of the Stubbs sauce. Enjoy!
Nutrition
Calories:
125
kcal
|
Carbohydrates:
17
g
|
Protein:
5
g
|
Fat:
3
g
|
Saturated Fat:
1
g
|
Cholesterol:
13
mg
|
Sodium:
16
mg
|
Potassium:
55
mg
|
Fiber:
1
g
|
Sugar:
3
g
|
Vitamin A:
60
IU
|
Vitamin C:
4.8
mg
|
Calcium:
30
mg
|
Iron:
1
mg