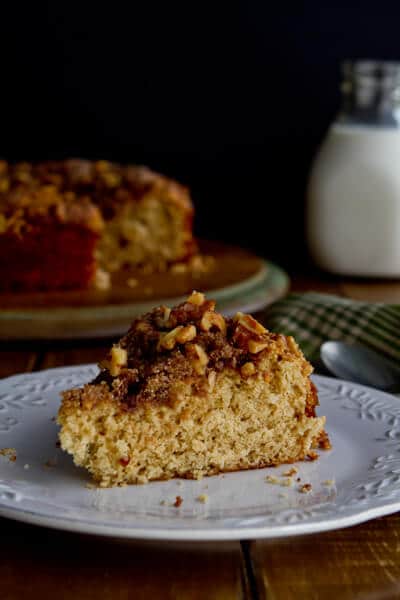 "On Christmas morning, there must be crumb coffee cake" - Holiday House Rule #2
Specifically this Brown Butter and Cardamon Coffee Cake.
When my husband was growing up, there was always a little crumb coffee cake on Christmas morning - you know, the little one that comes with it's own pan that you mix and bake the cake in? Well, it's one of my husband's favorites and since Christmas is also his birthday we try and make the day not just about Christmas - so crumb coffee cake there will be!
So, I could of course pick up 3 of those little boxes (since each of "the boys" can eat one all by their little ole self) but I just can't really bring myself to do it.
And therein lay the dilemma.
You see, I am one of those people who believes that coffee cake is best fresh out of the oven. Baked the day before and warmed up just does not do it for me. It sounds silly, I know - but that is just the way " I roll" as they say.
So, how to have a fresh and warm coffee cake without violating Holiday House Rule #1 - not making anything for Christmas morning that I have to fuss with - which means no hauling out the containers of flour and sugar, sink full of dirty prep bowls to wash, etc., etc?
This... Brown Butter and Cardamon Coffee Cake!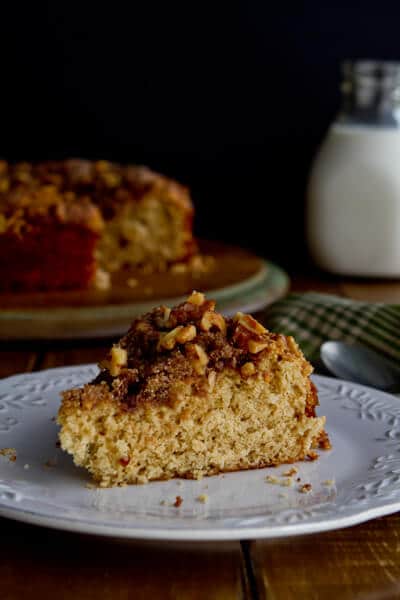 Ah, but lucky for me (and I seriously hope, for you!) there is a solution. This Brown Butter and Cardamon Coffee Cake that you can prep the day before and bake in the morning!
TA DA!! Problem solved. Deliciously as well, I might add.
📖Recipe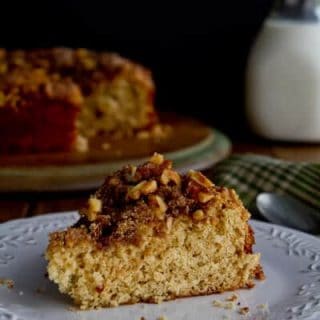 Ingredients
Crumb Topping
⅓

cup

packed dark brown sugar

⅓

cup

granulated sugar

⅓

cup

flour

4

Tbsp.

unsalted butter

cold and cut into ½ inch chunks

1

cup

toasted walnuts

chopped
Cake
3

cups

flour

1

Tbsp.

baking powder

1

tsp.

baking soda

1

tsp.

ground cinnamon

¼

tsp.

ground cardamon

¼

tsp.

salt

1 ¾

cups

sour cream

1

cup

packed dark brown sugar

1

cup

granulated sugar

3

eggs

7

Tbsp.

unsalted butter

browned
Instructions
To make the crumb topping. Combine the sugars, flour, cinnamon and butter together until the mixture resembles coarse meal. If you have a few pea sized lumps of butter, that's fine. Stir in the walnuts and set aside.

For the Cake: Spray two 9 inch springform pans with cooking spray and set aside. In a small saucepan, melt the butter over medium high heat. Cook the butter until it turns a golden brown and develops a nutty aroma. You will notice that the milk solids will float to bottom of the pan and will turn dark brown/black which is what you are looking for! Take the butter off the heat and set aside to cool. In a medium bowl combine the flour, baking powder, baking soda, cinnamon, cardamon and salt together. In a large bowl, combine the sour cream, sugars, eggs and browned butter together. Stir the dry ingredients into the sour cream mixture, mixing just until all the ingredients are thoroughly combined. You don't want to mix it too much! Sprinkle the crumb topping over both cakes, wrap in plastic wrap and refrigerate overnight if desired.

To bake cakes, pre heat oven to 350 degrees. Bake refrigerated cakes for 35 - 40 minutes or until the tops are golden brown and a cake tester inserted into the center comes out with moist crumbs attached. For cakes that aren't refrigerated, bake for approximately 25 minutes.

These cakes can also be frozen - to bake frozen cakes, unwrap from the freezer and bake for 45 minutes.
Nutrition
Calories:
6590
kcal
|
Carbohydrates:
912
g
|
Protein:
87
g
|
Fat:
304
g
|
Saturated Fat:
141
g
|
Cholesterol:
1049
mg
|
Sodium:
2462
mg
|
Potassium:
3594
mg
|
Fiber:
22
g
|
Sugar:
567
g
|
Vitamin A:
7285
IU
|
Vitamin C:
5.1
mg
|
Calcium:
1660
mg
|
Iron:
29.4
mg