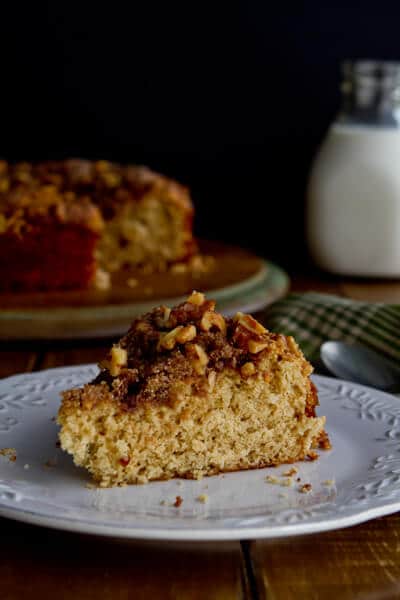 "On Christmas morning, there must be crumb coffee  cake" – Holiday House Rule #2
When my husband was growing up, there was always a little crumb coffee cake on Christmas morning – you know, the little one that comes with it's own pan that you mix and bake the cake in? Well, it's one of my husband's favorites and since Christmas is also his birthday we try and make the day not just about Christmas – so crumb coffee cake there will be!
So, I could of course pick up 3 of those little boxes (since each of "the boys" can eat one all by their little ole self) but I just can't really bring myself to do it.
And therein lay the dilemma.
You see, I am one of those people who believes that coffee cake is best fresh out of the oven.  Baked the day before and warmed up just does not do it for me. It sounds silly, I know – but that is just the way " I roll" as they say.
So,  how to have a fresh and warm coffee cake without violating Holiday House Rule #1 – not making anything for Christmas morning that I have to fuss with – which means no hauling out the containers of flour and sugar, sink full of dirty prep bowls to wash, etc., etc?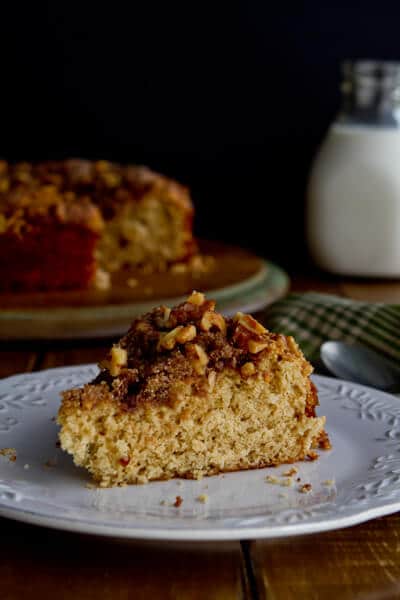 Hmm… maybe that boxed coffee cake wasn't such a bad idea after all.
Ah, but lucky for me (and I seriously hope, for you!) there is a solution. A coffee cake that you can prep the day before and bake in the morning!
TA DA!! Problem solved. Deliciously as well, I might add.
[amd-zlrecipe-recipe:36]