Bourbon Pumpkin Bundt Cake with Bourbon Cream Cheese Frosting is everything a Thanksgiving dessert should be! Thanks to a simple ingredient substitution, this cake is incredibly moist and tender and filled with pumpkin and spice flavors…ok, and a little Bourbon!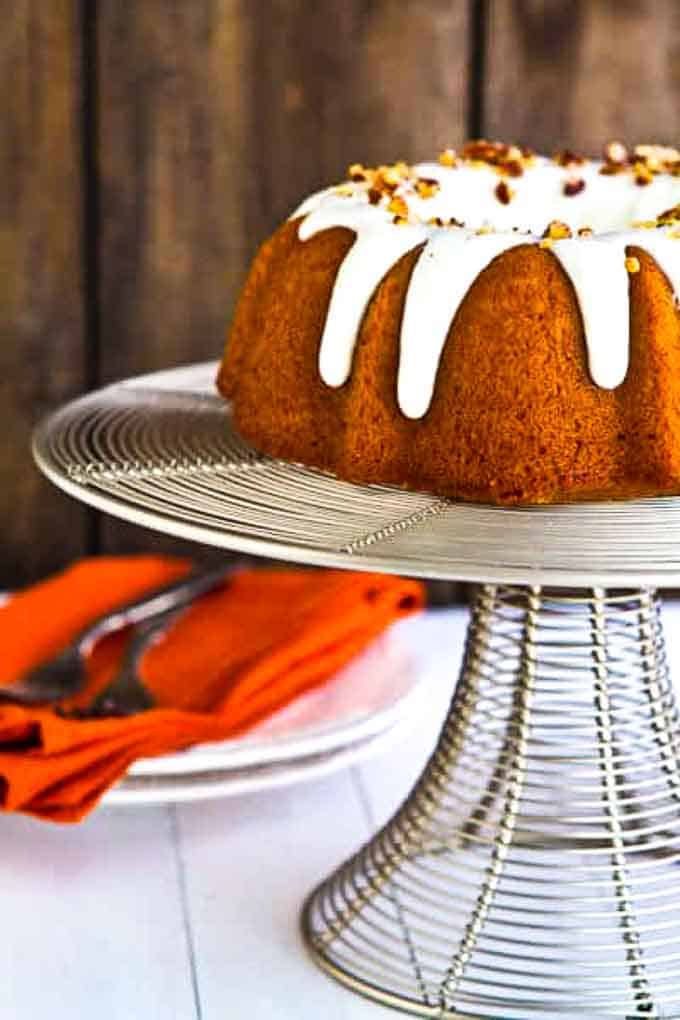 Bourbon and Pumpkin Bundt Cake with Bourbon Cream Cheese Glaze
Phew, try saying that one fast!!
It's a mouthful and this cake is too – in a good way. It's the perfect solution to Thanksgiving dessert when (ahem!) your family does NOT like pumpkin pie – or any pie for that matter!
And I have to admit, I'm ok with that. With all the prep for Thanksgiving this bourbon infused bundt cake is a breeze to make – just measure, mix and bake! No pie crust or filling to fuss with – just an easy Thanksgiving dessert that has all the pumpkin flavor we love and expect on the biggest food day of the year!
So, if you don't like moist cakes with spicy warmth, this cake is not for you. But if you do…. get out your mixer!!
Pumpkin Bundt Cake ingredients:
Flour – all-purpose is all you need.
Sugar – both granulated and brown for maximum flavor and moisture!
Baking Powder, baking soda and salt
Spices – cinnamon, nutmeg, ginger, allspice and cloves. If all you have is Pumpkin Pie Spice you can substitute that. For more info. on spices, see below!
Pureed Pumpkin – Libby's is still the king IMHO. But if you are lucky enough to have a homemade puree, you definitely want to use it in this bundt cake recipe!
Canola oil – THIS is the ingredient substitution I was talking about. Subbing vegetable oil for butter is what makes this cake so incredibly moist!
Eggs – for texture and flavor!
Bourbon – a good quality bourbon like Maker's Mark is a good bourbon to use in this recipe. if you don't imbibe you can certainly leave the bourbon out. But… I highly recommend you add it if at all possible. Why? Alcohol acts as an amplifier for flavor! The bourbon also adds additional spice notes … and the smell is truly DIVINE!
For the Bourbon Cream Cheese Frosting:
Cream Cheese – full fat!
Bourbon – for the same reasons outlined above. But for those who don't imbibe – two teaspoons of Vanilla or even Rum extract will add flavor to this simple frosting.
Powdered Sugar
Toasted Pecan pieces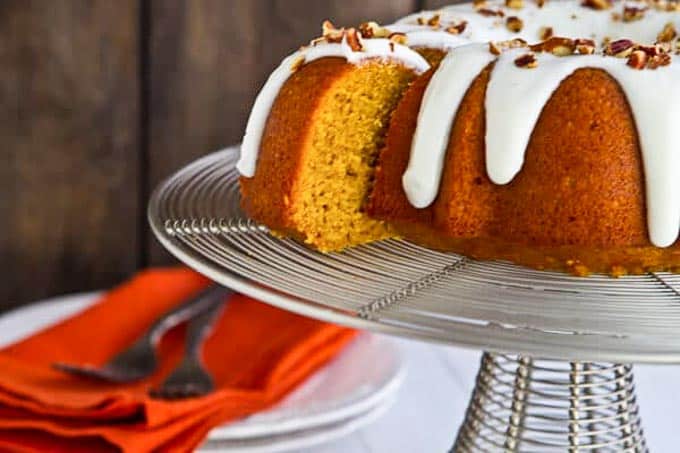 Tips for Making this Bundt Cake for Thanksgiving
Here's a few tips and tricks as well as answers to some common questions!!
What is pumpkin pie spice made of?
Each brand has their own combination for this common spice blend. Generally, pumpkin pie spice has cinnamon, nutmeg, ginger and allspice. You can use Pumpkin Pie spice in this recipe and then simple add the ground cloves.
Should you refrigerate Bundt Cake?
The main reason to refrigerate a bundt cake has to do with the frosting! Since this pumpkin Bundt cake recipe has a cream cheese frosting, you will have to refrigerate it.
TIP: If refrigerator space is at a premium (as it definitely is in my house!) at Thanksgiving, bake the cake and make the frosting the day before. Store the cake at room temperature and refrigerate the frosting. Let the frosting warm up ( I sometimes pop it into the microwave and heat on low!) and then drizzle it on the cake a couple of hours before you serve it!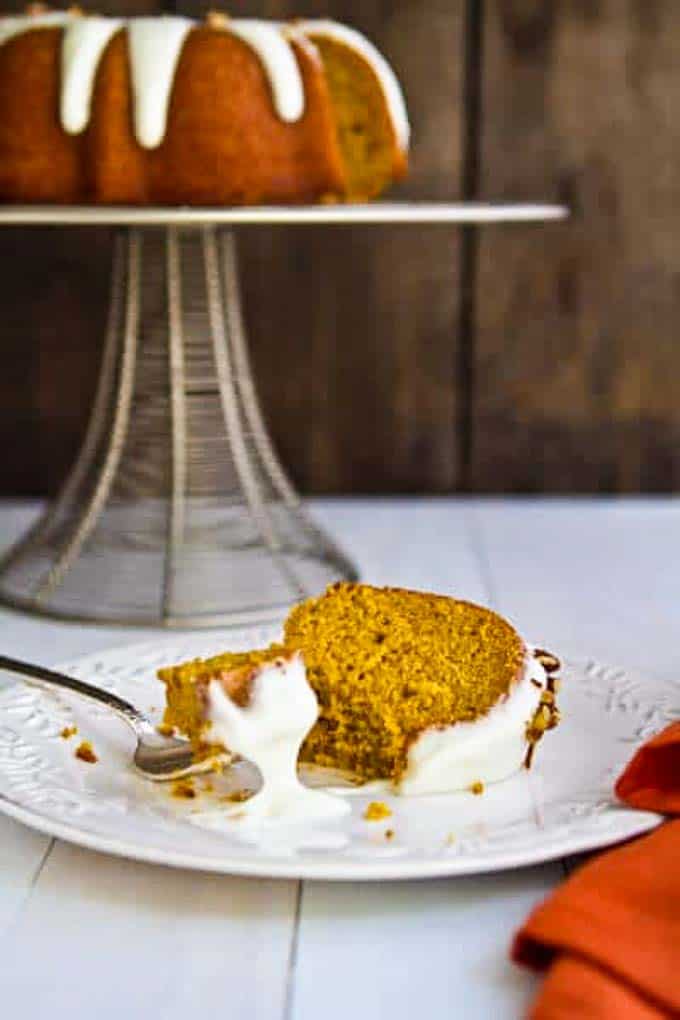 Other Dessert recipes I think you will love!
If you enjoyed this recipe, I would LOVE for you to give it a 5-star rating! Cheers! Nancy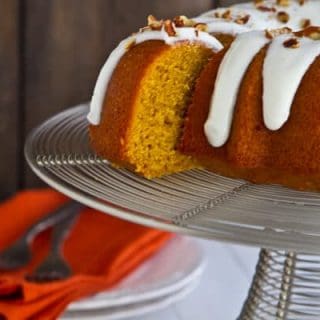 Ingredients
3 ⅓

cups

flour

1 ½

tsp.

baking powder

¼

tsp.

baking soda

¾

tsp.

salt

2

tsp.

cinnamon

1 ½

tsp.

freshly grated nutmeg

1

tsp.

ginger

½

tsp.

alspice

¼

tsp.

ground cloves

1 ½

cups

sugar

1 1 /4

cups

dark brown sugar

1

cup

canola oil

2

cups

pureed pumpkin

⅓

cup

bourbon

5

eggs
Cream Cheese Frosting
6

oz.

softened cream cheese

2 – 3

Tbsp.

bourbon

3

cups

powdered sugar

¼

cup

chopped and toasted pecans
Instructions
Preheat the oven to 350 degrees. Grease a 10 – 12 cup bundt pan. Set aside.

In a bowl, combine the flour, baking powder, baking soda, salt and spices.

In a large bowl (or the bowl of a mixer) combine the sugars, pumpkin and oil and mix.

Add in the eggs, one at a time and mix until thoroughly incorporated.

Add in the flour mixture and mix until thoroughly combined.

Pour batter into the bundt pan and bake for 60 – 70 minutes until tester inserted into center of cake comes out with moist crumbs. Remove pan from oven and cool.

Turn cake out onto a cooling rack. When cool, pour frosting over cake and garnish with pecans.
For the Cream Cheese Frosting
Add the softened cream cheese to a large bowl. Using a mixer, mix the cheese to loosen it.

Add the bourbon and mix until combined.

Slowly add the powdered sugar, scraping down the sides of the bowl as needed.
Recipe Notes
Frosting: If the frosting is too thick, add a little milk to thin it out. It should be just thin enough to pour.  Storage: the cake can be made up to 2  days in advance. The cake needs to be refrigerated once it's frosted. TIP: If refrigerator space it at a premium,  you can make the cake and the frosting up to tow day ahead. Store the cake at room temperature and refrigerate the frosting. Allow the frosting to come to room temperature before pouring over the cake. I sometimes warm the frosting in the microwave on low! 
Nutrition
Calories:
577
kcal
|
Carbohydrates:
104
g
|
Protein:
8
g
|
Fat:
12
g
|
Saturated Fat:
4
g
|
Cholesterol:
100
mg
|
Sodium:
268
mg
|
Potassium:
288
mg
|
Fiber:
3
g
|
Sugar:
67
g
|
Vitamin A:
7975
IU
|
Vitamin C:
2.1
mg
|
Calcium:
93
mg
|
Iron:
3.3
mg