What works as breakfast, brunch, dinner or side dish? This Baked Orzo with Bacon, Spinach and Feta! Macaroni and cheese meets breakfast casserole but had it's head turned by a handsome greek" kinda dish! 

"It's the holidays"… da da dum….
Yes, the holiday season has begun. Which means a lot of different things to different people – but one thing  for sure – it means food!!! Food to get us through hectic days, food to bring to parties, food for hosting parties and food for houseguests – and this Baked Orzo with Bacon, Spinach and Feta is topping my list in every one of those  categories.
It's a pinch hitter – it can do breakfast/brunch, it  can work as a side dish, can be made family style in a casserole dish or you can put your fancy pants on and bake it in individual ramekins and pop each one out for an individual serving and plop it right next to slices of beef, pork, turkey… whatever. Or just add a salad and call it good.  It all works.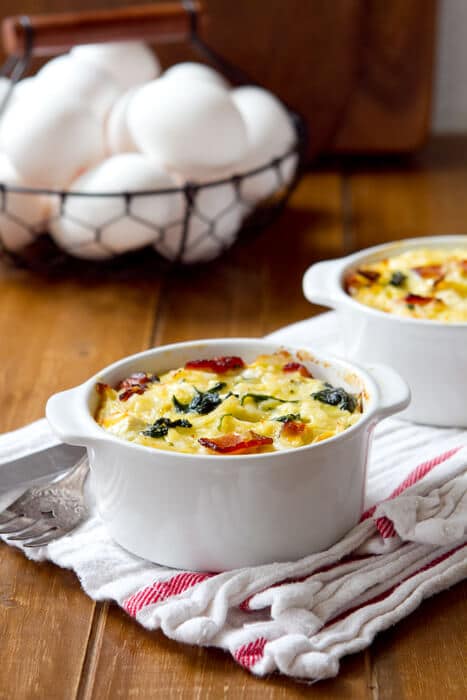 And no, it doesn't slice and dice itself – that you have to do on your own, darn it!
But in all seriousness I love this dish. It is not a classic Italian dish by any stretch – but neither is Macaroni and Cheese… but I digress.  I made this Baked Orzo with Bacon, Spinach and Feta the other day for work and had a little left over so baked two little casseroles – one for moi and one for the husband. The verdict? "That pasta, eggy, cheesy thing with the bacon was really good – you going to make that  again?"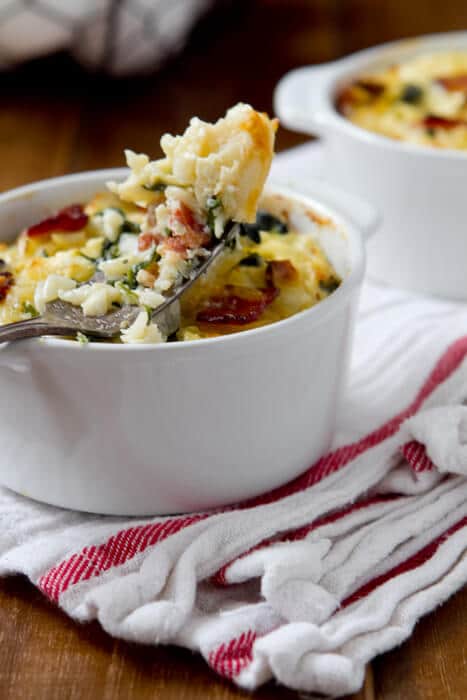 The answer of course is "yes"!! With all the craziness of the holidays, we all need a pinch hitter and this year, this Baked Orzo with Bacon, Spinach and Feta is mine – what is yours??