Last Updated on
What works as breakfast, brunch, dinner or side dish? This Baked Orzo with Bacon, Spinach and Feta! Macaroni and cheese meets breakfast casserole but had it's head turned by a handsome greek" kinda dish! 

"It's the holidays"… da da dum….
Yes, the holiday season has begun. Which means a lot of different things to different people – but one thing  for sure – it means food!!! Food to get us through hectic days, food to bring to parties, food for hosting parties and food for houseguests – and this Baked Orzo with Bacon, Spinach and Feta is topping my list in every one of those  categories.
It's a pinch hitter – it can do breakfast/brunch, it  can work as a side dish, can be made family style in a casserole dish or you can put your fancy pants on and bake it in individual ramekins and pop each one out for an individual serving and plop it right next to slices of beef, pork, turkey… whatever. Or just add a salad and call it good.  It all works.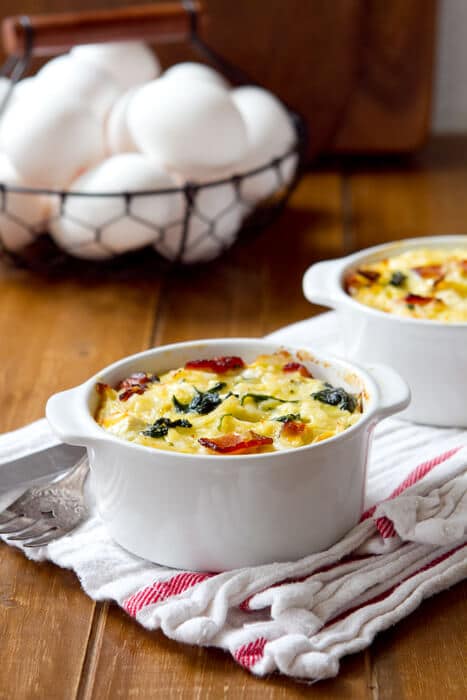 And no, it doesn't slice and dice itself – that you have to do on your own, darn it!
But in all seriousness I love this dish. It is not a classic Italian dish by any stretch – but neither is Macaroni and Cheese… but I digress.  I made this Baked Orzo with Bacon, Spinach and Feta the other day for work and had a little left over so baked two little casseroles – one for moi and one for the husband. The verdict? "That pasta, eggy, cheesy thing with the bacon was really good – you going to make that  again?"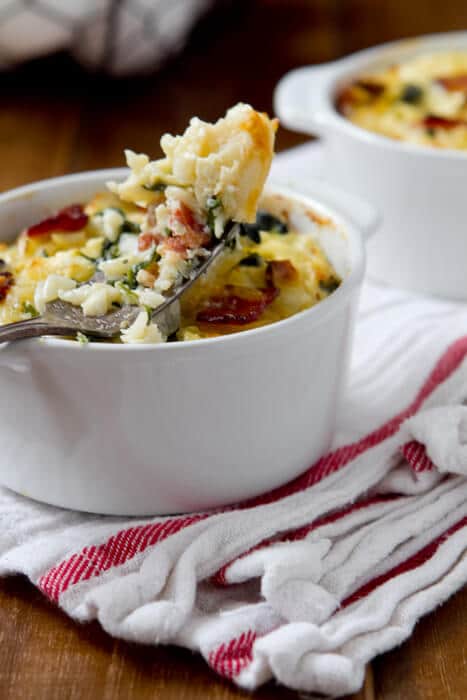 The answer of course is "yes"!! With all the craziness of the holidays, we all need a pinch hitter and this year, this Baked Orzo with Bacon, Spinach and Feta is mine – what is yours??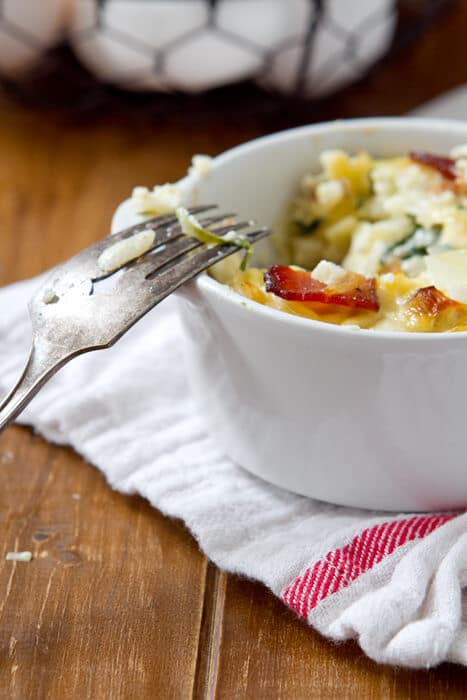 Baked Orzo with Bacon, Spinach and Feta
Ingredients
1

cup

orzo

4

oz.

thick cut

applewood smoked bacon, cut into 1/2 inch dice

2

leeks

white and green parts only, sliced lengthwise and then cut crosswise into 1/4 inch half moons

1 - 10

oz.

bag frozen spinach, thawed and drained

8

oz.

crumbled feta cheese

4

eggs

1/2

cup

plain,lowfat Greek style yogurt

1/2

cup

milk

1/4

tsp.

freshly ground pepper
Instructions
Pre heat the oven to 375 degrees. Grease a 1 1/2 qrt baking dish and set aside. Bring a medium saucepan of water a boil. Add the orzo and cook until al dente - tender with still some resistance, about 7 to 9 minutes. Drain and rinse with cold water. Add to a large mixing bowl.

In a cast iron skillet or saute pan, cook the bacon over medium heat until nicely browned. Remove the bacon and drain on paper towels. Pour off all but 1 Tbsp. of the bacon fat. Add the leeks and cook over medium heat until tender - about 5 minutes. Add the leek mixture to the orzo in the bowl. Add the spinach. Fold in the feta and season with pepper.

In a medium bowl add the eggs and beat. Stir in the milk and the yogurt and stir until combined. Add the egg mixture to the orzo and stir. Add in the bacon and stir until all the ingredients are well combined. Pour into the prepared baking dish and bake for 40 - 45 minutes or until the eggs are set and the top is golden. Let sit for 10 minutes before serving.
Nutrition
Calories:
358
kcal
|
Carbohydrates:
26
g
|
Protein:
17
g
|
Fat:
19
g
|
Saturated Fat:
9
g
|
Cholesterol:
158
mg
|
Sodium:
612
mg
|
Potassium:
237
mg
|
Fiber:
1
g
|
Sugar:
5
g
|
Vitamin A:
17.1
%
|
Vitamin C:
4.3
%
|
Calcium:
27.1
%
|
Iron:
9.9
%