This 4 Minute Brownie Pie recipe is what last-minute desserts are ALL about! Made from pantry staples, this crustless brownie pie recipe has a rich chocolate flavor with a dense chewy crumb. But the best part? You just dump and mix - no melted butter required!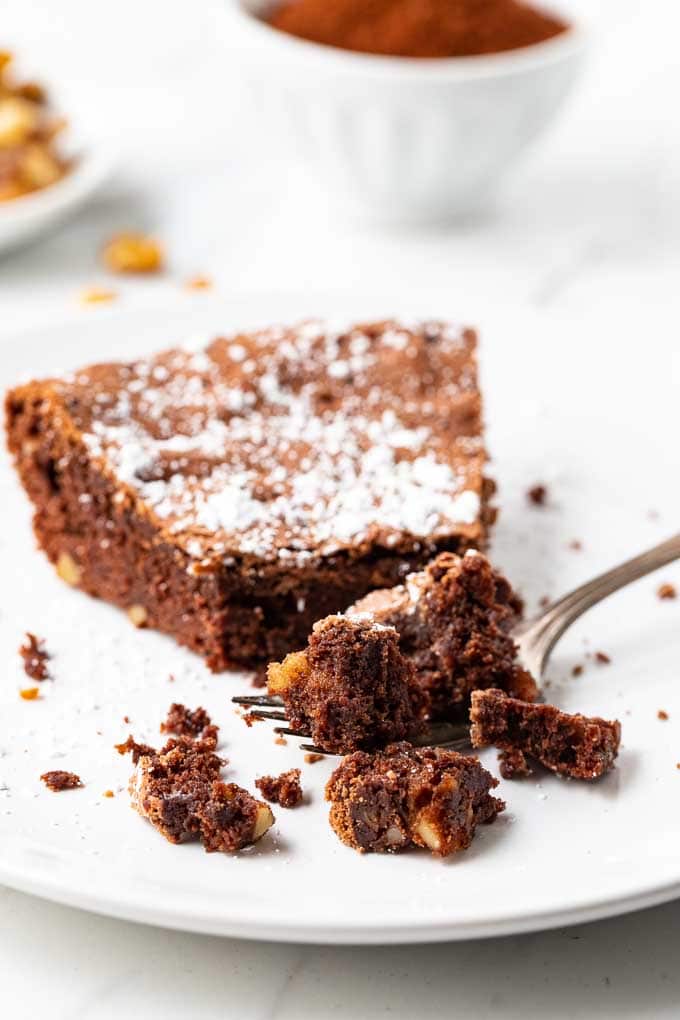 Brownie Pie Recipe
I am a sucker for pretty dessert recipes like Treacle Tart or Sticky Toffee Pudding. But this brownie Pie? I admit this dessert isn't a showstopper. But what it lacks in looks it makes up for in so many ways!
One, it's truly a 4-minute recipe (ok, 10 if you count time to measure ingredients and wash the bowl). Two, it's made from pantry staples so you can pretty much bake this up on the spur of the moment! Which may, or may not be a good thing!!
So how, you may ask, is brownie pie recipe any different from a regular brownie?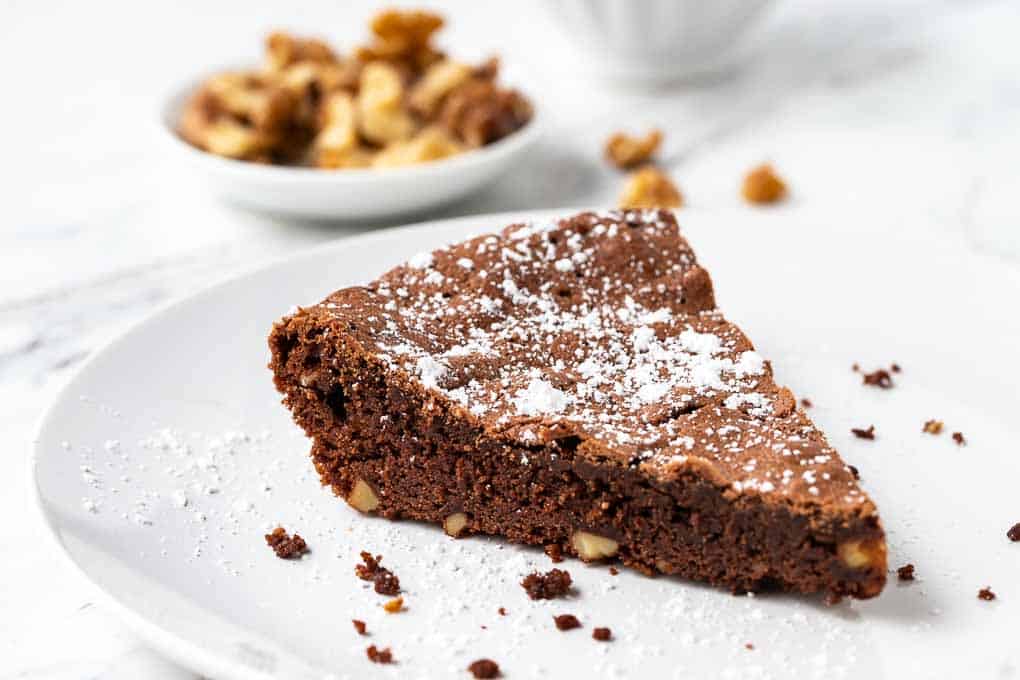 How Brownie Pie is different from Brownies
Although the ingredient list is almost identical, the main difference between this crustless brownie pie and regular brownies is the preparation method. Brownies use melted butter - which adds moisture and flavor but doesn't add any structure.

This Brownie pie uses softened butter, which also adds moisture and flavor but also provides some structure. This difference in preparation method makes this brownie pie less dense than a traditional brownie. Being less dense, the brownie doesn't taste quite as rich.
Which is a good thing! Since it's not as rich, you can serve up a generous slice and not fall into a sugar coma!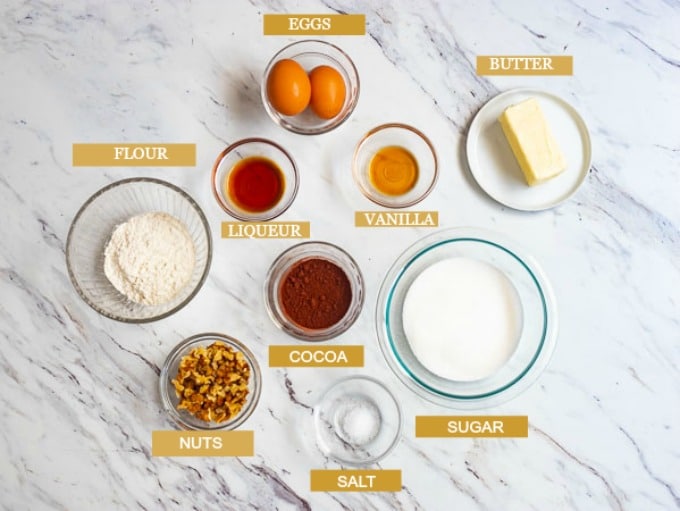 What you need to make it!
2 eggs
½ cup unsalted butter
½ cup all purpose flour
1 cup granulated sugar
¼ cocoa powder - use the best quality cocoa powder for this and if you like dark chocolate use a dark chocolate cocoa powder.
1 teaspoon vanilla
1 Tablespoon Kahlua, Bailey's or another liqueur (totally optional but recommended!)
½ teaspoon kosher salt
½ cup chopped walnuts or pecans (optional)
Vanilla ice cream (totally optional but my favorite way to eat it!)
How to Make Chocolate Brownie Pie
One of the many reasons I adore this chocolate dessert - it is incredibly easy to make!
Pre heat the oven to 350 degrees.
Grease a 9 inch pie dish or Springform pan and set aside.
Add all the ingredients (except the nuts) to a mixing bowl.
Using a beater (or a stand mixer) mix on low for 30 seconds until the mixture just begins to come together.
Increase the speed to medium and beat for 3 ½ minutes. Yes, you need to mix it for exactly 3 ½ minutes!
Using a spatula spoon into the greased pan and bake the brownie pie for 25 to 35 minutes. The pie should be set on top and not jiggle!

How to Store Brownie Pie
You can store Brownie Pie on the counter overnight. For longer storage, cover with plastic wrap and place in the refrigerator. Let it come to room temperature before serving.
I hope you enjoy this recipe and would love for you to give it 5 Star Rating! Cheers, Nancy
📖Recipe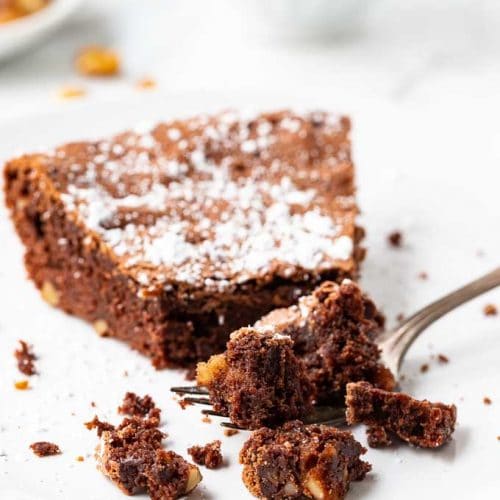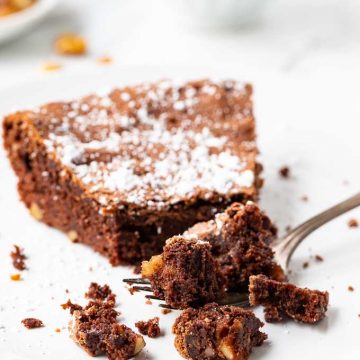 Equipment
Measuring cups

measuring spoons

mixer

bowl
Ingredients
2

eggs

1

cup

sugar

½

cup

butter

softened

½

cup

flour

¼

cup

dutch process cocoa

¼

tsp.

salt

1

tsp.

vanilla

1

Tbsp.

Kahlua

optional

½

cup

chopped and toasted walnuts

pecans or macadamia nuts (optional)
Instructions
Pre heat the oven to 350 degrees. Grease a 9 inch springform pan or 9 inch pie plate and set aside.

Combine eggs through Kahlua (if using) in the bowl of a mixer. Mix on low for 30 seconds. Increase speed to medium and beat for another 3 ½ minutes.

Stir in nuts if using.

Pour batter into prepared pan and bake for 20 - 30 minutes until pie is set on top and doesn't jiggle when you move it - pie should look dry on top!

Remove from the oven and let cool. As the pie cools it will sink - that's ok and is what is supposed to happen!

Slice and serve!
Recipe Notes
You can serve this pie with a sprinkle of confectioners sugar, ice cream or whipped cream. 
Serve it at room temperature or evens slightly chilled. 
To store the pie, cover it with plastic wrap and store at room temperature or in the refrigerator. 
The Pie can be made up to two days in advance for best results. 
Nutrition
Calories:
304
kcal
|
Carbohydrates:
34
g
|
Protein:
3
g
|
Fat:
17
g
|
Saturated Fat:
8
g
|
Cholesterol:
71
mg
|
Sodium:
177
mg
|
Potassium:
96
mg
|
Fiber:
1
g
|
Sugar:
26
g
|
Vitamin A:
415
IU
|
Calcium:
20
mg
|
Iron:
1.1
mg