"It never rains in California…" HAH!!! I've got news for them… it does rain in California.. even in October!!
Now, this might not be a big deal for you if you don't live in California but for those of us who do.. well it is (and yes, it's the small things that make us happy!)
For me, rain means "fall" and "fall foods"… so I am totally exploiting this weather  – I don't care that it was over 80 this past weekend – I am digging right in.. it may not be cool enough for sweaters but I am going to take what I can get!!
So, to start the ball rolling I decided to kick it off with a very fall inspired pilaf. Roasted butternut squash, dried cranberries, pecans… even the colors are fall inspired!!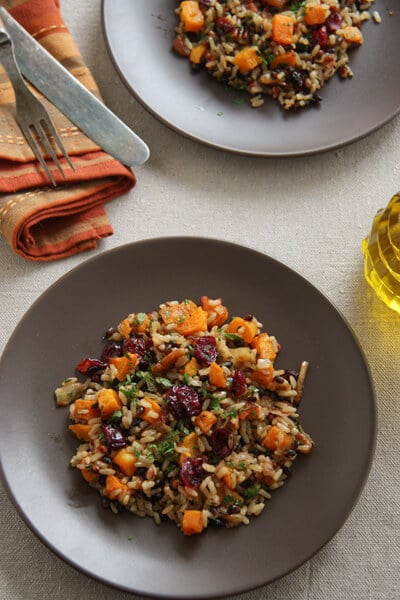 Now, since I believe in full disclosure, I am going to tell you that this pilaf is a little bit of work… but the payoffs are worth it!! It not only tastes delicious but it's very versatile. Serve it as a side with some roasted chicken, pork or beef (or a large salad if you don't eat meat). Put the extras (if you are smart enough to make extra and I'm telling you now, DO IT!) in the refrigerator for a great rice salad for lunch the next day. So, the bit of time you invest making this will pay off during the week… leaving you more time to enjoy the fall colors or snuggle up in a sweater with a good book (hey, a girl can dream, can't she??)!
[amd-zlrecipe-recipe:16]