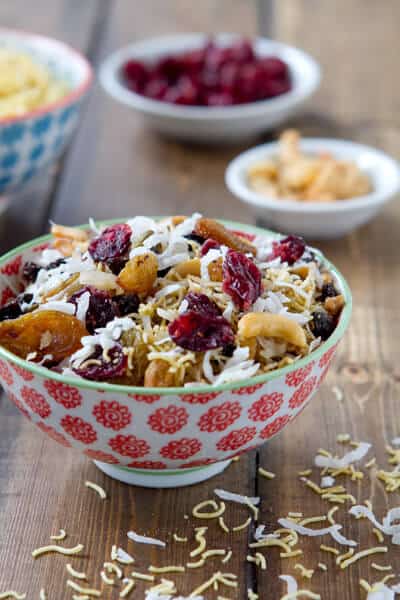 Some people might think that Superbowl Sunday is about football… but I have news for them. It's not about football… it's about the food! Specifically, snacks. Chicken wings, and drummettes, sliders, chili, chips and dips all top the list of most Superbowl menus. But as usual, I have something that is, well, a little different – – this Superbowl Snack Mix is made with sev, the indian equivalent of chow mein noodles. I come across these during one of my last forays to one of our local ethnic markets and I of course picked up a bag … and was immediately hooked. Made from chickpea flour, these small fried noodles add a wonderful crunch to just about anything you add them to – and are one of the main ingredients in snack mixes that are sold by street vendors throughout India.
I've been tossing them onto salads, adding them to curries and just about anything else I can think of … and one thing that definitely came to mind is a snack mix!! While not traditional, this Superbowl Snack Mix is a delicious and a fun twist on the standard trail mix… and just as easy!!!
But for the purists out there, not to worry. I do have some more "traditional fare" recipes to share with you for your Superbowl bash!!!
If you are looking for something a little meatier, these Superbowl Sliders might just fit the bill…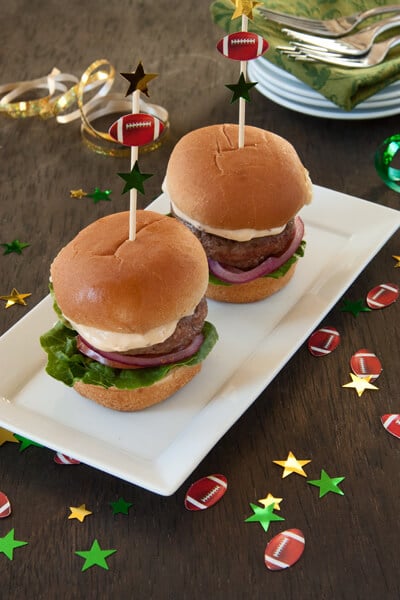 Or perhaps something a little "cheesier" like this Mushroom, Sun Dried Tomato, and Mozzarella Dip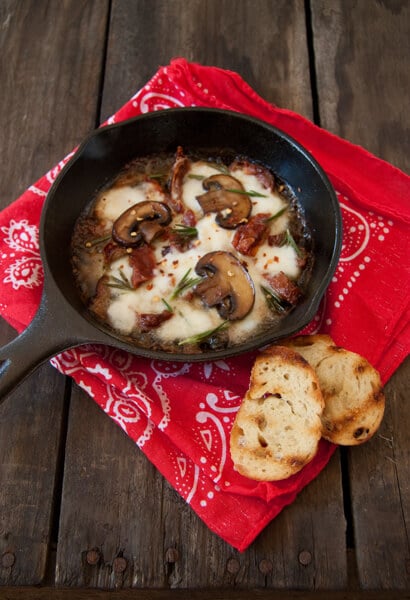 Or perhaps you want something a little chocolatey… well, you never can go wrong with Texas Cake…..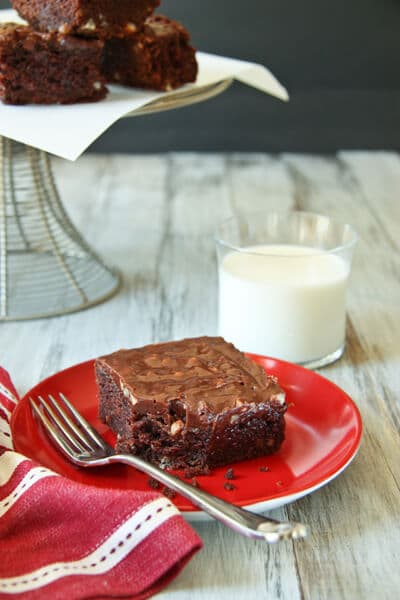 So whether you are rooting for the 49's or the Ravens, the day is sure to be a winner as long as you have great company and great food!!!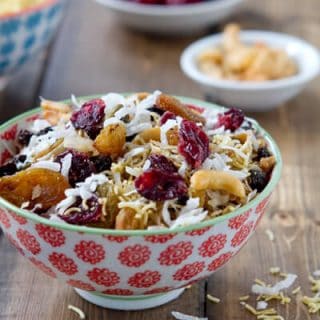 Ingredients
1

cup

sev

½

shredded coconut

½

cup

raisins

½

cup

dried cranberries

¼

cup

pistachios

¼

cup

cashews

1

Tbsp.

ghee or clarified butter

1 ½

tsp.

garam masala

2

tsp.

sugar

¼

tsp.

cayenne pepper

salt
Instructions
In a large sauce pan heat the ghee or clarified butter over medium heat. Add the sev and toss to coat. Add the remaining ingredients and stir until everything is combined. Taste and adjust seasonings. Serve immediately!
Recipe Notes
You can vary the spices, the dried fruits and the nuts in this recipe to suit your own taste.