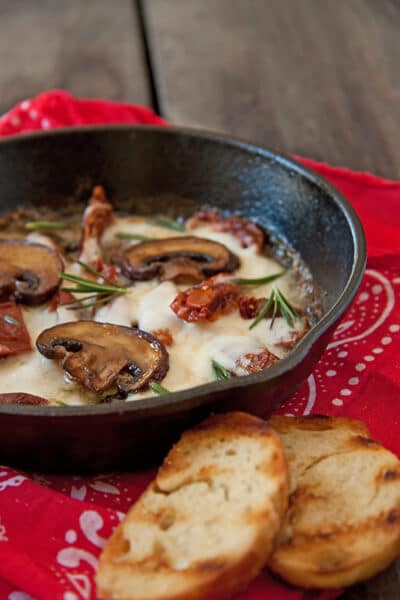 Camping is one of those things you either love or hate.
Me? I love camping and am a pretty experienced camper. My girlfriend? Not so much – her idea of camping involves staying at a 2 star versus 3 star resort.
So, it was no surprise when we were chatting the other day and she was complaining commenting about her family's upcoming camping trip – and by "camping" I mean the real deal – sleeping bags, tents, the whole she bang. Needless to say she was NOT happy – the idea of sleeping on and air mattress under the stars  just wasn't working for her. And then we got started on the subject of food and she shuddered, wondering how she was going to endure several days of eating burgers and hot dogs.
At this point I smiled and asked her "why do you think you have to eat hamburgers and hot dogs?  Just because you are camping doesn't mean you can't eat well."
In response I received a blank stare. "Huh? Well, what else are we going to eat"?
Now THAT is one of my favorite questions!!!
From there I started rattling off dish after dish and after the first few moments she stopped looking at me as if I'd lost my mind and she started to smile – things were looking up!!
You see, the key to any successful camping trip (or any type of trip for that matter) is the food. People may talk about their feet in relation to traveling but let's face it. We travel on our stomachs. If they aren't happy…. well, we aren't happy. We can endure wet, cold, hot, long lines and crazy cab drivers but if the food isn't good it's all over.
So let's start with one of the most important parts of the meal when camping – appetizers. Yup, appetizers.
After a full day of hiking, swimming, horseback riding and  canoeing EVERYONE is ravenous. And there is NO microwave – and dinner is still a good 30 – 45 minutes off.
So, that's were this little appetizer comes in. Meaty mushrooms with slightly sweet sun dried tomatoes robed in gooey, melted cheese scooped onto a warm piece of toasted bread. A civilized way to stave off the starving hordes (otherwise known as your family).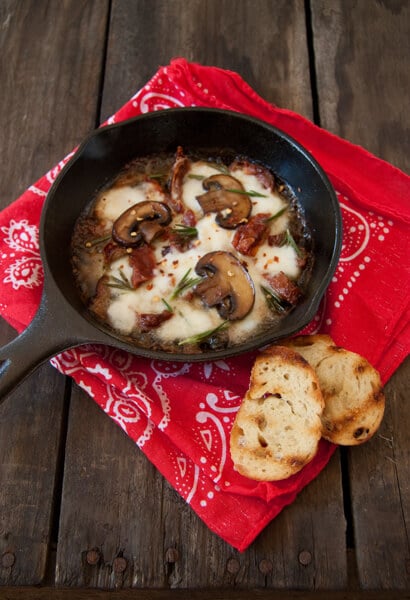 But even if you aren't camping this summer and your biggest outdoor adventure is grilling in your own backyard, appetizers are still essential – and ones that can be made on the grill are even better!!!
This week, Dara of Cookin' Canuck and Marla from Family Fresh Cooking are kicking off their 6 week  event! So for more recipes, inspiration and a chance to win some great prizes check out  "Get Grillin' with Family Fresh Cooking and Cookin' Canuck, sponsored by Ile de France Cheese, Rösle, Emile Henry, Rouxbe and ManPans."
[print_this]
Mushroom, Sun Dried Tomato and Mozzarella Dip – For this dip, a cast iron skillet is essential and for camping they can't be beat!!
(Serves 4 – 6)
2 1/2 Tbsp. olive oil
1 1/2 cups sliced cremini mushrooms
1/2 cup sliced sun dried tomatoes (not packed in oil)
1- 8 oz. container fresh mozzarella (packed in water)
3 Tbsp. dry sherry
2 Tbsp. chopped, fresh rosemary
1/4 – 1/2 tsp. dried red chili flakes
salt and pepper
1 baguette, slice into 1/2 inch slices
extra olive oil for brushing the baguette.
Directions:
Turn the grill on to medium high. (If grilling on charcoal spread coals out until you can hold hand over fire for 5 – 7 seconds). While grill is heating, remove mozzarella from water and dry with paper towels, pressing as much water out as you can. Cut mozzarella into slices about 1/4 inch thick and then tear slices into smaller pieces. Set aside.
Slice baguette and brush with olive oil. Set aside.
Add olive oil to a cast iron skillet. Place skillet on grill. When olive oil is shimmering (but not smoking – if starting to smoke, move skillet to a cooler part of the grill) add the mushrooms. Let cook for about 2 minutes or until mushrooms are a deep golden brown. Flip mushrooms over and cook until golden brown.
Pull skillet off fire and add sherry – it is going to bubble and hiss! Cook until sherry has evaporated.
Add sun dried tomatoes and rosemary and sprinkle liberally with salt., Layer the mozzarella on top. Move skillet back over the heat and cook until cheese melts and water evaporates.
Move dip to cooler part of the grill and add baguette slices to grill. Grill baguette slices for 2 – 3 minutes per side until golden and slightly charred at the edges.
Serve dip  in the skillet with the  grilled baguette slices.
[/print_this]