Sumo what??? Yes, you read that right – Sumo tangerines!!!  So what exactly is a Sumo tangerine? Well, it  is one of the newest varieties of tangerines to hit the market.. and I was lucky enough to get an "up close and personal" introduction to them on my citrus tour with Melissa's Produce!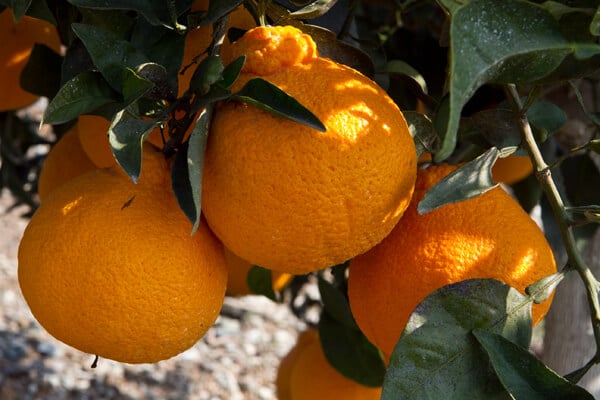 We started off our tour with a brief introduction.  The Sumo tangerine (also know as dekopon) is a cross between an orange and a mandarin. It was developed in the 1970′ s by a Japanese citrus grower and took many years of   trial and error to perfect – and is now one of the most prized fruits in Japan and Korea.  A few years ago, some  of the citrus growers in the Central Valley of California decided to take a chance and try growing them. It required patience and dedication since Sumo's need completely different growing, pruning and thinning techniques than those used with other citrus … not to mention that Sumo's must be harvested by hand.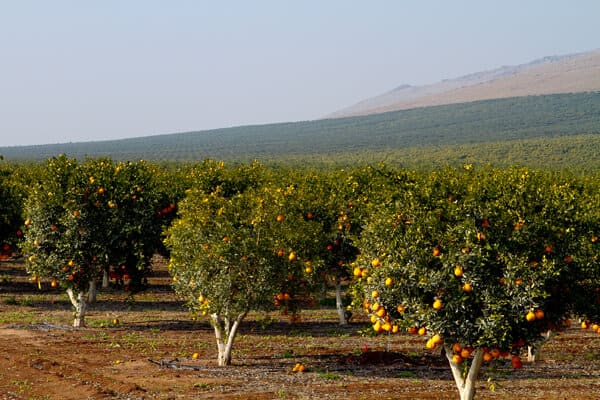 So why the name Sumo? Well, these are perhaps the biggest tangerines you've ever seen – in fact some of them are larger than a navel orange! Like a navel, they are seedless and because of the cute little top kno , they are incredibly easy to peel! "Some" people have referred to them as "cosmetically challenged" – but I disagree… I think they are  absolutely adorable! But enough about that… let's get on to the important stuff – how do they taste?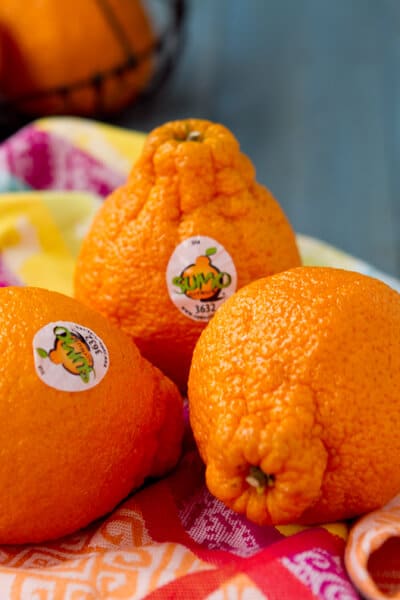 In a word, delicious! They  have a wonderful honey sweetness with just a hint of tartness at the end – and despite being incredibly juicy they aren't messy (if you know what I mean). The only downside is that their popularity isn't limited to Japan and Korea – which means, you guessed it, you have to act fast if you want some! You can find them in some specialty grocers and, since Melissa's Produce is the exclusive foodservice distributor, you may also find them at your local sporting stadium… and  get this…they were  even served at the Grammys !

Although Sumo's are delicious all on their own, I simply couldn't resist cooking with them. On the way home from the tour, my mind spun with all the possibilities!! Although these Sumo's would be a terrific Valentine's Day treat  all on their own , I just couldn't resist making a sweet little dessert!!
These little "cheesecakes" are really a  perfect midweek dessert and are terrific for entertaining.  Since they are crustless, they are a snap to put together – you just whomp everything together in the food processor, pour the batter into ramekins and pop them into the oven! A little lighter than a traditional cheesecake – which is good so nothing detracts from the  incredible punch of tangerine flavor you get in every bite! I garnished these cheesecakes  with some fresh Sumo tangerine slices and drizzled  them with a little honey – but you could also add a little freshly whipped cream if you are so inclined!
Sumo Tangerine Cheesecake
Adapted from Bon Appetit magazine.
30 minPrep Time
16 minCook Time
46 minTotal Time
Ingredients
2/3 cup sugar
zest from 2 Sumo tangerines
1 cup Sumo tangerine juice
2 - 8 oz. pckgs. cream cheese
1 cup ricotta
2 tsp. Cointreau (optional)
2 eggs
2 Sumo oranges, supremed
2 Tbsp. orange blossom honey
Instructions
Pre heat the oven to 425 degrees. Combine the sugar and the tangerine zest in a small bowl. Mix together until the sugar is moist and the zest is evenly distributed. Set aside.
In the bowl of a food processor combine the ricotta and cream cheese. Mix until thoroughly combined. Add the sugar, tangerine juice and cointreau. Mix. Add the eggs and mix until the mixture is smooth and all the ingredients are combined.
Grease 6 - 1/2 cup ramekins. Divide the batter evenly between the ramekins, filling them 3/4 full. Place ramekins on a sheet pan and bake for 16 - 18 minutes or until the cheesecakes are lightly browned and just set. Remove cheesecakes from the oven and let cool. Garnish with the tangerine sections and honey.
7.6.4
175
https://www.acommunaltable.com/sumo-tangerine-cheesecake/