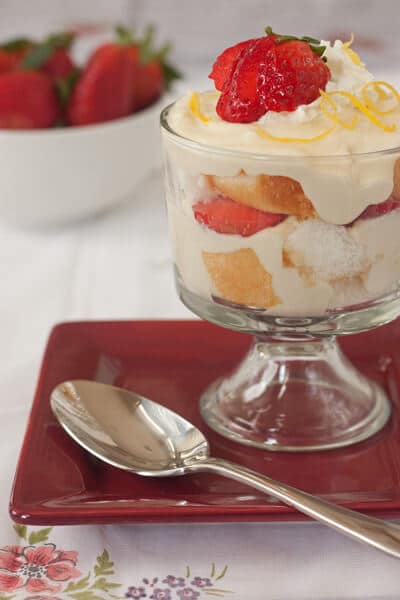 Along with the Superbowl, the Oscars are a uniquely American Event. Some years we tune in for the films, cheering on our favorite movie just  as we cheer on our favorite team  during the Superbowl. Other years we tune in for the fashion and the jewels (ok, and truth be told I tune in to see my favorite male stars decked out in tuxedos!!). Well, this year I'll be watching because of the films and will be cheering on my favorite -  "The King's Speech". So, in honor of the movie, I'll be making a british inspired menu for the event - which includes Trifle for dessert.
Oscar Watching Menu
Lentil and Wild Mushroom  Shepard's Pie
Grilled Pear Salad with Honey and Blue Cheese
Strawberry and Lemon Trifle
Trifle is a quintessential and traditional British dessert. This one is not traditional.
Rather, it borrows from Italy  by  incorporating Marscapone cheese with the whipped cream  but also draws upon a traditional  British ingredient - lemon curd. It also does not contain any sherry (as most traditional trifles do) but if you wished to add a little alcohol go for it! Sherry or Grand Marnier would both work.  Drizzle a little over the Angel food cake or brush it on with a pastry brush.  Combined with some of the fresh strawberries that are just starting to appear at road side stands (sorry East coast) ! and paired  with a little Angel Food cake, this is an easy dessert that comes together in minutes - leaving you free to sit back and enjoy the show!!!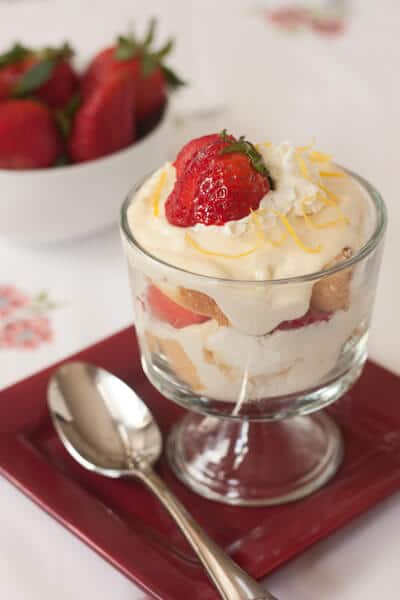 Other trifle recipes you might like:
Two Peas and Their Pod - Berry Brownie Trifle
Yum Sugar - Chocolate Cherry Trifle
[print_this]
Strawberry and Lemon Trifle
I've made this with both homemade lemon curd and jarred lemon curd. I found the jarred lemon curd was not as tart as homemade. So depending upon which you use (and your own taste!) you may want to add a little fresh lemon juice to the whipped cream mixture.
(serves 4)
1 loaf Angel Food Cake (or ½ traditional Angel food cake)
8 oz. marscapone cheese
½ whipping cream
2 Tbsp. sugar
½ tsp. vanilla
½ cup lemon curd
1 fresh lemon
1 ½ pints fresh strawberries, hulled and sliced into ½ inch slices
Directions:
Using a zester, remove the zest from the lemon into long strands. Set aside.
In the bowl of a mixer, place the cream and mix on high speed. Slowly add the sugar and vanilla. Continue to whip until the cream forms stiff peaks. Set aside.
Place the mascapone in a large bowl. Stir to loosen. Mix in the lemon curd and ¾ of the lemon zest. Fold in the whipped cream. Depending upon the lemon curd you use, it may not be tart enough. Taste and add a little fresh lemon juice if needed.
Slice and cut the angel food cake into ¾ inch pieces. In a 2 qrt. bowl or 4 - 1 cup bowls place 1 layer of angel food cake pieces. Spoon about ⅓ of the cream mixture on top. Top with a layer of the strawberries. Continue to repeat the layers until you reach the top of your container, making sure to end with a layer of the whipped cream mixture.
Garnish with whipped cream, sliced strawberries and the remaining lemon zest.
Dessert can be made 1 day in advance - store in refrigerator and remove 30 minutes before serving.
[/print_this]