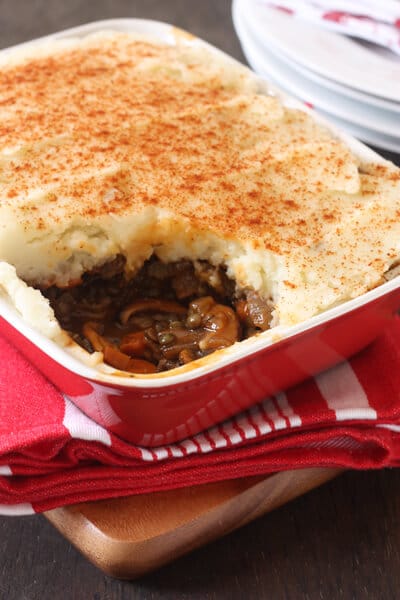 Well, after all the rich goodies of last week it's time to get back to some basics.. and that means comfort food!! Spaghetti with meat sauce, chili mac, meatloaf and roasted chicken are all comfort foods in our house.  But they also have something else in common - meat. With two teenage male athletes, meat plays a major role in most dinners which is fine for the teenagers but not so fine for their aging mature parents who are watching their fat and cholesterol intake!! So, needless to say I am always looking for  "vegetarian" dishes that are hearty enough to fill up the teenagers while still being  lower in fat and cholesterol than their "meaty" counterparts.  This Lentil and Wild Mushroom Sheperd's Pie satisfies on every level AND it can be made in advance - which is a major bonus for  for just about everyone!!!
[print_this]
Lentil and Wild Mushroom Shepherd's  Pie
(adapted from Cooking Light)
Mashed Potato Topping
1 ½ lbs. cubed and peeled Yukon gold or russet potatoes
1 tsp. salt
½ cup skim milk
¼ cup low fat plain greek yogurt
¼ tsp. smoked paprika (or regular paprika)
Filling:
1 cup dried  petite green lentils (don't substitute regular lentils here - their texture doesn't hold up!)
4 cups water
½ tsp.  of salt
1 bay leaf
2 ½ cups vegetable stock
3 Tbsp. flour
1 Tbsp. olive oil
1 ½ cups finely diced onion
1 cup peeled and finely diced carrot
½ cup finely diced celery
16 oz. fresh mushrooms (button, cremini, shitake .. your choice!)
2 Tbsp. red wine
1 Tbsp. low sodium soy sauce
1 Tbsp. tomato paste
1 tsp. dried thyme
Directions:
1. For topping: In a large saucepan place the potatoes and cover with water and add 1 tsp. salt. Bring water and potatoes to a boil and cook until potatoes are tender - about 20 minutes.
2. Drain and return potatoes to pan. Cook potatoes over medium heat, stirring constantly for about 3 - 4 minutes. Mash potatoes  with a potato masher or pass through a ricer. Add the milk and the yogurt and mix. Season to taste with salt and pepper. Set aside.
For Filling:
1.Pre heat oven to 375 degrees (if baking immediately - if not skip this step).
2. In a large saucepan combine lentils, water, bay leaf and ½ tsp. salt. Bring to a boil, reduce heat and simmer uncovered until lentils are tender - about 25 minutes. Drain lentils , remove bay leaf and set aside.
3. In a large skillet, heat ½ Tbsp. olive oil over medium high heat. Add the mushrooms and saute until the mushroom are nicely browned - don't stir them until they have browned!!! Remove the mushrooms from the pan.
4. Add the remaining olive oil and heat over medium high heat. Add the onion, carrots and celery and cook, scraping up any of the brown bits in the pan. Cook until vegetables are tender, about 7 minutes.
5.Add tomato paste and stir just until tomato paste turns a rusty brown color. Stir in the flour and cook for another minute.
6. Add the red wine and the vegetable stock and stir, scraping up all the remaining brown bits on the bottom of the pan.
7. Add the soy sauce, thyme, mushrooms  and lentils to the mixture and cook until mixture thickens, about 2 more minutes.
8. Spray a 2 qrt. casserole dish with cooking spray. Spoon the mushroom lentil mixture into the casserole and smooth the top.
9. Dollop the mashed potatoes on top and smooth with a spatula. Dust the top of the potatoes with the smoked paprika.
10. Bake at 375 degrees for approximately 25 minutes or until the potatoes are golden and the mixture is heated through.
If making ahead, cover and refrigerate the pie in the refrigerator. Remove from the refrigerator 30 minutes before baking.
[/print_this]