Last Updated on
This recipe was originally published on August 18, 2011.
Luscious strawberries wrapped in creamy whipped cream and topped with a caramelized sugar crust, this Strawberries and Cream Brulee is everything an easy summer dessert recipe should be! Simple and uncomplicated, this Strawberries and Cream recipe is one of my favorite "no fuss" recipes. Using my tips for making whipped cream ahead of time, this is dessert comes together in minutes!!!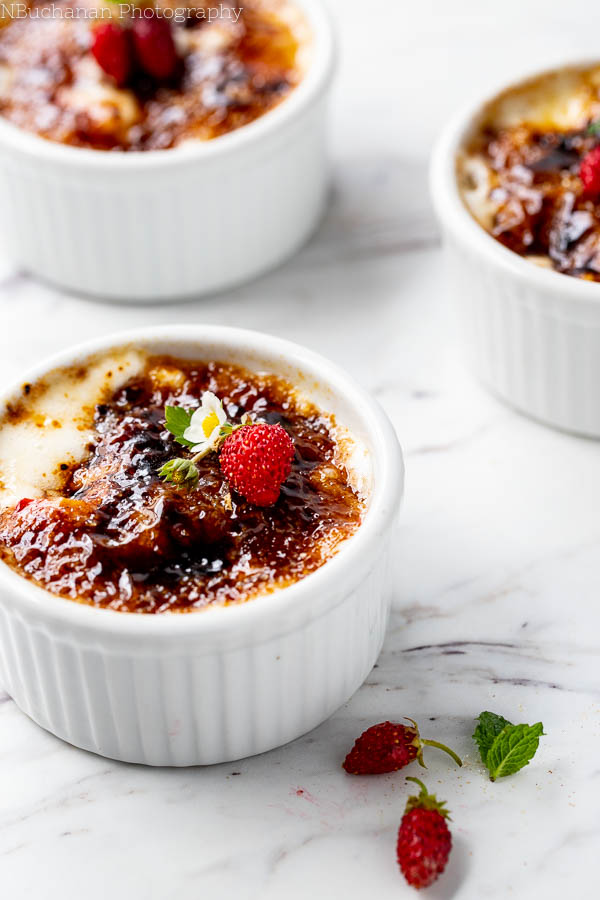 It's hard to believe that something so simple, like this strawberries and cream recipe, could taste so amazing… but it's true! If you like Creme Brulee, you are going to love this easy summer dessert. Creamy and sweet, it has the the same crunchy caramelized sugar topping as a true creme brulee but this version is definitely lighter – which when the temperatures rise, is just what you want! And since I love boozy desserts, I added a little Cointreau to the whipped cream because… well, that's how I roll!
The best part of this easy dessert? You can totally make the whipped cream ahead of time – like a day or two – WOO HOO!!
And because I love ya, I'm going to share with you the secret to…
How to Make Whipped Cream Ahead of Time:
Whip the cream to soft peaks!!! The whipped cream will separate a little and, by underwhipping the cream, you can give it a brisk whisking right before serving and not end up with butter!!!
Use powdered versus granulated sugar. anti caking agent in powdered sugar helps to stabilize the whipped cream.
Refrigerate after whipping!
So here's what you need to make this Strawberries and Cream Brulee:
fresh strawberries or other berries
cream
powdered sugar
Cointreau, Triple Sec, limoncello OR Vanilla extract
Turbinado or Raw sugar
Now, for the fun part ..
Here is how you make this Strawberries and Cream Brulee!
Step #1: Whip the cream as instructed above. Cut up the strawberries….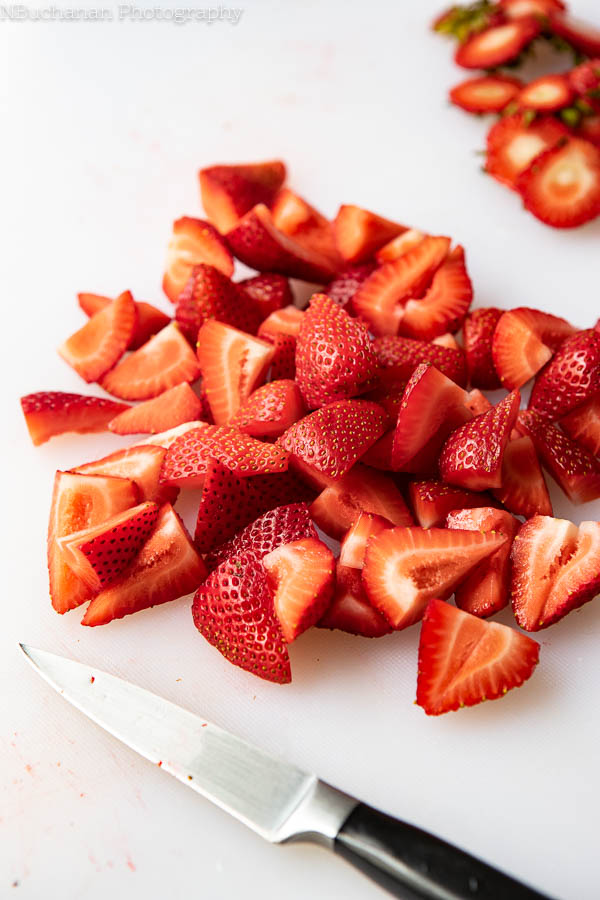 Step #2: Fold them into the whipped cream…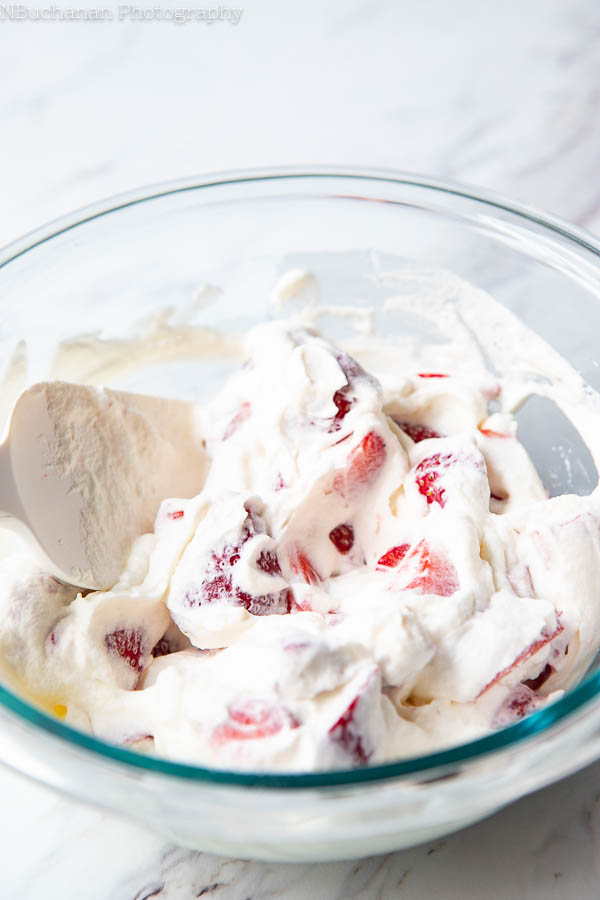 Step #3: Divide the strawberries and cream between the ramekins leveling them out as much as possible…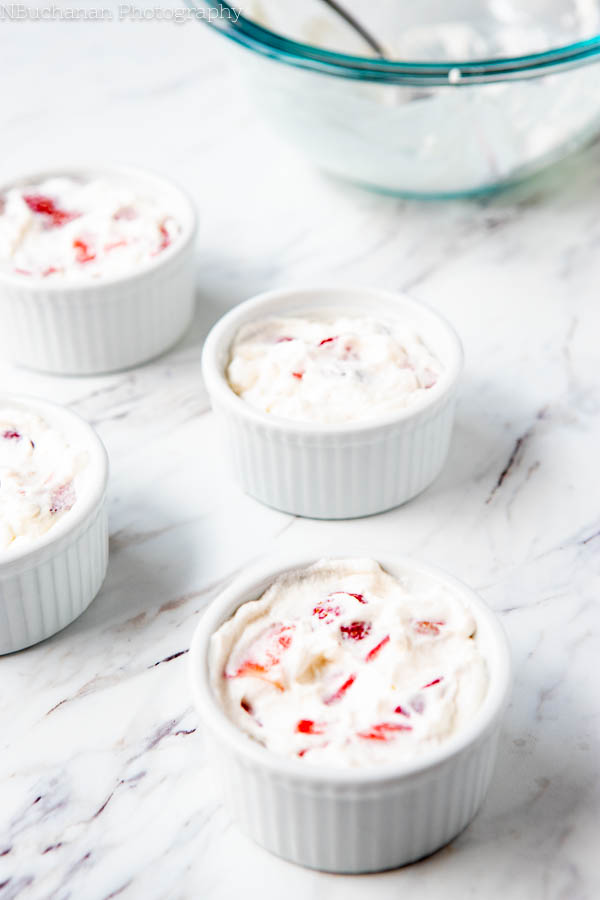 Step #4: Sprinkle them with raw or turbinado sugar and then use a brulee torch to melt the sugar!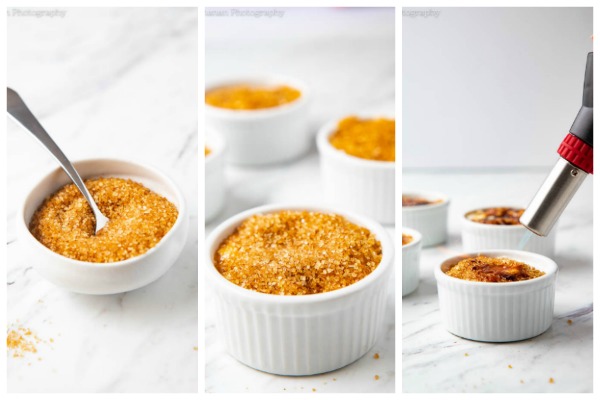 Step #5: Serve to your family and friends!!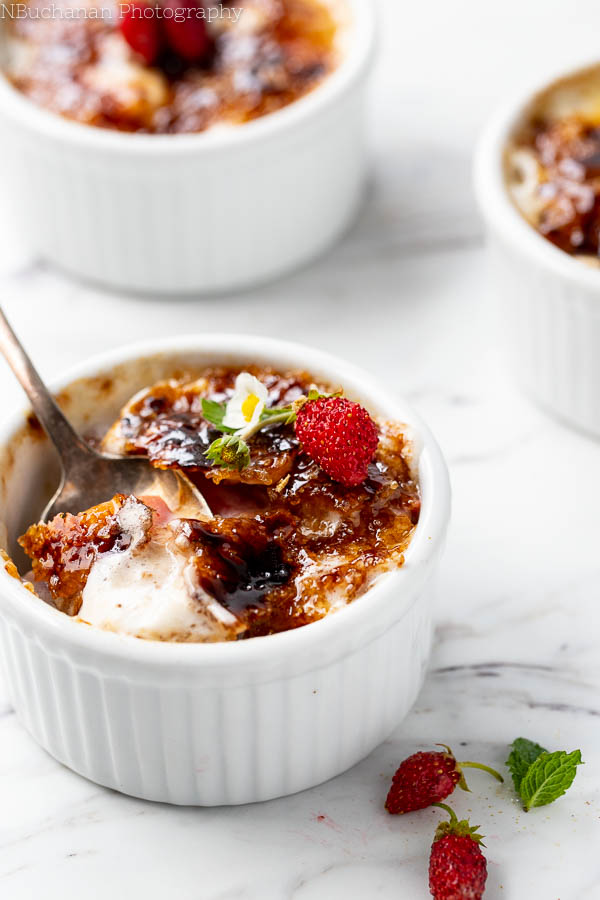 Other Easy Summer Dessert Recipes you might like:
Bruleed Strawberries with Cream
This could also be made with fresh raspberries, or fresh peaches or even frozen fruit if you don't have fresh.
Servings:
6
- 4 oz ramekins
Ingredients
1 1/2

lbs.

fresh strawberries

hulled and sliced

1

cup

heavy whipping cream

1/3

cup

turbinado sugar
Instructions
In a medium sized mixing bowl, whip the cream until stiff peaks form.

Gently fold in the strawberries.

Divide strawberry and cream mixture among 6 - 4 oz. ramekins.

Sprinkle generously with sugar, making sure to to heavily cover some areas of the top.

Using a torch, brulee the sugar until it melts and caramelizes. The cream will melt but don't worry - it's supposed to.

Refrigerate ramekins for a few minutes until the sugar hardens. Serve immediately.