Published: 18 Aug 11
Last Updated: 22 Mar 19
Strawberries and cream is truly the ultimate easy summer dessert. Juicy and sweet strawberries wrapped in luscious whipped cream, it's a seductive combination of sweet, creamy and now… crunchy!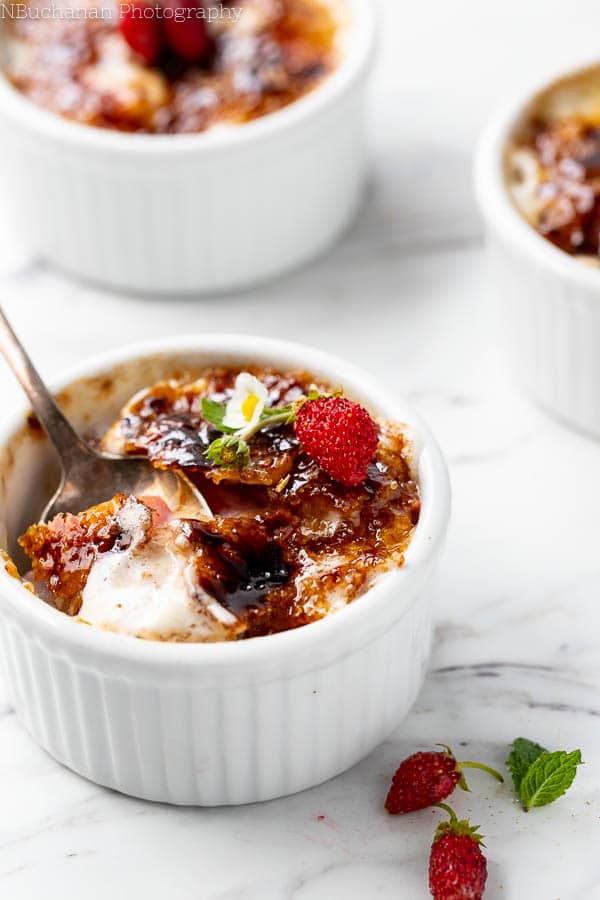 Classic Strawberries and Cream Recipe:
I've always loved the classic combo of fresh strawberries and whipped cream. It's that' perfect marriage of sweet, juicy and tangy with rich and creamy!
But this classic strawberries and cream dessert recipe has a few drawbacks. You can't really make it ahead, (yes I m talking about you whipped cream!) and well, it's not the prettiest of desserts.
So how to turn this creamy dessert into one you can make ahead and that's pretty?
Top it with a caramelized sugar crust and make a stable whipped cream! Now you can make this creamy dessert for any gathering using my tips for making whipped cream ahead of time.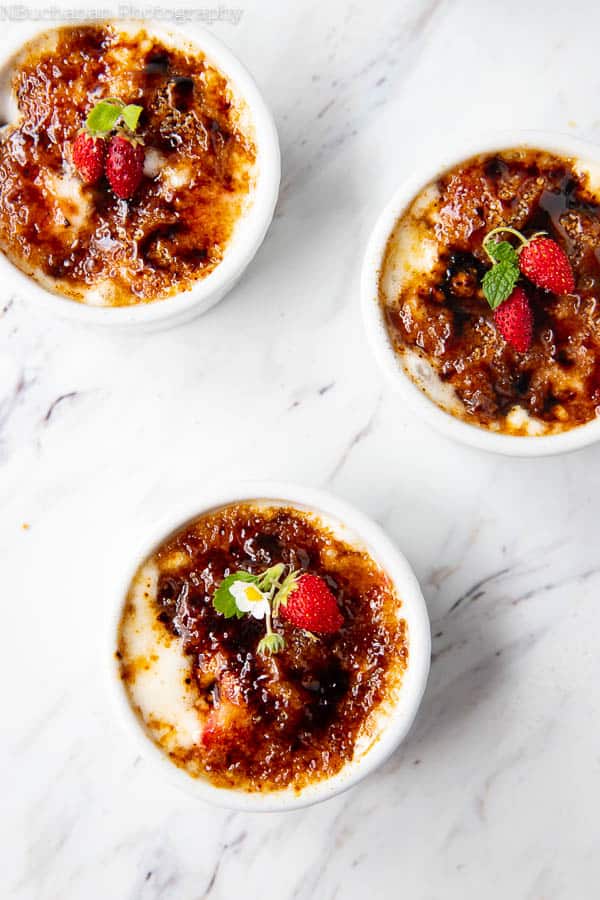 What goes in the Strawberries and Cream Dessert:
Fresh strawberries! Look for the freshest and sweetest berries you can find. If you'll be using the berries within a day or so, you can leave them out on the counter to preserve their flavor!
Heavy Whipping Cream: Not all whipping creams are created alike! Heavy whipping cream has a slightly higher fat content which is what you want for whipped cream!
Sugar: This recipe uses two types of sugar. Powdered sugar dissolves easily in the whipped cream so you don't get a gritty texture and it also helps the cream hold. For the caramelized sugar crust, I used demerara or raw sugar, but if you don't have any, plain white sugar also works.
Vanilla Extract OR orange liqueur. Both give a lovely flavor to the whipped cream but I have to say I'm partial to using Triple Sec or Cointreau in the whipped cream!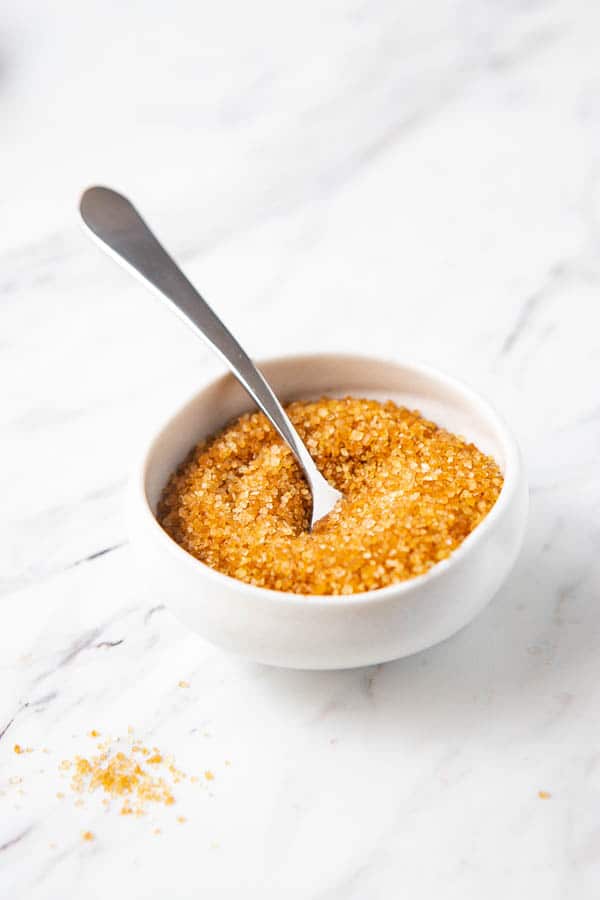 HOW TO MAKE STRAWBERRIES AND CREAM BRULEE:
Slice up the strawberries.

I find that quartering them works well for a good strawberry to cream ratio!

Whip the cream!

Whip the cream to soft peaks and add in the powdered sugar and vanilla extract or orange liqueur if using. If not making the cream ahead of time, whip the cream to stiff peaks!

Divide the mixture between ramekins.

Any heat safe dish will work!

Top with sugar and using a torch, caramelize.

The srtawberries and cream can be torched up to 30 minutes before serving. If you'd like some tips on how to caramelize sugar if you don't have a torch, see my Crema Catalana post for details!
TIPS FOR MAKING WHIPPED CREAM AHEAD OF TIME:
Whip the cream to soft peaks!!! The whipped cream will separate a little and, by under whipping the cream, you can give it a brisk whisking right before serving and not end up with butter!!!
Use powdered versus granulated sugar. The anti-caking agent in powdered sugar helps to stabilize the whipped cream.
Refrigerate after whipping!
If you love berries, you are going to love these berry desserts!
If you liked this easy dessert recipe, I would love for you to give it a 5 star rating!
Cheers! Nancy
Bruleed Strawberries with Cream
This could also be made with fresh raspberries, or fresh peaches or even frozen fruit if you don't have fresh.
Servings:
6
– 4 oz ramekins
Ingredients
1 1/2

lbs.

fresh strawberries

hulled and sliced

1/3

cup

demarara or raw sugar
For the Whipped Cream
1

cup

heavy whipping cream

2

Tablespoons

powdered sugar

1

teaspoon

vanilla extract OR orange liqueur
Instructions
Add the cream to a medium-sized bowl. Using a handheld or stand mixer begin mixing on low speed.

When the cream begins to form peaks, sift in the powdered sugar. Add the vanilla extract or the orange liqueur.

If using the cream right away, continue to beat until stiff peaks form. If making the whipped cream in advance, whip until soft peaks form and then re-whip with a whisk before using.

Gently fold in the strawberries.

Divide strawberry and cream mixture among 6 – 4 oz. ramekins.

Sprinkle generously with demerara or raw sugar, making sure to heavily cover some areas of the top.

Using a torch, brulee the sugar until it melts and caramelizes. The cream will melt but don't worry – it's supposed to.

Refrigerate ramekins for a few minutes until the sugar hardens. Serve immediately.
Nutrition
Calories:
229
kcal
|
Carbohydrates:
23
g
|
Protein:
1
g
|
Fat:
15
g
|
Saturated Fat:
9
g
|
Cholesterol:
54
mg
|
Sodium:
16
mg
|
Potassium:
203
mg
|
Fiber:
2
g
|
Sugar:
19
g
|
Vitamin A:
11.9
%
|
Vitamin C:
81.1
%
|
Calcium:
4.4
%
|
Iron:
2.8
%