An elegant and easy make ahead appetizer or dinner recipe, these Scallops with Cara Cara Gastrique make the most of winter citrus.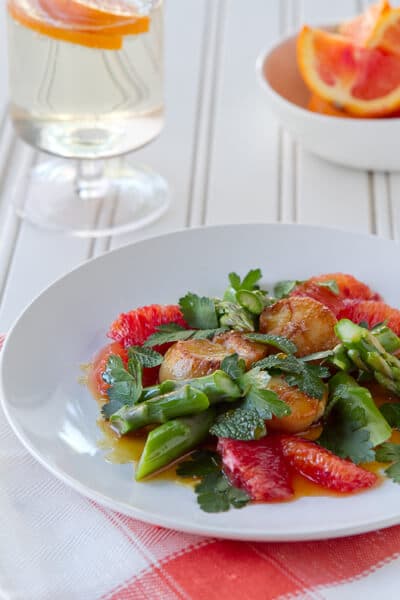 I'm b-a-a-c-k!!
I know, things have been a little quiet here at The Table. I had Valentine's all planned out for you and then a little stomach virus, a schedule change and .. well, that whole domino thing kicked in and my  well oiled schedule went AWOL.
I am slowly but surely digging my way out. Emphasis here on slow.
The good news is that even though Valentine's day has come and gone you don't have to wait until next Valentine's Day to make this - and I seriously hope you don't!
Although I adore the hearty and heavier foods of winter, about this time of year I start craving fresher, lighter flavors.  This seems especially true this year since  the  winter weather here in Southern California is also AWOL -  one day it's in the high 70's and the next in the 50's and I waver between firing up the grill and making a hearty soup. So, over the next few weeks the dishes here on the Table seem a bit mixed up you'll know why!
Ok, enough about the weather. Let's get to the food!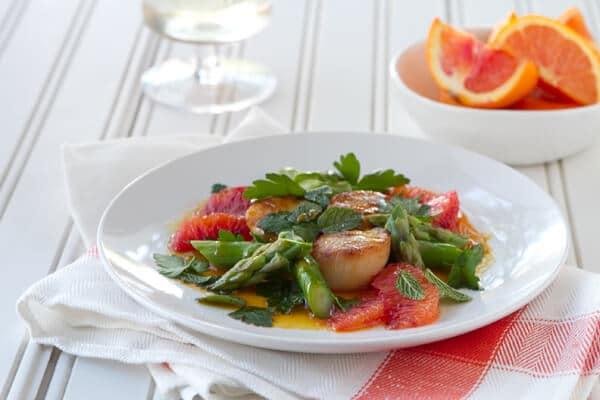 Since I've got some spring gigs coming up, I've been working on some spring menus and have  had this recipe bookmarked for some time. It features two of my favorite ingredients - citrus and seafood . When designing catering menus, I look for dishes that not only sound different and intriguing, but have great color  and texture  and  that don't require a lot of last minute preparation - which, BTW, is also my criteria for Valentine's Day dinner!!  These Scallops with Cara Cara Gastrique meet every single criteria and then some - they are great as an appetizer, but also as a main dish (served with some decadent potatoes as a side or just some good, crusty bread) or would make a beautiful and elegant  lunch.
📖Recipe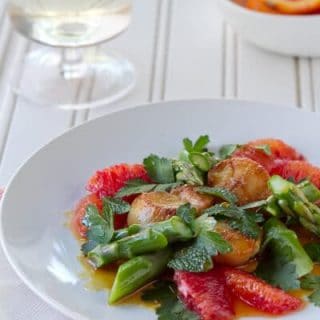 Scallops with Cara Cara Gastrique
The ultimate in a fancy entertaining dish that is much easier and simpler than it sounds! The sauce can be made two days ahead so all you need to do is cook the scallops and assemble!
Print
Pin
Rate
Add to Collection
Go to Collections
Ingredients
For the gastrique:

3

Tbsp.

granulated sugar

1

Tbsp.

sherry wine vinegar

1

cup

fresh cara cara or blood orange juice

strained

1 ½

cups

low sodium chicken stock

For scallops:

2

blood or cara cara oranges

peeled and separated into segments

½

cup

fresh italian parsley leaves

½

cup

fresh mint leaves

1

dozen dry boat scallops

side muscle removed

1

large bunch asparagus

cut into 1 ½ inch lengths

2

Tbsp.

canola oil

Salt and pepper
Instructions
For the gastrique:

Measure out the sherry vinegar, orange juice and chicken stock and set aside. In a small heavy bottomed saucepan place the sugar. Heat the saucepan over medium heat until the sugar melts. When the sugar melts and starts to turn golden, swirl the mixture until all the sugar is melted and the mixture is a nice golden color like honey - about 3- 4 minutes. Add the vinegar. It will sputter and the sugar will harden so don't worry. Add the orange juice and stir until the sugar melts and the mixture is slightly thickened, about 5 minutes. Add the chicken sauce and bring mixture to a boil and then reduce to a simmer. Cook over medium low heat for 12 - 15 minutes until the sauce is reduced to ½ cup. Take off the heat and set aside. (Can be made 2 days ahead - cover and refrigerate if making ahead and re warm before serving).

For the salad and scallops:

Stack 2 or 3 paper towels on a cutting board and place the scallops on top. Top with another 2 - 3 paper towels. Place the parsley and mint in a small bowl and set aside. Bring a medium sized saucepan of water to a boil. Cook the asparagus for 2 - 3 minutes until the asparagus is tender but still firm to the bite. Drain the asparagus and rinse with cold water. Set aside.

In a large skillet (don't use a nonstick) heat 1 ½ Tbsp. of canola oil until it is hot and the oil shimmers but doesn't smoke. Add the scallops to the pan, spacing them about 1 ½ inches apart. Let cook for 1 - 2 minutes or until scallops easily release from the pan. Turn scallops over and cook for another 1 - 2 minutes until they are browned and caramelized on the bottom. While scallops are cooking, toss the parsley and mint with the remaining ½ Tbsp. of canola oil and season with salt and pepper. Remove scallops from pan and set aside. Turn off the heat and add the asparagus to the pan to re warm.

To assemble to salad, place 3 scallops on each of 4 plates. Divide the asparagus and orange sections evenly among the plates and garnish with the parsley and mint. Drizzle with the gastrique and season lightly with salt and pepper. Serve.
Recipe Notes
Adapted from Bon Appetit Magazine. I used cara cara oranges for the gastrique and blood oranges for the salad since that is what I had on hand but you can use either for the sauce or the salad. If using blood oranges, the sauce will be a deeper, richer red color. When searing scallops the key is to make sure your scallops are very dry and that your pan is very hot!
Nutrition
Calories:
164
kcal
|
Carbohydrates:
20
g
|
Protein:
3
g
|
Fat:
8
g
|
Sodium:
48
mg
|
Potassium:
285
mg
|
Fiber:
1
g
|
Sugar:
17
g
|
Vitamin A:
1040
IU
|
Vitamin C:
46.4
mg
|
Calcium:
37
mg
|
Iron:
1.2
mg