Not a fan of brussels sprouts? You will be after trying these  sauteed brussels sprouts with pomegranate and balsamic vinegar!  Tangy sweet and sour, this is an easy and healthy side dish for pork, chicken or beef!
 Brussel Sprouts with Pomegranate and Balsamic Vinegar
Turkey day is almost here – and it is, perhaps the one day of the year when side dishes get top billing along with the star of the meal – turkey.  Everyone has their favorites – the sides that must be present or else it just isn't Thanksgiving!  After making these Brussels Sprouts with Pomegranate and Balsamic Vinegar, we have a new dish to add to that list!
In my house that would be Potatoes Hashed in Cream (be still my beating heart!), buttered green beans, and some form of sweet potatoes since we don't have a favorite!
But what about the other 364 days of the year? Do you rely on your standard favorites? Well, if you do, do I have something for you – Rick Rodgers fabulous new tome – "The Big Book of Sides" – and when it's says "big" it is not kidding – there are more than 450 recipes in this book!!!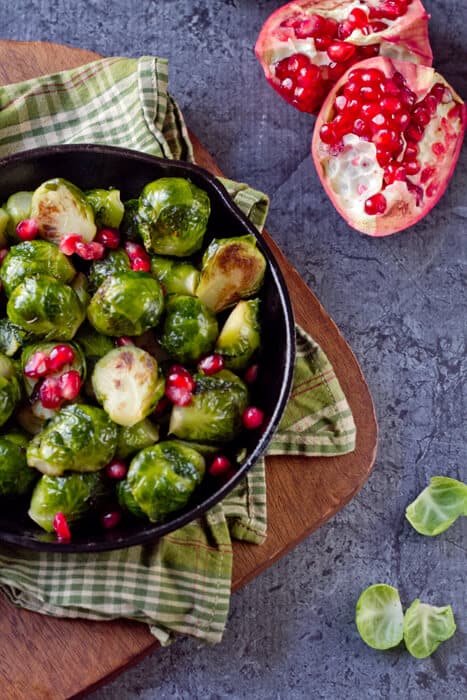 For me though, the true allure of this book isn't just delicious and well-tested recipes but the wonderful headnotes for each recipe – serving tips, history, substitutions… and best of all… what to serve with what – one of my favorite topics!
So, I decided to test out this theory and looked for a recipe to go with a simple pork tenderloin and settled on these Brussels Sprouts with Pomegranate and Balsamic Vinegar.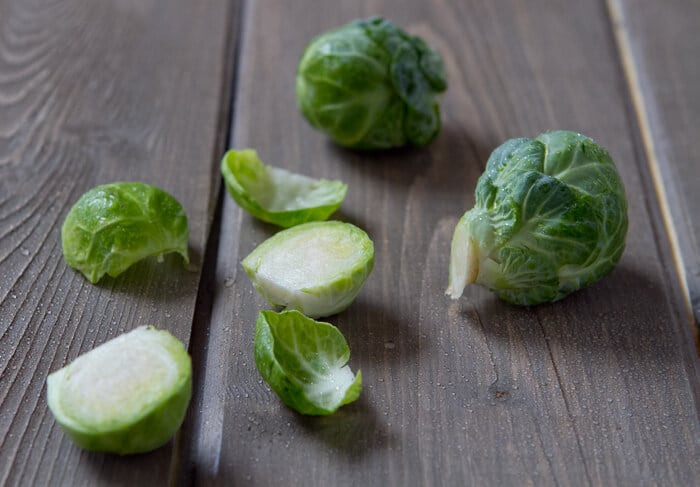 If Brussels Sprouts aren't your "thing" you may just change your mind after making these Brussels Sprouts with Pomegranate and Balsamic vinegar – and they could not be easier! Have questions about Brussels Sprouts? Check out my post on How to Trim Brussels Sprouts!
Pan roasted, the sprouts are glazed with a little balsamic vinegar and topped with a sprinkling of sweet and tart pomegranate arils – making the dish not only delicious but beautiful and one worthy of space on your Thanksgiving table!
Note: I was provided with a copy of the The Big Book of Sides by Melissa's Produce for review. All opinions however, are strictly my own.
Sauteed Brussels Sprouts with Pomegranate and Balsamic Vinegar
Pomegranate balsamic vinegar works beautifully in this dish. If you don't have it, plain balsamic works OR you can substitute 1 Tbsp. pomegranate molasses and 1 Tbsp. balsamic vinegar
Ingredients
1

Tbsp.

extra virgin olive oil

1

lb.

Brussels sprouts

halved lengthwise unless smaller than a walnut

1/2

cup

low sodium chicken broth

1/2

cup

water

2

Tbsp.

balsamic vinegar

pomegranate balsamic vinegar

salt and pepper
Instructions
In a large skillet over medium high heat, heat the olive oil. Add the sprouts and stir occasionally until they are lightly caramelized - about 5 minutes.

Add the broth and 1/2 cup of water . Bring the liquid to a simmer, stirring occasionally until the sprouts are almost tender when pierced with the tip of a knife - about 10- 12 minutes. If there is liquid remaining, turn the heat up to high and cook until the liquid evaporates and the sprouts are sizzling. Remove the skillet from the heat and add the balsamic vinegar and the pomegranate arils. Stir to combine. Taste and season with salt and pepper. Transfer the sprouts to a heated serving dish and serve.
Nutrition
Calories:
92
kcal
|
Carbohydrates:
11
g
|
Protein:
4
g
|
Fat:
4
g
|
Saturated Fat:
0
g
|
Cholesterol:
0
mg
|
Sodium:
40
mg
|
Potassium:
466
mg
|
Fiber:
4
g
|
Sugar:
3
g
|
Vitamin A:
17.1
%
|
Vitamin C:
116.8
%
|
Calcium:
4.8
%
|
Iron:
9.5
%