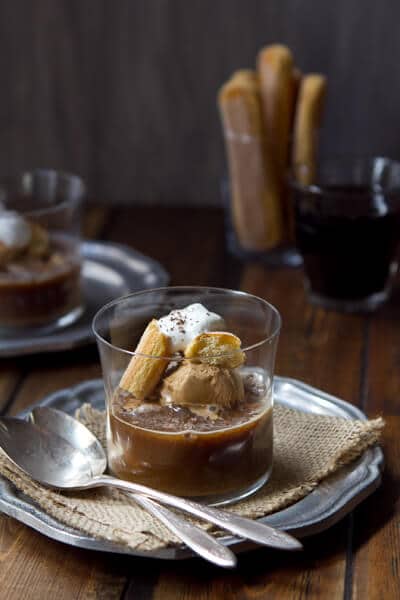 I am a planner.
I not only have "plan A" but I also have plan "B", followed, of course by plan "C" and, more often than not, there is, lurking there somewhere, plan "D." This is not necessarily a bad thing – such as when we were out shoppng in London with the boys and it started to rain and my DH was not wearing his rainjacket. What to do? Ah yes, there is an app plan for that! But planning can become a hindrance… which is why  you need a Salted Caramel Affogado in your life.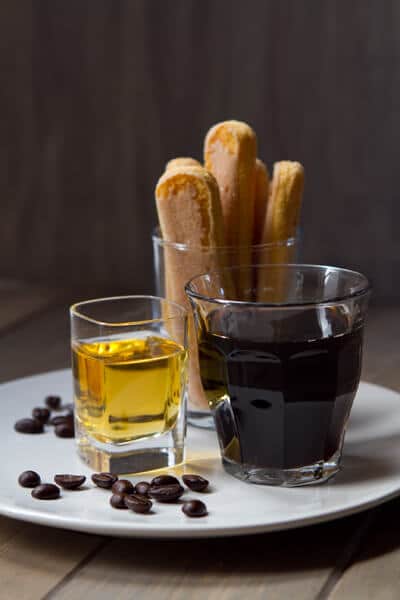 Let me explain.
A few weeks ago we were at a La Crosse tournament… multiple games from 8am to 5pm. As the parents sat around watching the games we started talking about….. what else? Food! And one of the parents said, "you know, we rented a condo so instead of going out for dinner tonight, why doesn't everyone come over to the condo for dinner? The boys can swim, use the jacuzzi and we won't have to hassle with getting into a crowded restaurant!"! Hmm… going  out and fighting the crowds on a Saturday night or getting together with people we like? That's a no brainer. We of course ALL said "yes!!"
And just like that "J" invited about 30 kids and 20 parents for dinner… at condo that was, shall we say, minimally equipped. A trip to Costco and and that was it , and   I was more than  happy to be sous chef for the night, improvising here and there (and yes, unflavored dental floss is a great substitute for kitchen twine). Needless to say dinner was not only fun but fabulous.. and far better than anything we would have had at any restaurant that night.
So, what exactly does Salted Caramel Affogado have to do with this story? Well, that night reminded me that you don't always need a plan for a get together with friends and that sometimes, having "no plan" makes it even more fun – for your friends and for yourself… and that is where this Salted Caramel Affogado comes in – it really requires no "planning" and can pretty much be made on the spur of the moment – even if you aren't planning on having 50 people over for dinner.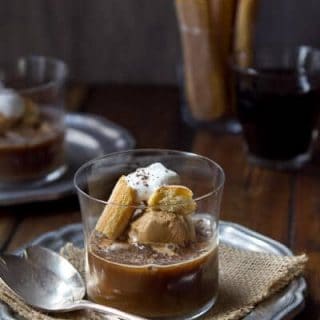 Ingredients
½

cup

chilled heavy cream

1

tablespoon

sugar

1

pint

Salted Caramel gelato or ice cream

6

savoiardi

Italian crisp ladyfingers, coarsely crumbled

1 ½

cups

freshly brewed espresso

10 ounces or 1 ¼ cups boiling water and

3

tablespoons

instant-espresso powder

2

oz.

Amaretto

1

oz.

dark

bittersweet chocolate
Instructions
Whip the cream with the sugar and set aside.

Divide the gelato or ice cream between small glasses.


Pour hot espresso over gelato and add Amaretto if using.

Break up the ladyfingers and scatter on top of the gelato.

Garnish with whipped cream and grated chocolate.
Recipe Notes
I love Salted Caramel gelato in this dessert, but vanilla, chocolate, or any combination of those will work beautifully.
I used Amaretto, but you could easily use Kahlua - Cointreau with dark chocolate is also a great combo as well. Just let your own tastes be your guide.
Serve extra ladyfingers with the affogado's !!
Nutrition
Calories:
267
kcal
|
Carbohydrates:
35
g
|
Protein:
4
g
|
Fat:
9
g
|
Saturated Fat:
5
g
|
Cholesterol:
51
mg
|
Sodium:
78
mg
|
Potassium:
305
mg
|
Fiber:
1
g
|
Sugar:
25
g
|
Vitamin A:
390
IU
|
Vitamin C:
0.6
mg
|
Calcium:
95
mg
|
Iron:
1.2
mg