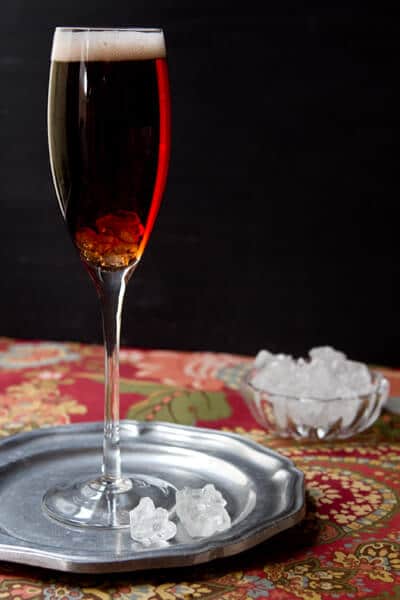 Today, there is a little celebration going on in the blogworld. A friend of mine, Barb from Creative Culinary is celebrating the one year anniversary of her "Friday Cocktail Series" and asked me if I wanted to be part of the celebration. Gee, let me think about that... um... YES!!! And I had the perfect cocktail in mind - one truly fit for a 'Queen" .. or in this case the "Queen of Cocktails - Barb from Creative Culinary"!!!
So what exactly is this cocktail? Well, to start, it is made with Dubonnet - a sweet, wine based aperitif made from fortified wine, herbs, spices and a small amount of quinine.It was first developed by Joseph Dubonnet in 1846 in response to a competition run by the French government to find a way of persuading French Legionnaires in North Afrida to drink quinine to combat malaria. But lest you think this is a "medicinal" tasting concoction, nothing could be further from the truth... Dubonnet is, to my thinking at least, a wonderful balance of flavors especially suited to fall and winter foods - a little sweet and a little spicy and pefectly suited to prepping your palate for all those rich and luscious fall flavors!
Dubonnet and I have a long history together. I was first introduced to Dubonnet years ago by my then boyfriend and it quickly became my before dinner "drink of choice" - served on the rocks with an orange twist. To my twenty something self, it seemed "oh so sophisticated" - and it turns out that I am in good company. Dubonnet was also the favorite aperitif of the Queen Mother and her daughter Queen Elizabeth continues that tradition. In fact, I have heard rumors that the current Queen is so enamored of it that she has been known to include a bottle when she is traveling "just in case".
As the days turn cooler (and if I say this enough it really will happen here in So Cal) the Queen's Cocktail is truly the perfect pre dinner cocktail - Dubonnet with sparkling wine, a hint of bitters and in keeping with it's name "diamonds" - edible ones!!!
So Barb, here's to you - Congratulations on your First Anniversary of Friday Cocktails - Cheers!!!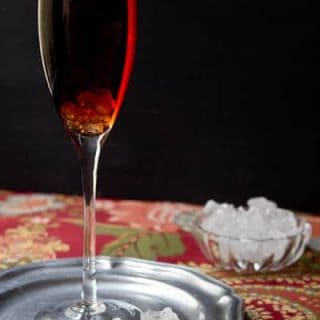 Ingredients
1

tsp.

Edible Diamonds or clear rock candy

2

oz.

Dubonnet Rouge

4

oz.

Sparkling Wine

I used Prosecco, but any dry sparkling wine will work

2

dashes Pechauld's Bitters
Instructions
In a 6 oz. champagne flute, place the rock candy or "edible diamonds. Pour in two ounces of Dubonnet. Top with chilled sparking wine. Serve.
Recipe Notes
Edible Diamonds are available from baking supply stores and online. Clear rock candy is available at specialty candy shops or from Middle Eastern markets. 
Nutrition
Calories:
174
kcal
|
Carbohydrates:
12
g
|
Sodium:
7
mg
|
Potassium:
99
mg
|
Sugar:
11
g
|
Calcium:
10
mg
|
Iron:
0.5
mg