Eggs, cheese and red peppers come together in this easy Leftover Spaghetti Pasta Frittata. An age old Italian recipe, this dish makes a delicious dinner or brunch is a great way to use up leftover pasta!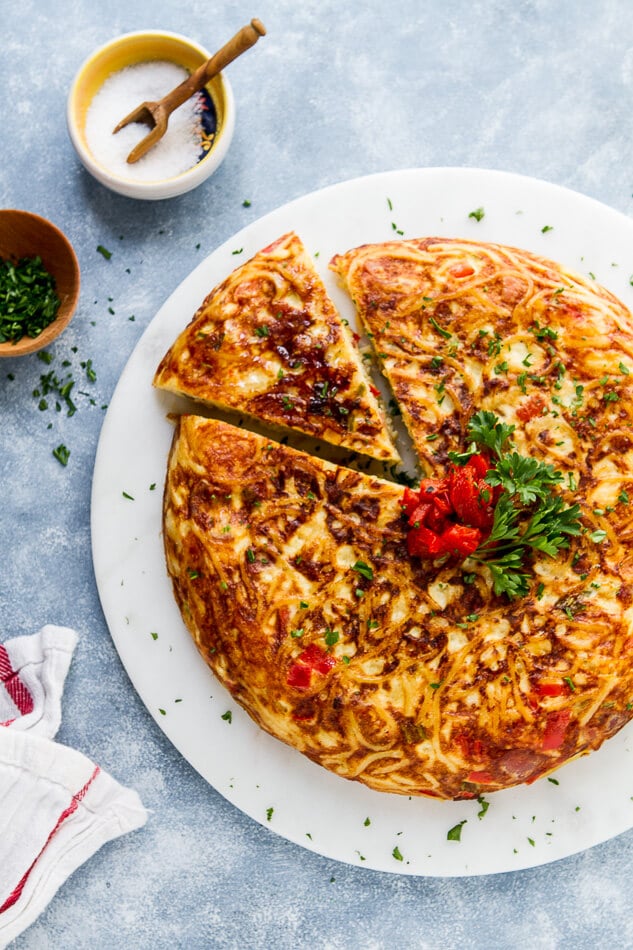 a
Frittata's are one of the world's best inventions. Whether it's a Leek, Mushroom and Yogurt Frittata or this Leftover Spaghetti Pasta Frittata, they solve a whole host of issues. Have bits and bobs of cheese and veg in your refrigerator? Make a frittata! Whether you have one as a hefty breakfast, brunch, lunch or dinner, frittatas are a delicious mealtime solution!
I've been boning up on my Italian cooking in preparation for my trip to Tuscany in October. We're renting a villa with 6 other couples and I'll be cooking at least one of the nights we are there – woo hoo!!! Not sure exactly what I'll be cooking or what the kitchen "accutrements" will be, but, it's good to have options, right??
And doing this kind of "research" isn't really a hardship!
So I've been poring through my copies of Marcella Hazan's Esseentials of Classic Italian Cooking and Lidia's Mastering the Art of Italian Cuisine and have come up with a list of dishes that might make the cut depending upon what the markets have. In reading through these cookbooks, I've realized how well the Italians make use of every ingredient – they truly are masters of using every bit of food and not wasting anything – something I know I could definitely do better at!
In my case, that would be pasta.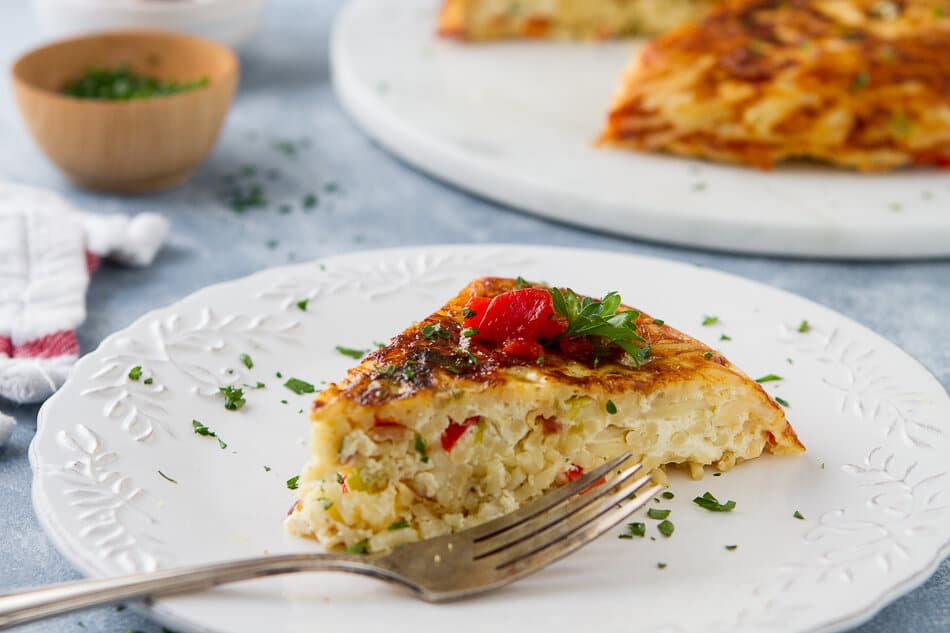 I don't know if it's my innate fear of not having enough to feed people or what, but I ALWAYS cook more pasta than I really need – especially when I make my Easy Homemade Meat Sauce. I always feel a little guilty just throwing it out, but what do you do with leftover pasta that isn't enough for another meal? Make this Leftover Spaghetti Pasta Frittata. Duh.
Frttata's are one of those "oh so handy recipes " that lends itself to lots of all kinds of interpretations- like this Leek, Mushroom and Yogurt Frittata. . For this one, I cooked up a little bacon that I had, a red bell pepper that needed to be used and some green onions hanging around that were also destined for the trash heap if I didn't do something quick!
Paired with a simple green salad, this made an easy dinner… and breakfast the next morning for the youngest… as well as a post workout snack. Nothing wasted.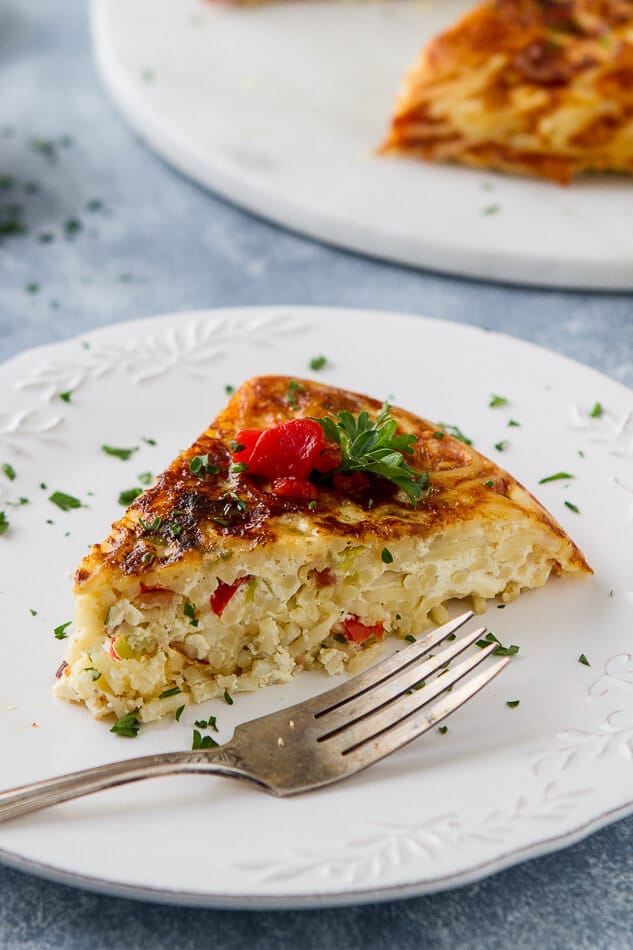 Not. One. Piece.
Yay! for me!!!
Now, although I've said you can put pretty much anything in this Leftover Spaghetti Pasta Frittata here are some tips for making the best frittata!
Tips for Making a Leftover Spaghetti Pasta Frittata
As for type of pasta, dried works the best!
As for type, spaghetti is ideal because of the bond it forms with the eggs.
The frittata works with plain or sauced spaghetti.
A good non stick oven safe skillet is essential!
Hungry for more breakfast recipes? Dig into:
Leftover Spaghetti Pasta Frittata Recipe: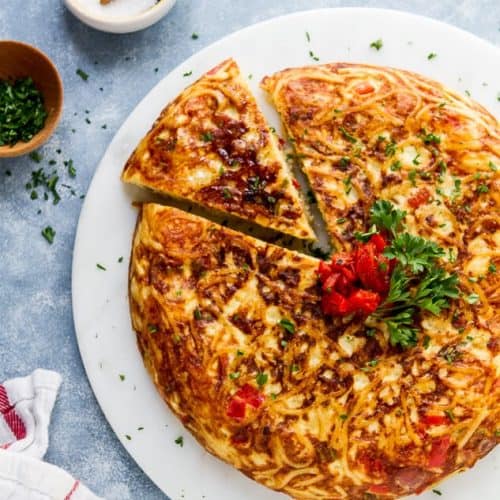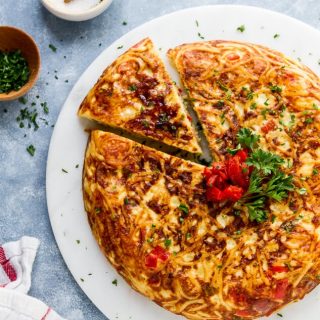 Leftover Spaghetti Pasta Frittata
Eggs, cheese and red peppers come together in this easy Leftover Spaghetti Pasta Frittata. See my tips for this easy meal to have for dinner or brunch!
Print
Pin
Rate
Add to Collection
Go to Collections
Ingredients
3

eggs

1

cup

half and half

1 ¼

cups

Shredded Parmigiano Reggiano cheese

3

cups

cooked and drained spaghetti pasta

1

Tablespoon

olive oil

1

red bell pepper

cut into ½ inch dice

¼

cup

sliced green onions

4

slices

bacon

diced and cooked

1

teaspoon

salt

½

teasoon pepper

large pinch cayenne pepper
Instructions
Pre heat the oven to 400 degrees.

In an 8 inch oven safe non stick skillet, heat the olive oil over medium high heat.

Add the bell pepper and cook until the bell pepper is tender, about 5 minutes.

In a large bowl, combine the eggs, half and half, salt, pepper and cayenne.

Whisk the mixture until thoroughly combined.

Add the spaghetti, cooked bell pepper, green oinions, bacon and shredded Parmigiano Reggiano cheese.

Toss to combine.

Add mixture to the skillet and cook over medium high heat for 3 – 4 minutes or until the bottom of the frittata is golden brown.

Transfer the skillet to the oven and cook for 12 – 15 minutes until the frittata is set.

Remove from the oven and let cool for 2 – 3 minutes.

Run a knife along the edge of the frittata to loosen.

Top the skillet with a plate and, using oven mitts, flip the skillet over.

Remove the skillet and slice the frittata.

Any leftover frittata can be refrigerated for up to 3 days.
Nutrition
Calories:
283
kcal
|
Carbohydrates:
25
g
|
Protein:
10
g
|
Fat:
15
g
|
Saturated Fat:
5
g
|
Cholesterol:
106
mg
|
Sodium:
534
mg
|
Potassium:
195
mg
|
Fiber:
1
g
|
Sugar:
1
g
|
Vitamin A:
925
IU
|
Vitamin C:
26.5
mg
|
Calcium:
63
mg
|
Iron:
1.5
mg